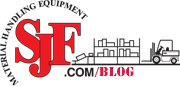 The #1 resource for material handling equipment information, tutorials, and industry news.
Archives: Conveyor
SJF engineer Matt Johnson & systems integrator Frank Sterner team up with SJF's fabrication pros to create, fabricate and program a first-of-its-kind sweep sorter.
This is a very specialized piece of equipment capable of sorting hard to sort packages and bagged product (aka Halloween & other Costumes). This was specifically designed for a Minnesota client to quickly process and fill incoming sales orders quickly while minimizing errors.
This system will allow the company to vastly increase the number of orders they can process as well accommodate future growth and product demand.
SJF is Currently looking for the following equipment in good condition.  We pay CASH for used equipment.
View our "Most Wanted" list & tell us about equipment you have for sale.
or contact Sam Sterner: 320-485-4970 or samsterner@sjf.com
(Please include photos, quantities, location & additional equipment details in your email. )
Continue reading
SJF is currently liquidating Rack, Forklifts, Conveyor & more from a warehouse in South Carolina.  Links to this equipment can be found below – but all of this equipment MUST be moved before the end of the month.  Any interest in this equipment, please call an SJF representative at 800-598-532.
Teardrop (Mecalux) Pallet Racks
Forklift Battery Changing System
Bendi (Swivel front) Forklifts
Other equipment from this purchase includes (but is not yet listed) Lift Tables, Sit-Down Forklfit Trucks, Order Picker Lift Trucks, and Gravity conveyor.  If you have any interest in this equipment, please call immediately.  We are selling it out of its current location and there has already been a lot of interest.  All sales will be first-come, first-served.
Today, we have an excellent guest post from our friend Tom Reddon from National Forklift Exchange.
Material handling can be a dangerous industry. More often than not, accidents occur due to the use of improper equipment for the job, or an insufficient amount of employee training. In fact, OSHA estimates that 78% of all workplace accidents occur in the material handling industry alone. That's a hard number to swallow when you consider the potential harm facing your employees. So how can help your business avoid being the next victim of workplace injury? Here are some of the best ways to create a safe working environment for your personnel.
Continue reading
Neodesha Plastics is a plastics manufacturer who engineers custom vacuum formed, thermoformed and CNC milled plastic parts for customers world-wide
In the fall of 2009, Neodesha Plastics contacted SJF with some ideas they had to increase their picking productivity & efficiency.  They had in mind a "Pick-Module" type system that would utilize their existing racking.  They wanted to alter the existing rack, add additional levels and create a cat-walk to access the upper levels of racking.
Continue reading
Pallet Rack & Gravity Conveyor Liquidation
We recently just finished shipping to MN material from liquidation of a large distribution center in Indiana. In all, 15 trucks of material were shipped up to our facility in Winsted, MN from the Indianapolis area. We had to jump at this opportunity with how fast gravity conveyor has been leaving our facility lately. This was a perfect opportunity to bring up our inventory as this purchase brought in over 6,000ft of gravity in 24" and 30" widths. There is also a small quantity of pallet gravity conveyor. All in all, the totals of this most recent purchase ended up being:
5,470 ft – 30″ Gravity Conveyor
780 ft – 24″ Gravity Conveyor
1,400 ft – 9″ Pallet Gravity Conveyor
Gravity Conveyor Photos & Pricing
591 ea. – 36″ x 22′ Interlake Uprights
4,480 ea. – 108″ x 4″ New Style Beams
Interlake Rack Photos & Pricing
All of this material has been transported back to our Winsted, MN facility and is ready for immediate shipment to your location.