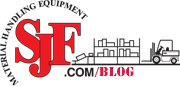 The resource for all things material handling.
Archives: Industry News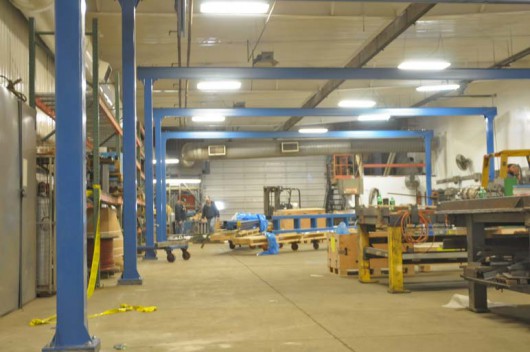 Hello again, readers!
Today I'd like to tell you about some improvements we have going on at SJF's headquarters in Winsted, MN.  These updates are part of an initiative to make the shop safer and production easier on the employees.  First, SJF is installing a brand new crane-way.  This overhead structure will allow workers to more easily move rack, conveyor and carousel projects around the shop easily.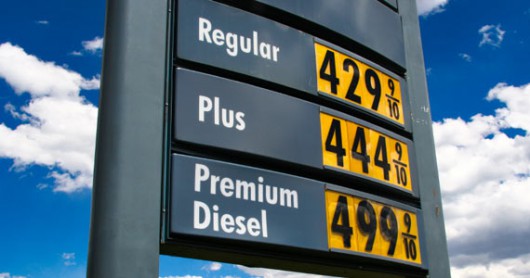 Today's post is courtesy of our friend Paul Schroeder.
—
I have a fuel quiz for all you supply chain folks out there. Ready?
When was the last time the price of diesel dipped below $3/gallon nationally?
When was the last time gasoline fell below $3/gallon nationally?
When was the last time gasoline fell below $2/gallon nationally?
When was the last time gasoline fell below $1/gallon nationally?
Have your answers? Great. Now here are two bonus questions:
What was the price per gallon of compressed natural gas in 1999?
How much did the price of compressed natural gas increase since January 2012?
Why ask these questions?
Simple. The price at the pump is going down . . . sort of. News reporters are happily gushing about fuel projections— how prices might dip to near $3/gallon or perhaps slightly less by year's end. Good news, right? For smart fleet managers in the supply chain it's both yes and no.
It is good news because the amount of fuel used to keep the supply chain humming is pretty significant. Locking in lower fuel costs saves money a company can invest in something that improves the overall operation of the company. However, falling gasoline and diesel prices are still too high. Smart fuel managers in the supply chain also know how volatile the gasoline and diesel markets are. All it takes for a new round of price increases is a crackpot in the Middle East, a natural disaster or a disruption in refining to send prices back to record levels.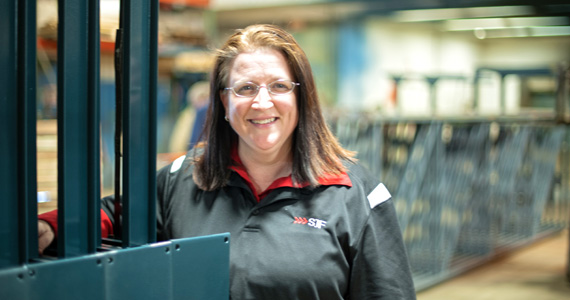 It's been a few months since we've heard from our newest sales recruit – In this post, Rhonda Remer checks in with some insights on her 9 month anniversary in Material Handling Sales.
–
Nine months is the typical gestation time of a baby.  On my 9 month anniversary in Solution Sales, I'm happy to announce that I've been blessed with a little "Bundle of Joy." No – I'm not talking about the birth of an infant, but rather something new to me called Repeat Customers!
Just the other day I was very excited to open my email one morning to see an email that said, "Remember me? We need 100 more decks!"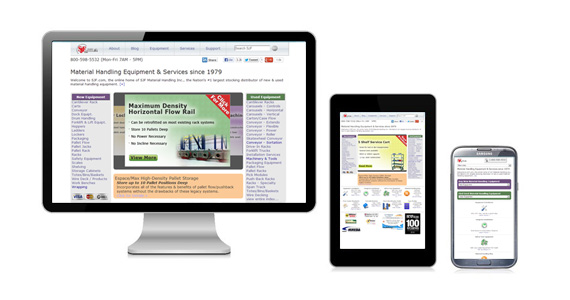 SJF just released the new fully responsive layout of their website.
"The new design allows users across all devices to have a consistent, engaging experience." says Kent Powell – SJF's web designer/developer. "Responsive design allows us to focus on one web property (sjf.com) rather than fracture the site into desktop, mobile, and app versions.  The site automatically adapts to the medium being used to display it. "
This new design is currently applicable to all of the used/feature pages on SJF.com as well as the home page – with the rest of the site to follow soon.  This new design makes the old mobile site (m.sjf.com) obsolete.  The old site will remain active for a time, however future development will be focused solely on the main sjf.com domain to make the entire site accessible from all devices.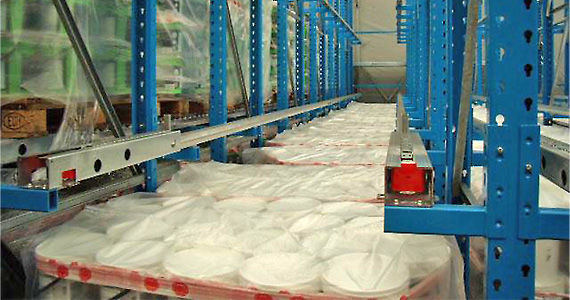 SJF Material Handling Inc. in cooperation with Canadian business partner EspaceMax announced today several new product design enhancements that are scheduled for inclusion during production of its EspaceMax pallet flow rail product line.
Earlier this year,  SJF  announced a strategic  partnership with Canadian manufacturer Espace/Max to become its National distributor for the EspaceMax product line in the USA. The EspaceMax pallet flow system is gaining national acclaim as one of the latest in a new generation of high density pallet flow storage products hitting the market.
According to SJF spokesman Stafford Sterner, the EspaceMax Pallet flow storage system "provides customers all the benefits of traditional pushback racks & pallet flow but without the many drawbacks & limitations traditionally associated with these ageing legacy systems."
One of the primary challenges EspaceMax originally had which the new enhancements address is the ability to stage pallets into storage squarely onto the rails. This is necessary in order to assure easy stocking and retrieval of pallets without stressing, kinking or damaging the chain. The new design enhancements address this and other concerns outlined below.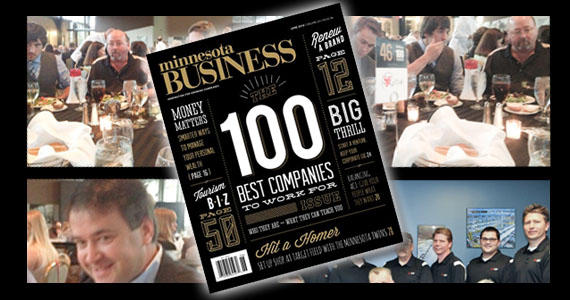 As mentioned before in this blog SJF was nominated as one of the 100 best companies to work for in MN by MN Business Magazine.  This past Thursday night, the dinner and awards ceremony was held at The Depot in downtown Minneapolis.
Several of SJF's employees enjoyed an evening of food, drinks, and excellent conversation as well as a very nice slideshow put together by MN Business Magazine.
Once again, SJF management would like to thank all of our employees for making this possible.
Enjoy the Photos!