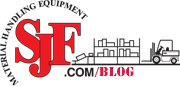 The resource for all things material handling.
Archives: Industry News
SJF is pleased to announce that it has partnered with Kundel Cranes to offer their full  line of Kundel SnapTrac Cranes and other lift solutions  through both SJF's  online store and accompanying  solutions sales division.
"Kundel Cranes has earned a reputation for providing one of the most cost-effective solutions for moving heavy material in the workplace" said SJF President Stafford Sterner.  Kundel crane systems are designed to be modular for easy expansion and reconfiguration. These bridge cranes feature an 8′ or 12′ bridge span and are available in several runway lengths. They can also provide custom bridge, or run lengths for any application.  In addition to their excellent structural track record, Kundel provides an internal electrical system option on their cranes that eliminates the pesky overhead wires of traditional bridge cranes.
SnapTrac cranes are easy to integrate into any work environment and are very easy to expand when needed. These kits come with everything you'll need to erect a new bridge crane in less than a day. For more information and pricing on SJF's lineup of Kundel lifting solutions view our bridge cranes online.
SJF today was honored to be named to Minnesota Business Magazines "The 2014 100 Best Companies to Work For."
2014 marks the 2nd consecutive year SJF Material Handling Inc. (SJF.com) based in Winsted, Minnesota has been named to the "Top 100″ list published each year by Minnesota Business Magazine.
About the Nomination (From MN Business Magazine)
People spend about one-third of their lives at work, so for a company looking to attract top talent, it helps to score high marks in employee satisfaction. Businesses featured in our 100 Best Companies to Work For Awards have done just that. This award salutes Minnesota organizations setting the standard for employee well-being. The 100 Best are chosen using data gathered from an anonymous employee satisfaction survey administered by an independent research group. Only the top Minnesotan companies, as judged in areas such as work environment, employee benefits, employee happiness, and leadership, are selected for inclusion in the list.
Event Detials: A celebration of the 100 Best Companies to Work For in Minnesota will be held June 5, 2014, 6 p.m. at the Saint Paul RiverCentre
Over at Supply Chain Opz, they just released their "Power 50″ list.  This list represents the most outstanding supply chain blogs and their contents. This list is curated based on an algorithm using social shares (tweets, likes, google+ mentions, etc) to determine the best of the best Supply Chain Blogs on the web for 2014.

SJF is proud to be listed in such company as…
Penske
Bastian
Ryder
DC Velocity
and many more…
as one of the top influential blogs in the Supply Chain and Logistics industry.  Check out the rest of the list here.
Hello again, readers!
Today I'd like to tell you about some improvements we have going on at SJF's headquarters in Winsted, MN.  These updates are part of an initiative to make the shop safer and production easier on the employees.  First, SJF is installing a brand new crane-way.  This overhead structure will allow workers to more easily move rack, conveyor and carousel projects around the shop easily.
Today's post is courtesy of our friend Paul Schroeder.
—
I have a fuel quiz for all you supply chain folks out there. Ready?
When was the last time the price of diesel dipped below $3/gallon nationally?
When was the last time gasoline fell below $3/gallon nationally?
When was the last time gasoline fell below $2/gallon nationally?
When was the last time gasoline fell below $1/gallon nationally?
Have your answers? Great. Now here are two bonus questions:
What was the price per gallon of compressed natural gas in 1999?
How much did the price of compressed natural gas increase since January 2012?
Why ask these questions?
Simple. The price at the pump is going down . . . sort of. News reporters are happily gushing about fuel projections— how prices might dip to near $3/gallon or perhaps slightly less by year's end. Good news, right? For smart fleet managers in the supply chain it's both yes and no.
It is good news because the amount of fuel used to keep the supply chain humming is pretty significant. Locking in lower fuel costs saves money a company can invest in something that improves the overall operation of the company. However, falling gasoline and diesel prices are still too high. Smart fuel managers in the supply chain also know how volatile the gasoline and diesel markets are. All it takes for a new round of price increases is a crackpot in the Middle East, a natural disaster or a disruption in refining to send prices back to record levels.
It's been a few months since we've heard from our newest sales recruit – In this post, Rhonda Remer checks in with some insights on her 9 month anniversary in Material Handling Sales.
–
Nine months is the typical gestation time of a baby.  On my 9 month anniversary in Solution Sales, I'm happy to announce that I've been blessed with a little "Bundle of Joy." No – I'm not talking about the birth of an infant, but rather something new to me called Repeat Customers!
Just the other day I was very excited to open my email one morning to see an email that said, "Remember me? We need 100 more decks!"