The #1 resource for material handling equipment information, tutorials, and industry news.
Archives: Industry News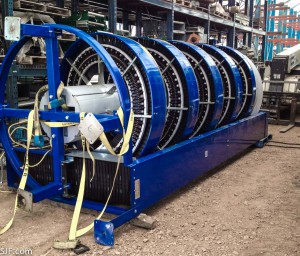 The SJF automation team continues to spearhead going projects for growing businesses here in Minnesota. Final testing and work was completed on this pre-owned powered spiral conveyor this past week. An impressive piece of equipment, this spiral is just one of the many components associated with several ongoing automation projects that Frank  Sterner's team of  Matt Johnson, Dave Kiefer, Brian Springer currently have in the works.
According to project manager Frank Sterner, the powered spiral shown below is just one of several  automation components scheduled to be installed for a growing order fulfillment operation SJF is working with right here in Minnesota. For additional  information about design, engineering & project management services and how they may work for you go to Genesys Material Handling 
4 ea.  Remstar vertical carousels coming down in Minneapolis, MN April 2015 and will be offered for sale online at Used Vertical Carousels
All brand name 20+ ft. vertical carousel  have been hard to come by of late.
These 4 units are exceptional machines in great condition and in great demand.
Unit Specs- 21'2" Tall x 118.5" Wide x 65" Deep x 36 Bins each unit
Vance Haugen's dream of being featured on the cover to Modern Materials Handling finally came true last month. Well sort-a!
Vance stopped by their booth during ProMat this year and the gang there did this mock up conveyor for him to take home and put in his office. While it's not exactly the April issue, everyone here thinks you look great on the cover Vance.
Comments provided courtesy of SteelOrbis
The Chicago Shredded Scrap finally posted down $20/ton from the prior month at $388/ton ending a long month of uncertainty and severe shifts in overall market sentiment. At one point in the last month, it looked as if scrap would "fall off the cliff" as mills were buying virtually nothing and demand in the market was non-existent. Then without notice, in the last week, the market reversed course stabilized and in several areas and grades even improved to reach where it finally settled. Much like the month prior, while there was not much demand for scrap, there also was no much supply due to the frigid winter causing collection problems.

Now that  petitioners were successful in levying a duty, watch for import prices to increase dramatically.  The anticipated surge of import to "beat" the April 18th deadline did not appear as dramatic as originally anticipated as few volumes being recently booked. Lagging sales in the last 6 weeks with the season and weather coupled with pricing that offers no new advantages have soured most big buyers appetites and nothing has been concluded.
SJF Material Handling of Winsted, MN has been named to Minnesota Business Magazines " 100 Best Companies To Work For " list for 2015. This marks the 3rd consecutive year SJF has been named to the list.
The "100 Best" were selected by an independent research firm employing various research techniques — including an anonymous online questionnaire filled out by the employees of each company — to determine which companies in Minnesota excel in the areas of work environment, employee benefits, and overall employee happiness.
The Minnesota Business team is pleased to share the 2015 list here. http://www.minnesotabusiness.com/2015-100-best-companies-work-awards