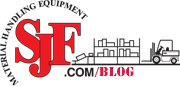 The #1 resource for material handling equipment information, tutorials, and industry news.
Archives: Industry News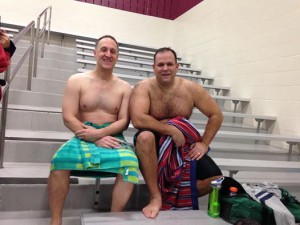 SJF's very own November inside sales champ Eric Thovson ( right) shown here with classmate Mark Karsten talking some smack & posing for photos this past weekend. Eric and Mark posted times of 27.84 & 27.95 respectfully. Not bad for 2 of the oldest swimmers at the meet.
Eric has long been very passionate about promoting the local swim team and has been instrumental in the success of the current program. When he's not promoting swimming, Eric can be found at SJF Material Handling in Winsted, MN. There he works as a inside sales & solutions specialist. No stranger to success, November was a record sales month for Eric and good enough to secure the #1 rank honors among his peers.
So what's next for Eric "ET" Thovson?
Could an Eric Moen swim challenge be in the cards for 2015?
The short video below demonstrates the new SJF air sweep sorter in action. This short video demonstrates air sweep sorting a wide array of different packages   for its client "Fun Company"  in Mankato Minnesota. SJF Air Sweep sorters are specifically designed to quickly sort boxes, bags and well as smaller hard to handle items into shipping containers.
SJF's sweep sorter provides an affordable sortation solution for a wide range of hard to handle products ranging from boxes to poly bags. Notice the different sizes and dimensions of the product, some round and some near flat. This system is sorting packages at a rate of 50/min.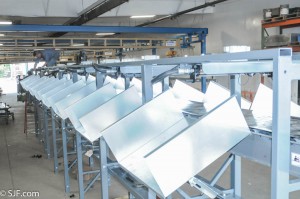 If you have questions or would simply like more information on SJF's air sweep sorters  and/or SurePik automated conveyor software please contact Sam Sterner (samsterner@sjf.com ) and/or Frank Sterner (fsterner@sjf.com )  or call them at  320-485-2824.
This weeks " Industry Insider" features 3500 pieces of Rhino span track priced to sell FAST!
8 ft long x 12″ wide on 3″ centers.

Click here to view pricing and photos of this material now
Today, we're checking in again with Rhonda Remer.  Rhonda has been in sales for over a year and from time to time, we like to get her perspective on how her journey in material handling sales is coming along.
———–
In July, I was $2,000 shy of the coveted $100,000/month mark in sales.   It would have been my second time to hit the milestone. I was initially a bit deflated but then I decided to step back and look at things from a different perspective.  What have I learned?  How much progress in my new position have I actually made? I will focus on thePreview positive.
1: I have a lot more knowledge about material handling products than when I started this gig. I've sold many different kinds of conveyor, carton flow track, balers, cantilever, hoppers, safety equipment, totes and bins, and of course Pallet Racking and accessories. This leads right into…
2: My knowledge has value.  A good way to gauge this is when new people start in the department.   SJF recently hired three new Solutions Specialists – all with extensive sales experience.  It is refreshing for me to be able to transfer knowledge on equipment and internal processes, as opposed to being the one who is asking all the questions.    I realized that my Greenhorn status has changed – I'm no longer the 'new gal.'
Continue reading
SJF is now representing Lift Products, Inc's line of lift tables.  Lift Products is known in the industry as having a high-quality product.  They offer many models available in several sizes.  SJF currently has available online their light duty lift tables, medium duty lift tables, heavy duty lift tables as well as their popular Roto-Max work positioner.
All of Lift Product's tables can be customized either in size or with optional add-ons.  For details, please call an SJF representative at 800-598-5532.
SJF Material Handling Inc. in Winsted MN 55395 is looking to hire an experienced sales professional to join the company's existing inside sales team at its Winsted Minnesota location.
This is an inside sales position based out of SJF's headquarters in Winsted, MN. Work hours are 8-5 Monday – Friday.
Compensation is commissioned based, offering unlimited earning income potential for a highly motivated sales professional.
SJF Offers:
Aggressive commission based compensation, with no cap and unlimited earnings potential from day 1.
CRM, accounting, product and freight pricing software training
Matching 401 K
Medical and Dental Insurance
Flex spending plan
Vacation and Personal Time off accrual
Job Description
Service existing accounts, quote equipment, document, and process orders for fulfillment.
Service both new and existing accounts by providing product and pricing support.
Provide same day follow-up on all company provided leads and client requests.
Provide pricing and product information to new and existing customers who call by phone.
Provide all written documentation needed for order pricing, picking and processing to the fulfillment department for processing daily.