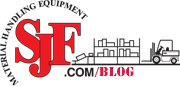 The resource for all things material handling.
Archives: Material Handling
SJF is pleased to announce that it has partnered with Kundel Cranes to offer their full  line of Kundel SnapTrac Cranes and other lift solutions  through both SJF's  online store and accompanying  solutions sales division.
"Kundel Cranes has earned a reputation for providing one of the most cost-effective solutions for moving heavy material in the workplace" said SJF President Stafford Sterner.  Kundel crane systems are designed to be modular for easy expansion and reconfiguration. These bridge cranes feature an 8′ or 12′ bridge span and are available in several runway lengths. They can also provide custom bridge, or run lengths for any application.  In addition to their excellent structural track record, Kundel provides an internal electrical system option on their cranes that eliminates the pesky overhead wires of traditional bridge cranes.
SnapTrac cranes are easy to integrate into any work environment and are very easy to expand when needed. These kits come with everything you'll need to erect a new bridge crane in less than a day. For more information and pricing on SJF's lineup of Kundel lifting solutions view our bridge cranes online.
Maglio Minnesota is an approximately 25,000sq.ft. produce wholesale facility located in Oakdale, MN. Maglio Minnesota, specializes in receiving raw produce from growers throughout the country and sanitizing, sorting, and packing that produce into finished usable product for customers and consumers.
Vance Haugen was initially called out to Maglio to take a look at one of their cooling rooms.  They wanted to look at expanding available storage space to manage the increasing number of product that they needed to store. Vance informed them about a new flow rack product we carry (ExGlobe High Density Horizontal Flow Rail) and they expressed some interest.  The manufacturer's rep accompanied Vance on another meeting and Maglio liked the product.
If you haven't heard of the Industry Insider, let us clue you in.  The Industry Insider is SJF's weekly email newsletter that contains all the inside information on equipment available for immediate sale.  This is equipment that can be had for up to 80% off retail prices.  We also often offer specials or coupons that are available to Insider members only.  If you haven't already heard of the Insider, check it out here.
Here's the most recent Insider – just so you can see what you're missing…
Premium Sizes of Pallet Rack
Priced to Sell Fast!
———————————————————————————-
SJF just acquired some very nice pallet racks. All of the equipment below is currently in stock at SJF's MN headquarters, and is available for immediate shipment.
Click the links below to view photos.
Teardrop Pallet Rack
52 ea. – 42″ x 16′ Uprights – $80 ea.
100 ea. – 42″ x 18′ Uprights – $85 ea.
500 ea. – 96″ x 3-3/4″ Beams – $17.50 ea.
222 ea. – 96″ x 4″ Beams – $17.50 ea.
> View Photos
T-Bolt Pallet Rack
100 ea. – 42″ x 216″ Unarco T-Bolt Uprights – $85 ea.
132 ea. – 42″ x 192″ Unarco T-Bolt Uprights – $80 ea.
450 ea. – 96″ x 3.5″ T-Bolt Beams – $16 ea.
940 ea. – 96″ x 4″ Unarco T-Bolt Beams – $16 ea.
690 ea. – 96″ x 5″ Unarco T-Bolt Beams – $18 ea.
> View Photos
PUTCO is a world leader in Automotive Accessories such as Trim, Lighting, Mud Flaps and Step Bars.  Putco has literally thousands of products for all major makes and models of car and truck available in a nationwide dealer network. If you're looking to spice up your ride, look no further than Putco.
When Putco contacted SJF, they were looking for a lot of racking at a savings. They needed to fill a new 127,000 sq. ft. facility so used equipment was definitely on their radar. SJF had just secured two large used inventories that could have filled PUTCO's needs but with new pricing being very competitive and not subject to availability issues, they turned to new. SJF supplied new Mecalux Interlake Pallet Racks and MECO Cantilever racks as well as the installation while meeting PUTCO's timeline and pricing requirements. Jason Deiter was the solutions specialist on this project.
Over at Supply Chain Opz, they just released their "Power 50″ list.  This list represents the most outstanding supply chain blogs and their contents. This list is curated based on an algorithm using social shares (tweets, likes, google+ mentions, etc) to determine the best of the best Supply Chain Blogs on the web for 2014.

SJF is proud to be listed in such company as…
Penske
Bastian
Ryder
DC Velocity
and many more…
as one of the top influential blogs in the Supply Chain and Logistics industry.  Check out the rest of the list here.
Dex Media is a marketing solutions leader trusted by more than 600,000 local business clients nationwide. Dex is committed to helping its clients create and grow their customer relationships by providing a customizable mix of marketing solutions that include websites, print, mobile, social media and search engine marketing.
When Dex Media was preparing a facility for new business and needed to retrofit existing racking with a roller track product, Jason Deiter at SJF answered the call. The result was adding 900+ lanes of Keneco Beam Track to existing structural rack framework. Special attention needed to be payed to the dimensions of the existing racking and the channel size of the beams so that the hangers and the Beam Track would install straight off the truck with no hassle.