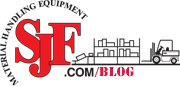 The resource for all things material handling.
Archives: Material Handling
PUTCO is a world leader in Automotive Accessories such as Trim, Lighting, Mud Flaps and Step Bars.  Putco has literally thousands of products for all major makes and models of car and truck available in a nationwide dealer network. If you're looking to spice up your ride, look no further than Putco.
When Putco contacted SJF, they were looking for a lot of racking at a savings. They needed to fill a new 127,000 sq. ft. facility so used equipment was definitely on their radar. SJF had just secured two large used inventories that could have filled PUTCO's needs but with new pricing being very competitive and not subject to availability issues, they turned to new. SJF supplied new Mecalux Interlake Pallet Racks and MECO Cantilever racks as well as the installation while meeting PUTCO's timeline and pricing requirements. Jason Deiter was the solutions specialist on this project.
Over at Supply Chain Opz, they just released their "Power 50″ list.  This list represents the most outstanding supply chain blogs and their contents. This list is curated based on an algorithm using social shares (tweets, likes, google+ mentions, etc) to determine the best of the best Supply Chain Blogs on the web for 2014.

SJF is proud to be listed in such company as…
Penske
Bastian
Ryder
DC Velocity
and many more…
as one of the top influential blogs in the Supply Chain and Logistics industry.  Check out the rest of the list here.
Dex Media is a marketing solutions leader trusted by more than 600,000 local business clients nationwide. Dex is committed to helping its clients create and grow their customer relationships by providing a customizable mix of marketing solutions that include websites, print, mobile, social media and search engine marketing.
When Dex Media was preparing a facility for new business and needed to retrofit existing racking with a roller track product, Jason Deiter at SJF answered the call. The result was adding 900+ lanes of Keneco Beam Track to existing structural rack framework. Special attention needed to be payed to the dimensions of the existing racking and the channel size of the beams so that the hangers and the Beam Track would install straight off the truck with no hassle.
As part of the recent warehouse acquisition in South Carolina, SJF purchased over 25 great forklift trucks!
These trucks are all in excellent condition, have relatively low hours and can be used for a variety of warehouse tasks.  Below, find a summary of each lift truck type currently available, and links to them on the SJF.com website.
Bendi Swivel Front Forklifts

5 ea. available – Model B30
Quad Mast (204″/258″)
Additional Batteries & Chargers Available
$21,000 ea.
SJF's 30+ Year Tradition Continues
This year's annual Christmas Buffet & Awards event featured BBQ pork & beef with homemade corn bread, shrimp cocktail, desserts, craft beer and even some Serbian moonshine compliments of our installers in Chicago. 2013 proved to be a great year for the company as demonstrated by a record 6 member of the inside sales team qualifying for induction into the "million dollar club".
Production
2013 marked a year where the production shop turned out great product in record time. Let's face it … everyone wants it yesterday.
The yard crew also did an outstanding job pulling equipment and getting orders shipped accurately and on time. This was an amazing task on more than a few occasions to say the least. The office staff barely maintained their sanity in 2013 but rumor has it there is light at the end of the tunnel in 2o14. I for one will believe it when I see it.
Operations
Lori, Ed, Frank and the rest of the staff had their hands full in 2013 to put it mildly. Incorporating new technologies, changing processes, adding and learning new systems while continuing to process sales orders without delay or incident can prove rather challenging at the best of times. Not a feat for mere mortals – but they found a way to get it done. A great team effort by everyone here.
Today more than ever it's vital for material handling sales professionals to thoroughly know about and accurately represent the equipment they have available for sale.  "Live virtual viewing" of equipment is just one of the many new tools that SJF has recently incorporated to provide its clients accurate detailed information on equipment for sale.
On Tuesday January 8th, SJF initiated the first "Virtual Walkthrough" for the sales employees.  This walkthrough of the most recent warehouse liquidation enabled Sam Sterner (SJF's lead purchasing agent) to take the sales team on a virtual tour of the equipment available at the recent purchase.  Several of the sales staff had questions about the rack, forklifts and more.  Sam was able to easily provide answers, and even throw a tape measure on equipment for the staff to view.