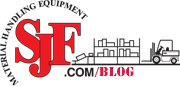 The #1 resource for material handling equipment information, tutorials, and industry news.
Archives: Material Handling
SJF is now representing Lift Products, Inc's line of lift tables.  Lift Products is known in the industry as having a high-quality product.  They offer many models available in several sizes.  SJF currently has available online their light duty lift tables, medium duty lift tables, heavy duty lift tables as well as their popular Roto-Max work positioner.
All of Lift Product's tables can be customized either in size or with optional add-ons.  For details, please call an SJF representative at 800-598-5532.
SJF is Currently looking for the following equipment in good condition.  We pay CASH for used equipment.
View our "Most Wanted" list & tell us about equipment you have for sale.
or contact Sam Sterner: 320-485-4970 or samsterner@sjf.com
(Please include photos, quantities, location & additional equipment details in your email. )
SJF Material Handling Inc. in Winsted MN 55395 is looking to hire an experienced sales professional to join the company's existing inside sales team at its Winsted Minnesota location.
This is an inside sales position based out of SJF's headquarters in Winsted, MN. Work hours are 8-5 Monday – Friday.
Compensation is commissioned based, offering unlimited earning income potential for a highly motivated sales professional.
SJF Offers:
Aggressive commission based compensation, with no cap and unlimited earnings potential from day 1.
CRM, accounting, product and freight pricing software training
Matching 401 K
Medical and Dental Insurance
Flex spending plan
Vacation and Personal Time off accrual
Job Description
Service existing accounts, quote equipment, document, and process orders for fulfillment.
Service both new and existing accounts by providing product and pricing support.
Provide same day follow-up on all company provided leads and client requests.
Provide pricing and product information to new and existing customers who call by phone.
Provide all written documentation needed for order pricing, picking and processing to the fulfillment department for processing daily.
This article was originally published in the Herald Journal – Volume 95, Number 44.  The author and photographer is Starrla Cray.
---
What's to like about working at SJF Material Handling in Winsted?
"Everything," according to Marty Zitzloff, who has been with the company the past 24 years.
In both 2013 and 2014, Minnesota Business Magazine named SJF as one of the state's 100 best companies to work for, based on an in-depth employee satisfaction survey. "We sort of break all the traditional rules of how business is run," said president/sales manager Stafford Sterner, whose father, Gerald Sterner started the material handling company in 1979.
Employees are often promoted from within, and have the freedom to transition to different departments.
Zitzloff, for example, originally started at SJF as a welder.
"It was a lot of on-the-job training, and a few outside classes," he recalled, adding that he later became the shop and yard supervisor.
Six years ago, Zitzloff decided to get into sales. He didn't have any formal sales experience, but was familiar with the products SJF offers.
"Marty has had a lot of success here," Stafford said. "We find opportunities for anyone who wants to apply themselves."
SJF is pleased to announce that it has partnered with Kundel Cranes to offer their full  line of Kundel SnapTrac Cranes and other lift solutions  through both SJF's  online store and accompanying  solutions sales division.
"Kundel Cranes has earned a reputation for providing one of the most cost-effective solutions for moving heavy material in the workplace" said SJF President Stafford Sterner.  Kundel crane systems are designed to be modular for easy expansion and reconfiguration. These bridge cranes feature an 8′ or 12′ bridge span and are available in several runway lengths. They can also provide custom bridge, or run lengths for any application.  In addition to their excellent structural track record, Kundel provides an internal electrical system option on their cranes that eliminates the pesky overhead wires of traditional bridge cranes.
SnapTrac cranes are easy to integrate into any work environment and are very easy to expand when needed. These kits come with everything you'll need to erect a new bridge crane in less than a day. For more information and pricing on SJF's lineup of Kundel lifting solutions view our bridge cranes online.
Maglio Minnesota is an approximately 25,000sq.ft. produce wholesale facility located in Oakdale, MN. Maglio Minnesota, specializes in receiving raw produce from growers throughout the country and sanitizing, sorting, and packing that produce into finished usable product for customers and consumers.
Vance Haugen was initially called out to Maglio to take a look at one of their cooling rooms.  They wanted to look at expanding available storage space to manage the increasing number of product that they needed to store. Vance informed them about a new flow rack product we carry (ExGlobe High Density Horizontal Flow Rail) and they expressed some interest.  The manufacturer's rep accompanied Vance on another meeting and Maglio liked the product.