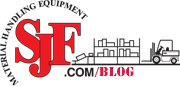 The resource for all things material handling.
Archives: Material Handling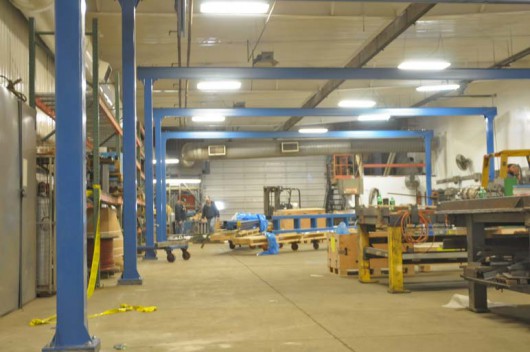 Hello again, readers!
Today I'd like to tell you about some improvements we have going on at SJF's headquarters in Winsted, MN.  These updates are part of an initiative to make the shop safer and production easier on the employees.  First, SJF is installing a brand new crane-way.  This overhead structure will allow workers to more easily move rack, conveyor and carousel projects around the shop easily.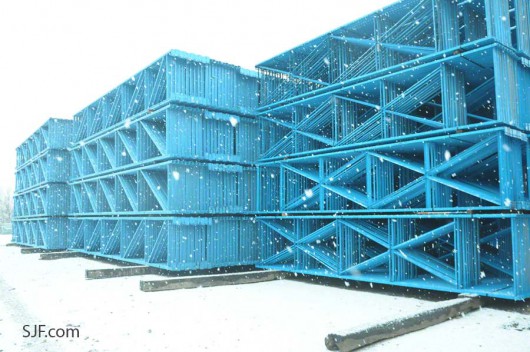 Though the weather is grown cold (-10 at the time of this writing) and the blog has been a little dormant – rest assured, dear readers that behind the scenes we are very busy at SJF.  December has seen a massive influx of pallet rack, drive-in rack systems, and complete conveyor systems for sale.  SJF currently has over 10,000 beams and 1,000 good quality uprights available for immediate sale in our Winsted, MN inventory.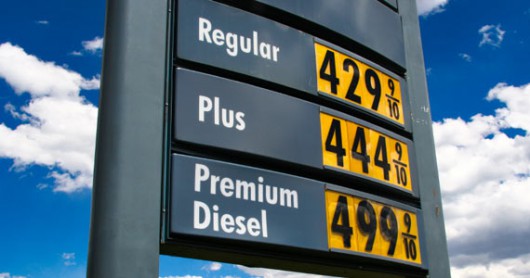 Today's post is courtesy of our friend Paul Schroeder.
—
I have a fuel quiz for all you supply chain folks out there. Ready?
When was the last time the price of diesel dipped below $3/gallon nationally?
When was the last time gasoline fell below $3/gallon nationally?
When was the last time gasoline fell below $2/gallon nationally?
When was the last time gasoline fell below $1/gallon nationally?
Have your answers? Great. Now here are two bonus questions:
What was the price per gallon of compressed natural gas in 1999?
How much did the price of compressed natural gas increase since January 2012?
Why ask these questions?
Simple. The price at the pump is going down . . . sort of. News reporters are happily gushing about fuel projections— how prices might dip to near $3/gallon or perhaps slightly less by year's end. Good news, right? For smart fleet managers in the supply chain it's both yes and no.
It is good news because the amount of fuel used to keep the supply chain humming is pretty significant. Locking in lower fuel costs saves money a company can invest in something that improves the overall operation of the company. However, falling gasoline and diesel prices are still too high. Smart fuel managers in the supply chain also know how volatile the gasoline and diesel markets are. All it takes for a new round of price increases is a crackpot in the Middle East, a natural disaster or a disruption in refining to send prices back to record levels.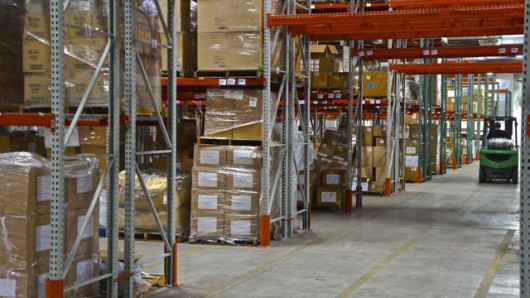 TTI Floor Care is the national leader in innovation, quality, and customer satisfaction in floor care products. Their distribution centers in the Cleveland, Ohio area are home to three of the most powerful brands in floor care products, including Hoover, Dirt Devil, and Orek. In early 2013, Chris Hills of CLH Logistics in Ohio contacted SJF to assist with the reconfiguration of one distribution center in the Cleveland area. Housing both the Hoover and Dirt Devil brands, along with the replacement parts for both, more room and organization was needed. Their current set up consisted of shelving and floor stack pallets for the LTL and full load shipping areas. The remainder of the spare parts were stacked on the floor, sometimes seven deep and up to three high, yet every pallet was a different SKU. Pallets awaiting shipment also needed to be stored in such a way that the vacuum boxes would not be damaged prior to transport, a common problem when floor stacking.
Different options were discussed for the spare parts picking area. TTI was currently picking "eaches" for stock to repair centers, while considering a transition to "full case" picks. SJF needed to come up with a way to let "each" picks happen, while allowing the flexibility to transition to full case picking in the future. Discussion of pallet flow and carousels arose, but to keep within budget on the job, a simple multi-lane span track picking area was decided.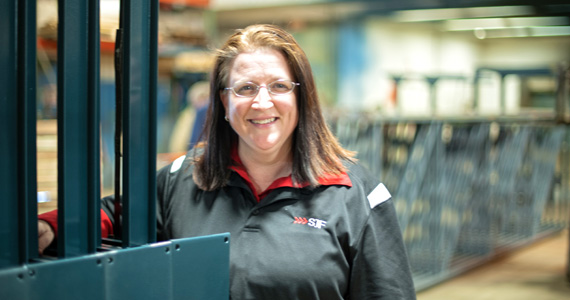 It's been a few months since we've heard from our newest sales recruit – In this post, Rhonda Remer checks in with some insights on her 9 month anniversary in Material Handling Sales.
–
Nine months is the typical gestation time of a baby.  On my 9 month anniversary in Solution Sales, I'm happy to announce that I've been blessed with a little "Bundle of Joy." No – I'm not talking about the birth of an infant, but rather something new to me called Repeat Customers!
Just the other day I was very excited to open my email one morning to see an email that said, "Remember me? We need 100 more decks!"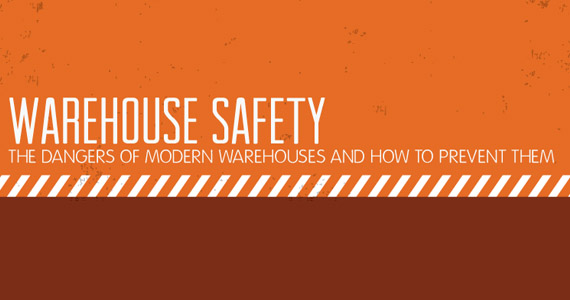 Here's a neat infographic about the inherent dangers of working in a warehouse.  This image will show you some stats on warehouse safety measures as well as:
Most accident Prone Areas
Top Injuries
Forklift Safety Information
Pallet Rack Failure Facts
and more…
View the entire infographic after the jump…