The #1 resource for material handling equipment information, tutorials, and industry news.
Archives: Material Handling
 In this short tutorial, Material Handling veteran Jason Dieter shares some insider insights about the different styles of beams that work with the many versions of teardrop style pallet rack. Jason not only demonstrates the difference between old style and new style racks, but also reveals some of the hybrids found in the marketplace as well.
In this short video tutorial, Eric Moen gives a quick tour of the uprights available in the rack warehouse while reviewing the many sizes & capacities currently available for fast 48-hour shipping  via SJF's "Quik-Ship" program.
Pallet Rack Uprights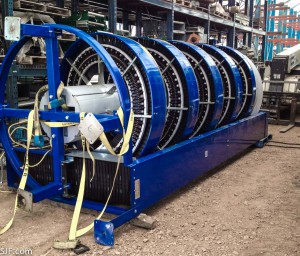 The SJF automation team continues to spearhead going projects for growing businesses here in Minnesota. Final testing and work was completed on this pre-owned powered spiral conveyor this past week. An impressive piece of equipment, this spiral is just one of the many components associated with several ongoing automation projects that Frank  Sterner's team of  Matt Johnson, Dave Kiefer, Brian Springer currently have in the works.
According to project manager Frank Sterner, the powered spiral shown below is just one of several  automation components scheduled to be installed for a growing order fulfillment operation SJF is working with right here in Minnesota. For additional  information about design, engineering & project management services and how they may work for you go to Genesys Material Handling 
In this short video tutorial Eric Moen covers some of the many sizes and capacities of pallet rack uprights available via SJF's 48-hour quick-ship program.http://www.sjf.com/blog/?p=3366https://youtu.be/Vu_fyFUjyFc
Tutorial Guide to Pallet Rack Quick Ship – Pallet Rack Beams – Sizes & Capacities
In this short  video tutorial, Eric Moen gives a quick tour while reviewing the many sizes & capacities of beams available for quick 48-hour ship  via SJF's "Quik-Ship" program.
http://bitly.com/1SzrQyr