The #1 resource for material handling equipment information, tutorials, and industry news.
Archives: Material Handling
4 ea.  Remstar vertical carousels coming down in Minneapolis, MN April 2015 and will be offered for sale online at Used Vertical Carousels
All brand name 20+ ft. vertical carousel  have been hard to come by of late.
These 4 units are exceptional machines in great condition and in great demand.
Unit Specs- 21'2" Tall x 118.5" Wide x 65" Deep x 36 Bins each unit
SJF Material Handling of Winsted, MN has been named to Minnesota Business Magazines " 100 Best Companies To Work For " list for 2015. This marks the 3rd consecutive year SJF has been named to the list.
The "100 Best" were selected by an independent research firm employing various research techniques — including an anonymous online questionnaire filled out by the employees of each company — to determine which companies in Minnesota excel in the areas of work environment, employee benefits, and overall employee happiness.
The Minnesota Business team is pleased to share the 2015 list here. http://www.minnesotabusiness.com/2015-100-best-companies-work-awards
Soul Flower was founded in 1999 by Mike and Peggy as a way to promote a bohemian, eco-friendly, and peaceful lifestyle. Our little shop on Grand Avenue in Saint Paul, Minnesota was a gathering place for college students and locals looking for 'cool threads for kind heads'. Since those days, Soul Flower has made a few changes… they no longer have a retail store, but have expanded with a digital catalog, an online retail shop, a wholesale catalog, and a screen printing team. One thing that hasn't changed is our dedication to offering our customers thoughtful, eco-friendly clothing styles at an affordable price – and of course the best customer service anywhere!
In 2014, Soul Flower contacted Eric Moen at SJF to assist in a new addition to their expanding warehouse, and he was happy to oblige.  Eric can be reached at emoen@sjf.com or directly at 320 485 4963.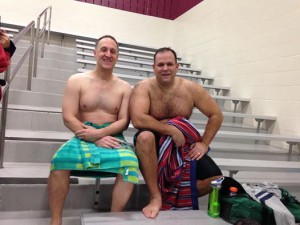 SJF's very own November inside sales champ Eric Thovson ( right) shown here with classmate Mark Karsten talking some smack & posing for photos this past weekend. Eric and Mark posted times of 27.84 & 27.95 respectfully. Not bad for 2 of the oldest swimmers at the meet.
Eric has long been very passionate about promoting the local swim team and has been instrumental in the success of the current program. When he's not promoting swimming, Eric can be found at SJF Material Handling in Winsted, MN. There he works as a inside sales & solutions specialist. No stranger to success, November was a record sales month for Eric and good enough to secure the #1 rank honors among his peers.
So what's next for Eric "ET" Thovson?
Could an Eric Moen swim challenge be in the cards for 2015?
The short video below demonstrates the new SJF air sweep sorter in action. This short video demonstrates air sweep sorting a wide array of different packages   for its client "Fun Company"  in Mankato Minnesota. SJF Air Sweep sorters are specifically designed to quickly sort boxes, bags and well as smaller hard to handle items into shipping containers.
SJF's sweep sorter provides an affordable sortation solution for a wide range of hard to handle products ranging from boxes to poly bags. Notice the different sizes and dimensions of the product, some round and some near flat. This system is sorting packages at a rate of 50/min.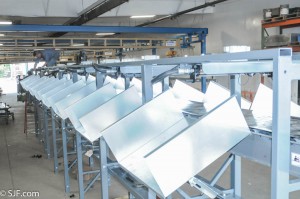 If you have questions or would simply like more information on SJF's air sweep sorters  and/or SurePik automated conveyor software please contact Sam Sterner (samsterner@sjf.com ) and/or Frank Sterner (fsterner@sjf.com )  or call them at  320-485-2824.