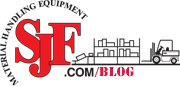 The #1 resource for material handling equipment information, tutorials, and industry news.
Archives: Material Handling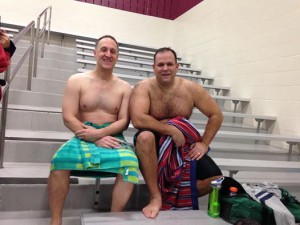 SJF's very own November inside sales champ Eric Thovson ( right) shown here with classmate Mark Karsten talking some smack & posing for photos this past weekend. Eric and Mark posted times of 27.84 & 27.95 respectfully. Not bad for 2 of the oldest swimmers at the meet.
Eric has long been very passionate about promoting the local swim team and has been instrumental in the success of the current program. When he's not promoting swimming, Eric can be found at SJF Material Handling in Winsted, MN. There he works as a inside sales & solutions specialist. No stranger to success, November was a record sales month for Eric and good enough to secure the #1 rank honors among his peers.
So what's next for Eric "ET" Thovson?
Could an Eric Moen swim challenge be in the cards for 2015?
The short video below demonstrates the new SJF air sweep sorter in action. This short video demonstrates air sweep sorting a wide array of different packages   for its client "Fun Company"  in Mankato Minnesota. SJF Air Sweep sorters are specifically designed to quickly sort boxes, bags and well as smaller hard to handle items into shipping containers.
SJF's sweep sorter provides an affordable sortation solution for a wide range of hard to handle products ranging from boxes to poly bags. Notice the different sizes and dimensions of the product, some round and some near flat. This system is sorting packages at a rate of 50/min.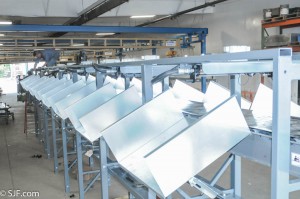 If you have questions or would simply like more information on SJF's air sweep sorters  and/or SurePik automated conveyor software please contact Sam Sterner (samsterner@sjf.com ) and/or Frank Sterner (fsterner@sjf.com )  or call them at  320-485-2824.
It sta

rted with your typical Wednesday  afternoon taunt among coworkers which lead to a 5K race challenge on a frigid Thanksgiving day.
Kendal Kalamaha (who's no stranger to accepting a challenge) and Jason Deiter  ( who's not shy about creating one) overcame some cold frigid weather and a blistering wind to participate in this years annual  Turkey Tag-a-long 5k run in Howard Lake Minnesota.   It was one of those " if you do it I'll do it to" scenarios that got both men out on the course and across the finish line.  While it may have been  Kendal's 1st official 5K race, he is no stranger to running long distances. Kendal has been an avid runner for the past 2 years often waking at 4 AM to put in as many as 4-5 miles/day before leaving for the office.  Jason is no rookie to competition himself having been an avid distance runner and a
local legend a few years back.  At the end of the day,  Kendal  finished with an impressive  25:26:5 time. Kendal's effort  for 5K was good enough to earn him a 10th place finish  in a field of over 120 runners .    Jason's  31:22:00 time was good enough to beat over half the field and a 40th place finish. Not bad for going right from the couch  to the starting line in frigid conditions.  When Jason and Kendal aren
't running races or  taking on challenges they can be found working at SJF Material Handling in Winsted, MN.  There Jason , Kendal and 6 of their sales coworkers work with businesses  nationwide  who are looking for  new & used material handling  & warehouse equipment…or at least..  when they are not taunting each other over the next new challenge.
Advantage Sign and Graphic Solutions, a national leader in the sign and graphics industry for over 20 years, has been a client of SJF's since 2011.  Recently, they went though a building expansion in one of their eleven national locations, and called on SJF for a quick turnaround to meet their needs.  Advantage Sign and Graphic Solutions is a top rated website with over 400 ratings and a 5 star rating.  This project and material was coordinated by Jason Deiter at SJF.  He can be reached at jdeiter@sjf.com.
This weeks " Industry Insider" features 3500 pieces of Rhino span track priced to sell FAST!
8 ft long x 12″ wide on 3″ centers.

Click here to view pricing and photos of this material now
More than twenty years ago, United Mailing Services, Inc. (UMS) got its start in the owner's basement. That was in 1989 when mail was sorted by hand. Since then UMS and the United States Postal Service have gone through many changes. By 1997 UMS expanded throughout the entire state of Wisconsin. Being a privately owned business which does work share with the United States Postal Service, UMS has become a leader in the automation industry.
UMS serves hundreds of clients, ranging from small local businesses to Fortune 500 companies throughout Wisconsin. In 2011 they expanded their business once again by offering high-speed digital color print to better serve the needs of their customers.