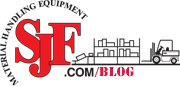 The #1 resource for material handling equipment information, tutorials, and industry news.
Archives: Material Handling
More than twenty years ago, United Mailing Services, Inc. (UMS) got its start in the owner's basement. That was in 1989 when mail was sorted by hand. Since then UMS and the United States Postal Service have gone through many changes. By 1997 UMS expanded throughout the entire state of Wisconsin. Being a privately owned business which does work share with the United States Postal Service, UMS has become a leader in the automation industry.
UMS serves hundreds of clients, ranging from small local businesses to Fortune 500 companies throughout Wisconsin. In 2011 they expanded their business once again by offering high-speed digital color print to better serve the needs of their customers.
SJF engineer Matt Johnson & systems integrator Frank Sterner team up with SJF's fabrication pros to create, fabricate and program a first-of-its-kind sweep sorter.
This is a very specialized piece of equipment capable of sorting hard to sort packages and bagged product (aka Halloween & other Costumes). This was specifically designed for a Minnesota client to quickly process and fill incoming sales orders quickly while minimizing errors.
This system will allow the company to vastly increase the number of orders they can process as well accommodate future growth and product demand.
Cameron's Coffee is a Minnesota based premium coffee roaster, with a unique roasting and packing plant made to deliver the freshest and smoothest coffee around.  Focusing on sustainable practices and minimal carbon footprint, they are a leading provider of coffee across the nation.
With all their roasting done locally in Minnesota, and with a boom in coffee drinking, Cameron's was in need to consolidate and simplify their operations.  They contacted SJF to assist in a three phase move into a larger warehouse.  Three existing coffee storage warehouses were consolidated into the new larger warehouse, along with their display fabrication shop.
Today, we're checking in again with Rhonda Remer.  Rhonda has been in sales for over a year and from time to time, we like to get her perspective on how her journey in material handling sales is coming along.
———–
In July, I was $2,000 shy of the coveted $100,000/month mark in sales.   It would have been my second time to hit the milestone. I was initially a bit deflated but then I decided to step back and look at things from a different perspective.  What have I learned?  How much progress in my new position have I actually made? I will focus on thePreview positive.
1: I have a lot more knowledge about material handling products than when I started this gig. I've sold many different kinds of conveyor, carton flow track, balers, cantilever, hoppers, safety equipment, totes and bins, and of course Pallet Racking and accessories. This leads right into…
2: My knowledge has value.  A good way to gauge this is when new people start in the department.   SJF recently hired three new Solutions Specialists – all with extensive sales experience.  It is refreshing for me to be able to transfer knowledge on equipment and internal processes, as opposed to being the one who is asking all the questions.    I realized that my Greenhorn status has changed – I'm no longer the 'new gal.'
Continue reading
SJF is happy to announce a new addition to our product line.  Bramidan Balers are among the safest, easiest to use and rugged balers available on the market today.  These balers come in a variety of different sizes and styles for almost any baling application you can come up with.
Bramidan was founded in 1975 and has been supplying baling machines and other waste management units to companies in Europe for almost 40 years.  Recently, they brought their high-quality yet low cost balers into the American market.
Continue reading
SJF is now representing Lift Products, Inc's line of lift tables.  Lift Products is known in the industry as having a high-quality product.  They offer many models available in several sizes.  SJF currently has available online their light duty lift tables, medium duty lift tables, heavy duty lift tables as well as their popular Roto-Max work positioner.
All of Lift Product's tables can be customized either in size or with optional add-ons.  For details, please call an SJF representative at 800-598-5532.