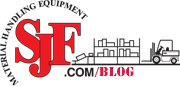 The resource for all things material handling.
Archives: Pallet Rack
PUTCO is a world leader in Automotive Accessories such as Trim, Lighting, Mud Flaps and Step Bars.  Putco has literally thousands of products for all major makes and models of car and truck available in a nationwide dealer network. If you're looking to spice up your ride, look no further than Putco.
When Putco contacted SJF, they were looking for a lot of racking at a savings. They needed to fill a new 127,000 sq. ft. facility so used equipment was definitely on their radar. SJF had just secured two large used inventories that could have filled PUTCO's needs but with new pricing being very competitive and not subject to availability issues, they turned to new. SJF supplied new Mecalux Interlake Pallet Racks and MECO Cantilever racks as well as the installation while meeting PUTCO's timeline and pricing requirements. Jason Deiter was the solutions specialist on this project.
Cooper Standard is a leading global automotive supplier.  With solutions for everything from in the body sealing, fuel, brake and emissions, thermal management and anti-vibration and many other segments of the industry. Cooper Standard is committed to meeting the specific needs of customers through solving engineering challenges or developing systems for future vehicles.
SJF's Jason Deiter supplied a mix of new Interlake/Mecalux Pallet Rack and used Interlake Cantilever Rack to meet Cooper Standard's pricing and lead time needs. As you can see from the photos, the used cantilever racks look almost like new, yet we were able to supply them at over 60% savings off similar new material.
Dex Media is a marketing solutions leader trusted by more than 600,000 local business clients nationwide. Dex is committed to helping its clients create and grow their customer relationships by providing a customizable mix of marketing solutions that include websites, print, mobile, social media and search engine marketing.
When Dex Media was preparing a facility for new business and needed to retrofit existing racking with a roller track product, Jason Deiter at SJF answered the call. The result was adding 900+ lanes of Keneco Beam Track to existing structural rack framework. Special attention needed to be payed to the dimensions of the existing racking and the channel size of the beams so that the hangers and the Beam Track would install straight off the truck with no hassle.
SJF today announced the completion of the 3rd major pallet rack tear down and removal project this week. In the past 60 days SJF has acquired, removed and shipped in excess of over 3000 pallet rack uprights and 40,000 used pallet rack beams from several large distribution centers spanning 3 different states.
Since the 1st of the year, SJF has been on a pallet rack buying spree for its clients and for inventory. National acquisitions manager Sam Sterner has been traveling nonstop during January. Sam has been the go to man on all of the recent projects. He is personally overseeing the removal, banding, loading and transportation of all the equipment to SJF's main warehouse facility in MN.
With another 25 trailer loads of equipment currently in transit to MN, the project was made even more challenging this week with temps dropping in the -25 below 0 range in Minnesota this week.
As 2014 gets under way, 42" uprights and 96″ beams continue to be in large demand from clients looking for good, clean, used warehouse storage racks. The recent acquisitions of these sizes position SJF as a key supplier in the national used pallet rack equipment market.
With over 1 million dollars of good, clean rack in prime sizes arriving daily, the latest acquisition provides SJF the ability to service even the largest requests for used pallet rack material.
SJF prides itself as being the go to source for used material handling equipment in the USA today. Acquisitions like this cement SJF's standing as the nation's largest stocking distributor of used material handling equipment in the USA.
View more photos and pricing on this prime-sizes pallet rack on our Teardrop Pallet Rack page at SJF.com
SJF is currently liquidating Rack, Forklifts, Conveyor & more from a warehouse in South Carolina.  Links to this equipment can be found below – but all of this equipment MUST be moved before the end of the month.  Any interest in this equipment, please call an SJF representative at 800-598-532.
Teardrop (Mecalux) Pallet Racks
Forklift Battery Changing System
Bendi (Swivel front) Forklifts
Other equipment from this purchase includes (but is not yet listed) Lift Tables, Sit-Down Forklfit Trucks, Order Picker Lift Trucks, and Gravity conveyor.  If you have any interest in this equipment, please call immediately.  We are selling it out of its current location and there has already been a lot of interest.  All sales will be first-come, first-served.
Though the weather is grown cold (-10 at the time of this writing) and the blog has been a little dormant – rest assured, dear readers that behind the scenes we are very busy at SJF.  December has seen a massive influx of pallet rack, drive-in rack systems, and complete conveyor systems for sale.  SJF currently has over 10,000 beams and 1,000 good quality uprights available for immediate sale in our Winsted, MN inventory.