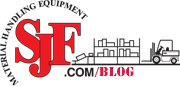 The #1 resource for material handling equipment information, tutorials, and industry news.
Archives: Pallet Rack
Advantage Sign and Graphic Solutions, a national leader in the sign and graphics industry for over 20 years, has been a client of SJF's since 2011.  Recently, they went though a building expansion in one of their eleven national locations, and called on SJF for a quick turnaround to meet their needs.  Advantage Sign and Graphic Solutions is a top rated website with over 400 ratings and a 5 star rating.  This project and material was coordinated by Jason Deiter at SJF.  He can be reached at jdeiter@sjf.com.
This weeks " Industry Insider" features 3500 pieces of Rhino span track priced to sell FAST!
8 ft long x 12″ wide on 3″ centers.

Click here to view pricing and photos of this material now
Support the fight against breast cancer!  Get a pair of pink beams with your order and we'll donate a portion of each sale to fight breast cancer.
How, you ask?  Simply ask your salesperson to include one pair of pink beams and you've done your part.  Not only will you be donating to a good cause, you'll be able to show your support to anybody who sees your …ahem…rack.
Cameron's Coffee is a Minnesota based premium coffee roaster, with a unique roasting and packing plant made to deliver the freshest and smoothest coffee around.  Focusing on sustainable practices and minimal carbon footprint, they are a leading provider of coffee across the nation.
With all their roasting done locally in Minnesota, and with a boom in coffee drinking, Cameron's was in need to consolidate and simplify their operations.  They contacted SJF to assist in a three phase move into a larger warehouse.  Three existing coffee storage warehouses were consolidated into the new larger warehouse, along with their display fabrication shop.
Excel Industries is a leading manufacturer of turf care products.  Excel Industries produces the Hustler Turf Equipment and BigDog Mower Company product lines in their single production facility in Hesston, Kansas.  As the producers of the first zero-turn mower in 1964, Excel Industries has a long history of turf equipment experience.  In late 2012 Excel Industries entered into the mass market arena with the introduction of the Raptor product line.
Maglio Minnesota is an approximately 25,000sq.ft. produce wholesale facility located in Oakdale, MN. Maglio Minnesota, specializes in receiving raw produce from growers throughout the country and sanitizing, sorting, and packing that produce into finished usable product for customers and consumers.
Vance Haugen was initially called out to Maglio to take a look at one of their cooling rooms.  They wanted to look at expanding available storage space to manage the increasing number of product that they needed to store. Vance informed them about a new flow rack product we carry (ExGlobe High Density Horizontal Flow Rail) and they expressed some interest.  The manufacturer's rep accompanied Vance on another meeting and Maglio liked the product.
Continue reading