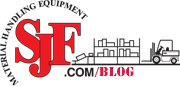 The #1 resource for material handling equipment information, tutorials, and industry news.
Archives: Press Release
SJF is now representing Lift Products, Inc's line of lift tables.  Lift Products is known in the industry as having a high-quality product.  They offer many models available in several sizes.  SJF currently has available online their light duty lift tables, medium duty lift tables, heavy duty lift tables as well as their popular Roto-Max work positioner.
All of Lift Product's tables can be customized either in size or with optional add-ons.  For details, please call an SJF representative at 800-598-5532.
SJF just released the new fully responsive layout of their website.
"The new design allows users across all devices to have a consistent, engaging experience." says Kent Powell – SJF's web designer/developer. "Responsive design allows us to focus on one web property (sjf.com) rather than fracture the site into desktop, mobile, and app versions.  The site automatically adapts to the medium being used to display it. "
This new design is currently applicable to all of the used/feature pages on SJF.com as well as the home page – with the rest of the site to follow soon.  This new design makes the old mobile site (m.sjf.com) obsolete.  The old site will remain active for a time, however future development will be focused solely on the main sjf.com domain to make the entire site accessible from all devices.
Maximum Density Flow Rail is designed to provide all of the benefits of traditional high-density pallet racking (drive-in, push-back, pallet flow) with none of the drawbacks. This flow rail system can easily store pallets up to 10 Deep!
Here are just a few of the benefits a maximum density flow rail system can provide you.
Can be installed/retrofitted on most existing racks & drive-in rack systems
No power necessary – No motors to maintain or batteries to charge.
No incline necessary – Not gravity feed. No rail incline needed.
Can be operated with a fork truck to store & retrieve pallets
Rails are Horizontal – Not angled or gravity fed
No flow rail brakes to adjust or troubleshoot
Each lane can hold a different product SKU
Rail is Maintenance Free and Rust Proof!
Can be used in low temperature environments
Easy to modify track length
Read more about this revolutionary new system & view photos and videos of its operation on our website.
SJF just became a national distributor for the Lift'n Buddy line of powered hand carts.
Built on a lightweight durable aluminium frame with powder coat paint finish, various Lift'n Buddy models can handle loads up to 350 lbs. and lift them a full 36″ high.
Lift'n Buddy was just added to the SJF.com online store and is now available for view and purchase online at a special low introductory price of only $2,464.20 ea.
Just Released!
*edit – To clarify – you need to visit the linked page to take the tour. Either click on the image at right or the link below and look for the tour button on the new page.
Now you can go on a virtual tour of SJF Material Handling — right from your desktop computer.  We have just released a new feature to our website where clients can go on a virtual walk through the yard.  At this time, the tour encompasses only a few rows of our large inventory, but come this spring, there will be additional areas added – including the new buildings, the shop, indoor warehouse storage, and perhaps (if we have enough requests) the offices.
To take the tour, simply look for the image at right on our website (sjf.com).  Click on it and you'll be able to use the arrows to walk up and down the rows and rows of rack components we have available for sale.
Are there any other corners of SJF you'd like to see on a tour? Let us know what you think in the comments below!
(Visit this link to find the tour button.)
SJF Material Handling Inc. Announces Master Distributor Business Partnership with SurePik Automation LLC.
SJF Material Handling Inc. today announced it has entered into a Master Distributor agreement with new partner SurePik Automation, LLC. SurePik Automation (SPA) specializes in inventory management software and automated control systems designed to maximize warehouse efficiency. It handles all material movement including, receiving, warehousing, order fulfillment and shipping applications.
SJF Material Handling Inc., a nationwide US integrator and distributor of new & used material handling systems since 1979, finalized a Master Distributor agreement with new partner SurePik Automation, LLC,
SurePik Automation LLC. provides hardware and software solutions for new, used, or existing carousel and automated conveyor systems. SurePik solutions utilize replacement hardware without proprietary components and a cost effective software system that exceeds the capability for growth provided by its competitors.
SurePik automation solutions are the result of 33 years of continued development & testing. Built from the ground up, SurePik's mission is to redefine how inventory management is handled to efficiently meet the challenges of business today. SurePik utilizes industry standard components and software development tools to provide a flexibility not found in the competition's products.
Customizable
SurePik is designed to be completely customizable to adapt itself to how a business currently operates and manages its existing resources. Whereas traditionally, you'd have to change your processes to match the providers software, SurePik adapts to existing business processes. With SurePik, custom modifications are designed to be made in hours – not the traditional weeks or months found in many products currently found in the marketplace.
Expandable
SurePik is designed to easily adapt to changing business requirements without software changes, delays in implementation and costly investments. Each SurePik package allows the user to quickly upgrade and add new functionality without the need to upgrade hardware or work flow.
System Integration
SurePik is easily integrated with your existing operations. It can be used as a stand alone product and at the same time, seamlessly integrated with nearly every existing ERP system; including SAP, Oracle Apps, Ellipse, and many others.
In addition to removing software limitations, SurePik also removes hardware limitations. Whether you have multiple manufacturer's carousels, hand controls, or legacy systems, SurePik can manage them all. Any carousel made by White, Remstar, Diamond Phoenix, or any other manufacturer can be managed by SurePik.
SurePik Automation (SPA) specializes in inventory management software and automated control systems to maximize warehouse efficiency. It handles all material movement including, receiving, warehousing, order fulfillment and shipping applications. The SurePik Pro software has enhanced capabilities to communicate with enterprise systems such as Oracle, SAP, Ellipse and others to integrate seamlessly with corporate operations.
According to SJF Material Handling Vice President Frank Sterner, the new SurePik Software, also incorporates a module to add carousel automation either as a stand alone control or within a full inventory management system. This new offering enhances SJF ability to sell and or service its line of new and used horizontal and vertical carousel systems. Functionality to interface with light trees, sort bars, scanners and printers is available. The new control system incorporates non-proprietary components and module design for ease of installation or retrofitting. Sterner also stated that SurePik Automation software is compatible with virtually any make or vintage of carousel on the market. In addition, it is easily customizable to suit the customer's processes and terminology. This customization, which requires little time or expense, can substantially reduce training time, since users are only required to learn the equipment, not change the way they do things.