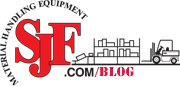 The #1 resource for material handling equipment information, tutorials, and industry news.
Archives: Steel Prices
DJJ head says scrap prices could strengthen in coming months
After falling in the second quarter, scrap prices appear to have temporarily bottomed and may even be heading upward, according to Keith Grass, CEO of Nucor's scrap unit, David J Joseph (DJJ).
Speaking during a quarterly earnings call yesterday, Grass said flows into company scrap yards appear to have declined 25 to 30%. Inquiries from the export market have picked up, he said, something that had been absent for the last 30-45 days.
Courtesy: Steel Business Briefing
Steel Dynamics Inc CEO Keith Busse doesn't believe US scrap prices will be up in August, he told investors and analysts yesterday on a quarterly conference call monitored by Steel Business Briefing.
Due to a weak export picture and declining steel prices, he said "you're not going to see any strength in August in ferrous resources." However, Busse said he believed prices could begin to rise by early September. He added he's not sure by how much, but doubted they could increase by $20-30/long ton, as some in the market have speculated.
Source: Steel Business Briefing

Declining scrap prices are expected to drag down US longs prices with them, Steel Business Briefing understands.
A source at one domestic beams producer predicted yesterday that prices for delivery of that product next month would fall along with the decline in scrap by $20-40/short ton.
Source: Steel Business Briefing
August US scrap surcharge benchmark down $45/l.ton
A key scrap price that determines surcharges for August deliveries of many steel products in the US market fell by $45 – from $350 to $305 per long ton, Steel Business Briefing learns.
As SBB has previously reported, scrap market players had been expecting a drop in scrap prices due to especially weak export demand.
Source: Business Briefing
The U.S gov't last month imposed large tariffs of 42.61% to 289% charging the Chinese were dumping wire decks in the US.market.
Response : Government puts tariffs on imported wire but at who's expense?
Government intervention into the free markets has a dismal & destructive track record.
Nobody ever wins a trade war.  Call it what you will, price controls, tariffs, import taxes, price freezes etc.
Always instituted for " noble reasons" yet, in reality,  they're just another means for government to justify picking winners and losers in the marketplace.
Tariffs will result in retaliation from the other side.  This is nothing new.  This is how trade wars start.
China will now retaliate with some measure of their own and the industries that feel the brunt of that retaliation then must suffer for no fault of their own.
In the end nobody wins and business suffers.  What do you think?
LONDON (MarketWatch) — European trade groups Eurofer, which represents steelmakers, and Orgalime, which represents industrial firms, said they "condemn" attempts by iron-ore producers BHP Billiton, Rio Tinto and Vale to increase prices by 80% or more. Vale this week reached a deal with Japanese steelmakers to up prices by 90%. The trade groups said the miners already have profit margins of up 50% per metric ton and that the price increases may place in jeopardy the fragile recovery of the manufacturing industry.