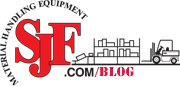 The #1 resource for material handling equipment information, tutorials, and industry news.
Archives: Tutorials
Here's a neat infographic about the inherent dangers of working in a warehouse.  This image will show you some stats on warehouse safety measures as well as:
Most accident Prone Areas
Top Injuries
Forklift Safety Information
Pallet Rack Failure Facts
and more…
View the entire infographic after the jump…
Continue reading
Learn about:
forklift classes
forklift components
forklift benefits
choosing the right forklift
View the entire forklift infographic after the jump…
Continue reading
Sales & Marketing Management magazine recently ran an article entitled, "5 Reasons Why Sales Makes Marketing Mad." The article was written by a marketing guy who likely had issues with salespeople.
He complained how salespeople talked too much about their commissions, how they didn't have enough leads (followed by good, qualified leads). Not following up quickly (or at all) on the leads salespeople did have also ticked this writer off. This writer may have had a point. Sales people can be overbearing. But you know what? SO CAN MARKETERS!
Far too few marketers ever sold something. This is a problem, especially in the material handling industry where an intimate understanding of the market's needs and challenges are vital.
This is why sales and marketing need a strong working relationship. In fact, there has never been a time before where the two departments need to work together in harmony.
Here's FIVE reasons (after the jump):
Continue reading
A business has to strike a balance between providing good quality service with proper investment and keeping costs low in order to make a profit. With rising costs, the challenge of maintaining this balance is becoming increasingly more difficult. With respect to handling of material, this is generally seen as consuming the most time in unproductive practices and take up approximately 40% of the staff's efforts in the field. To deal with this and ensure timely and high quality installations, there are a few things that ought to be managed well.
Choose the correct equipment
Choosing the correct equipment goes a long way in reducing costs. Often, the same equipment is used to manage very different jobs, and in many cases this equipment may not be very appropriate for some of those jobs. This reduces the efficiency of work, so it is always better to invest in the correct equipment for the work undertaken. It must also be kept in mind that using certain equipment for purposes which it is not meant for can reduce its life and end up in loss in the long run.
Licenses
Licenses are required for the usage and handling of different equipment, especially in an industrial environment. There can be stringent checks, especially for heavy duty equipment such as cherry pickers or forklifts, where a License to Perform High Risk Work is mandatory. If the license is found lacking or outdated, then heavy fines can be imposed on the operator and the business. This being the case, equipment is often kept unused and the staff not working while waiting for these licenses. It would be beneficial to have staff complete the necessary license training and assessments ahead of time so the license is in hand by the time work starts..
The life of the tire on a forklift is a difficult one. A forklift does not have suspension, so the tires alone are responsible for softening the ride for the cargo and the employee driving the vehicle. Forklift tires will have to traverse over some truly rough terrain at your factory or worksite and on average they will carry more than 9600 pounds at one time. In addition to all of the stopping, turning, reversing and accelerating that the forklift will do, the tires take quite a beating.
This is why it is important to keep a close eye on the tires of your forklift and to replace them when needed. Driving with damaged tires on your forklift can cause a lot of issues, because the wear on the tires will not be even and will cause the vehicle to become unstable. Also, when the tires are low this means that you run the risk of hitting a dock plate or running into debris on the floor. Furthermore, the damaged tires will contribute to the greater vibration of the forklift, which results in increased driver fatigue and also wears out the forklift faster. The worn out tires will also be more likely to shake and jolt on harder surfaces, which can make the driver lose control or cause the load to become unstable.
Continue reading
Today, we have an excellent guest post from our friend Tom Reddon from National Forklift Exchange.
Material handling can be a dangerous industry. More often than not, accidents occur due to the use of improper equipment for the job, or an insufficient amount of employee training. In fact, OSHA estimates that 78% of all workplace accidents occur in the material handling industry alone. That's a hard number to swallow when you consider the potential harm facing your employees. So how can help your business avoid being the next victim of workplace injury? Here are some of the best ways to create a safe working environment for your personnel.
Continue reading