Info, Tutorials and How To Guides
Archives: Guides
How to Choose a Rolling Ladder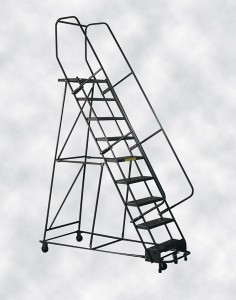 There are four  steps for picking out a rolling step ladder.
Step 1:  Choose the width
The width of a rolling ladder should be as wide as the aisle permits while still leaving enough space for pedestrian traffic to pass around the base of the ladder.
Step 2: Choose the Tread Style
Grip Strut style is for sure footing when liquids are underneath or the area is not clean. The G-Perf is for normal use where liquids are not present. It's also easier to sit on or kneel on this style step.
Step 3: Choose the height
A convenient work height is generally 5-5½ feet above the top step, or Platform Height (PH). Each step has a 10″ rise.
2-5 step ladders have retracting spring-loaded casters and steel reinforced rubber tipped feet. 6-16 step ladders have positive SAF-T locks with a release that secures the ladder when an individual steps on the first step. The caster carriage retracts allowing metal reinforced rubber-tipped feet to grip the floor, keeping the ladder user safe.
Step 4: Handrail Options
1 step ladders have no handrail
2-4 step ladders can be ordered with or without a handrail
5-16 step ladders are equipped with a handrail for safety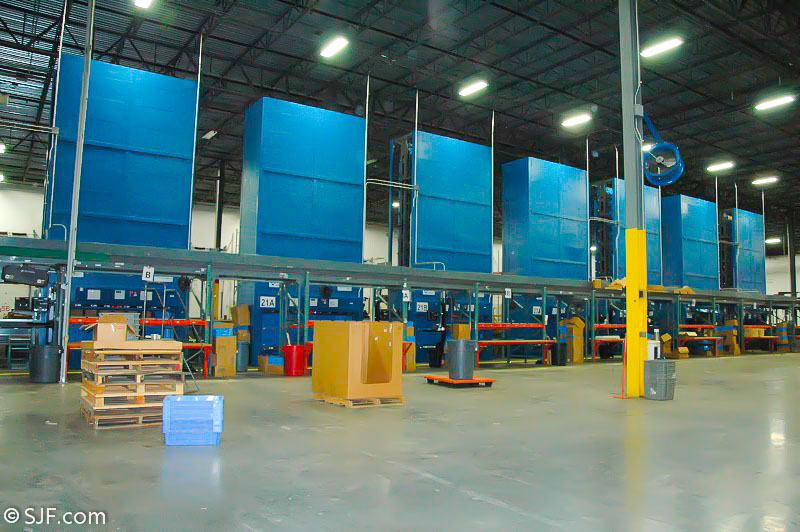 Industrial Carousel Guide
What is a carousel?
A carousel is an automated storage device that can be used to store many parts in a very small footprint.  Carousels come in two main configurations, Vertical and Horizontal.
Vertical Carousels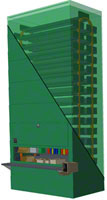 Vertical carousels take full advantage of overhead space. These carousels can save you up to 70% more floor space when compared to conventional static storage. Operator productivity is increased by up to two-thirds by eliminating the old "walk, search, stock, store" method of material handling. These carousels bring items to the picker via the shortest route possible. Verticals provide well lit work areas reducing worker fatigue and error. You'll enjoy added security and safety as items are kept out of sight within the carousel. You won't have to climb, stretch or bend to retrieve items ever again. Verticals deliver items conveniently to the carousel's pick station providing one of the most efficient and productive means of storage retrieval on the market today.
Not all vertical carousels are open, however.  If you've been to a home improvement store recently, you'll know that they have installed carousels to hold carpets, vinyl rolls and other large rolled goods.  This type of unit is called a spool or carpet carousel.
Below is a short video to understand how a vertical carousel works and how it can help you.