The #1 resource for material handling equipment information, tutorials, and industry news.
Archives: Material Handling
SJF Material Handling, partnering with David Weidenfeller at Interlake Mecalux and Mike Pemrick at Lock N Load Installations, replaced an older pre-existing drive-in system at Triple J Family Farms. Despite working in a cooler, the Lock N Load crew was able to complete the job within a day.
Jason Deiter, sales professional at SJF can be reached at 320.485.4961 directly, or at jdeiter@sjf.com.
Check out our overhead views of the SJF Material Handling's Winsted, Minnesota location – the nation's largest stocking distributor.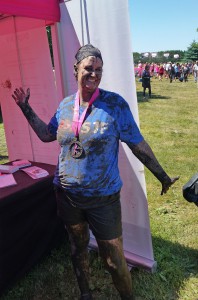 Congratulations to Denise Rosenau for turning in the most interesting SJF T-shirt photo during July. 
A big shout out and pat-on-the back congratulations  goes out to  Denise Rosenau for turning in the most interesting  SJF T-shirt Tuesday photo during July. The above photo landed her 1st prize and the title of SJF T-Shirt Tuesday Grand Champ for July. .  There were times when the competition got down and dirty but  Denise literally crawled threw mud & barbed wire to win the prestigious award.
Her prize? … A lifetime supply of SJF.com  t-shirts  — what else!   —  Congratulations Denise!
 In this short tutorial, Material Handling veteran Jason Dieter shares some insider insights about the different styles of beams that work with the many versions of teardrop style pallet rack. Jason not only demonstrates the difference between old style and new style racks, but also reveals some of the hybrids found in the marketplace as well.
In this short video tutorial, Eric Moen gives a quick tour of the uprights available in the rack warehouse while reviewing the many sizes & capacities currently available for fast 48-hour shipping  via SJF's "Quik-Ship" program.
Pallet Rack Uprights