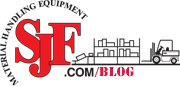 The resource for all things material handling.
New Video – Pick Module
SJF has just uploaded several new videos to our YouTube channel. (SJF's YouTube Channel) We'll be featuring a new video from this series every few days.
This video shows boxes entering into a pick module.  An employee then labels the boxes and places a pick sheet into the box to identify the order to be picked.  Employees then fill the boxes with the product(s) ordered and send them on to the packaging/shipping department.
View information and photos of pick modules currently available for sale on SJF.com