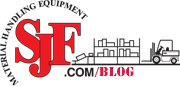 The resource for all things material handling.
New Video – Random Case Sealer
SJF has just uploaded several new videos to our YouTube channel. (SJF's YouTube Channel) We'll be featuring a new video from this series every few days.
This video shows a 3M Taper (Case Sealer) – Automatically taping boxes (cases) shut.
View random case sealers currently available on SJF.com