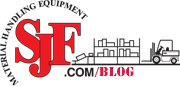 The #1 resource for material handling equipment information, tutorials, and industry news.
SJF's Material Handling Blog
December 17, 2014
Posted By:

Stafford Sterner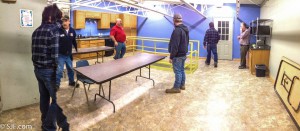 The final finishing touches today were put on SJF's  newly refurbished company lunch room.  Several weeks in  waiting and just in time for Christmas, the new lunch room will be completed just in time to host  SJF's annual employee chile cook-off wars.   With credit card in hand, Menard's was raided and supplies requisitioned resulting in a total kitchen makeover for the employees lunchroom. The revamp  included but was by no means limited to  new tiled floors, a hipster paint job, new 100% certified imitation wood cabinets, scratch & dent  appliances,  fully functional electrical outlets and more.  All construction was done under the watchful eye of sales solutions specialist and resident celebrity   "Rusty Iron Chef"   Vance Haugen ( seen above in his snappy colored red shirt). Vance's review –   2 thumbs up & a full 5 stars approval rating.