The #1 resource for material handling equipment information, tutorials, and industry news.
Archives: Rant n' Rave
Check out our overhead views of the SJF Material Handling's Winsted, Minnesota location – the nation's largest stocking distributor.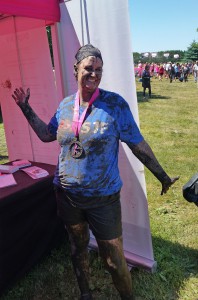 Congratulations to Denise Rosenau for turning in the most interesting SJF T-shirt photo during July. 
A big shout out and pat-on-the back congratulations  goes out to  Denise Rosenau for turning in the most interesting  SJF T-shirt Tuesday photo during July. The above photo landed her 1st prize and the title of SJF T-Shirt Tuesday Grand Champ for July. .  There were times when the competition got down and dirty but  Denise literally crawled threw mud & barbed wire to win the prestigious award.
Her prize? … A lifetime supply of SJF.com  t-shirts  — what else!   —  Congratulations Denise!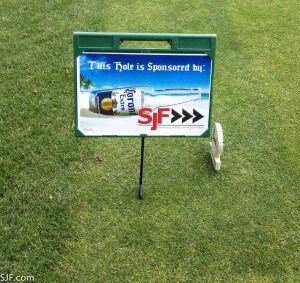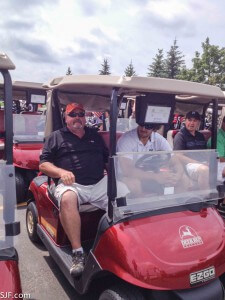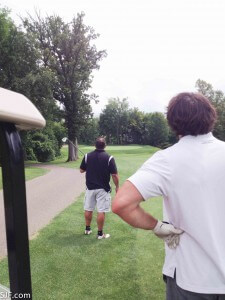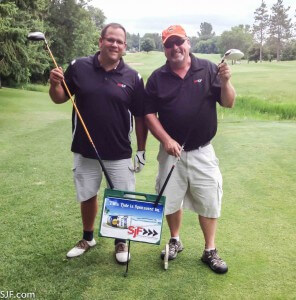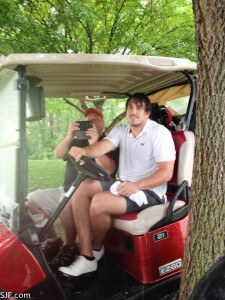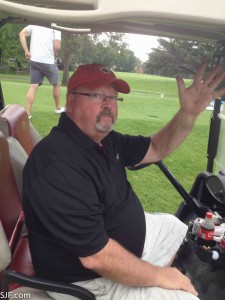 This past week saw Sam & Stafford Sterner, Vance Haugen and Eric Thovson get together to Tee it up at Deer Run Golf course to help raise money for Pancreatic Cancer Research. What turned out to be a hot and humid day was briefly interrupted by a downpour rain delay. Fun was had by all and some money raised for a great cause.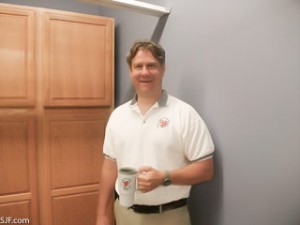 Name: Eric Moen
Dept: Sales
Years at SJF: 4
What do you enjoy doing when you're not at work? Motorcycle Riding and playing with my dog, Molly.
Biggest Pet Peeve: When people don't follow through with what they say they are going to do.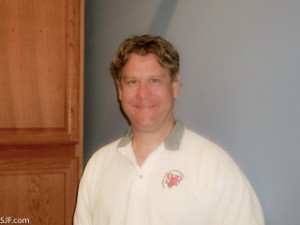 Name something about you that people would be surprised to know: I have been in sales my entire life. Starting when I was 11 years old, selling spices in Cub Scouts, and going to Mississippi to sell books going door to door. I loved it.
What question would you like to answer that you didn't get asked? Are you Single? And the answer is Yes!
Photo Gallery :SJF Pre-July 4th Employee Appreciation Luncheon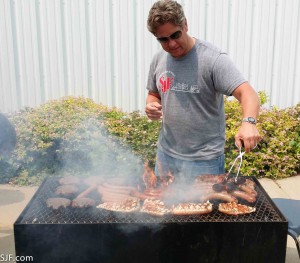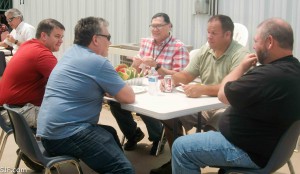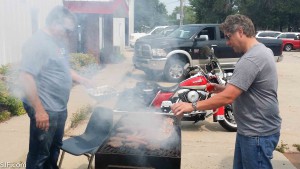 Thovson and family shown here sporting SJF colors were out in force this past month supporting High Tides Swim Club and the USA Swimming Foundation. The purpose of the event was to  raise some donations via the Swim-a-thon challenge.
Eric's daughter Bella completed an impressive 240 laps in 1 hour and 53 minutes for a total of 6,000 meters (almost 4 miles).  Pretty awesome Bella! Erick swam a total of 1,800 meters adding to the total. Eric & Bella's effort helped  rack up some additional donation dollars for the event.
The event saw over 56 athletes ranging in age from 7 to 48 years old participate in this event in support of our non-profit organization dedicated to providing developmental and competitive swimming opportunities to children in the greater Hutchinson area. USA Swimming clubs have over 12,000 registered athletes aged 18 and under in Minnesota and it is the single largest organized activity for kids in the United States.
This event raised over $10,000 thanks to the support and generosity of it's sponsors. 95% of the money raised stays with our local club to help fund our scholarship program for swimmers with financial hardships. The other 5% goes to the USA Swimming Foundation to support national initiatives.
Ericks involvement in swimming had been as a Dad and President of the Board of Directors until recently. Erick is now back in the water as an official member of United States Masters Swimming. For now it is fitness driven, but at some point Erick claims he may get up the courage to race in a Master's meet. Maybe about 30-40 pounds from now. One thing is for sure, the Sales team at SJF will surely taunt him relentlessly in his quest.
Keep and eye open in the months ahead for further updates. Till then, keep your head above water Eric and keep strok'en.