The #1 resource for material handling equipment information, tutorials, and industry news.
Archives: Rant n' Rave
Vance Haugen is shown here smiling as Ed Salonek checks to see if he's been naughty or nice this past year. Guess you were good enough to score that Thanksgiving turkey you're holding, Vance! Adam Bachand (right) is patiently waiting to see if he made the list (which of course he did!).

Annual Employee Appreciation Thanksgiving Turkey and Ham Give-Away
Yesterday kicked off the holiday season here at SJF with the annual employee appreciation turkey and ham give-away. Each year the company gives turkeys and hams away to each of its employees to say thank you and to assure that everyone is well fed on Thanksgiving.
Here in Minnesota, we're down to the last few days or weeks of warm weather… warm enough for our employees with motorcycles to ride to work.
What better time to show our alter egos than Halloween?
 In this short tutorial, Material Handling veteran Jason Dieter shares some insider insights about the different styles of beams that work with the many versions of teardrop style pallet rack. Jason not only demonstrates the difference between old style and new style racks, but also reveals some of the hybrids found in the marketplace as well.
Check out our overhead views of the SJF Material Handling's Winsted, Minnesota location – the nation's largest stocking distributor.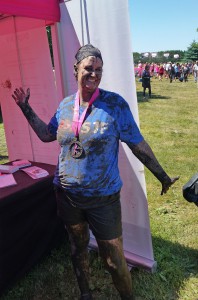 Congratulations to Denise Rosenau for turning in the most interesting SJF T-shirt photo during July. 
A big shout out and pat-on-the back congratulations  goes out to  Denise Rosenau for turning in the most interesting  SJF T-shirt Tuesday photo during July. The above photo landed her 1st prize and the title of SJF T-Shirt Tuesday Grand Champ for July. .  There were times when the competition got down and dirty but  Denise literally crawled threw mud & barbed wire to win the prestigious award.
Her prize? … A lifetime supply of SJF.com  t-shirts  — what else!   —  Congratulations Denise!