The #1 resource for material handling equipment information, tutorials, and industry news.
Tag Archives: carousel
Just Posted!
View additional photos & details of these white vertical carousels.
SJF has acquired 6 White Vertical Carousels from a facility in TX.  These carousels are currently being professionally dismantled and crated up for shipping.  Please call an SJF representative for details.  Here's a short video that details the functionality (forward/reverse/soft-stop) of these carousels.
6 ea. available
Overall Size: 12'6″ H x 56.25″D x 119.5″ W
600# bin capacity
Very Clean – in Excellent Condition
Sale Price: $17,500 ea. (as-is)
— Note: These carousels can be used as-is with the software included – OR you can ugrade to SurePik Carousel Controls for a more complete carousel inventory management and AS/RS solution.
But Wait – there's more…
Click Continue Reading for a Bonus Video
Continue reading
SJF Material Handling Inc. Announces Master Distributor Business Partnership with SurePik Automation LLC.
SJF Material Handling Inc. today announced it has entered into a Master Distributor agreement with new partner SurePik Automation, LLC. SurePik Automation (SPA) specializes in inventory management software and automated control systems designed to maximize warehouse efficiency. It handles all material movement including, receiving, warehousing, order fulfillment and shipping applications.
SJF Material Handling Inc., a nationwide US integrator and distributor of new & used material handling systems since 1979, finalized a Master Distributor agreement with new partner SurePik Automation, LLC,
SurePik Automation LLC. provides hardware and software solutions for new, used, or existing carousel and automated conveyor systems. SurePik solutions utilize replacement hardware without proprietary components and a cost effective software system that exceeds the capability for growth provided by its competitors.
SurePik automation solutions are the result of 33 years of continued development & testing. Built from the ground up, SurePik's mission is to redefine how inventory management is handled to efficiently meet the challenges of business today. SurePik utilizes industry standard components and software development tools to provide a flexibility not found in the competition's products.
Customizable
SurePik is designed to be completely customizable to adapt itself to how a business currently operates and manages its existing resources. Whereas traditionally, you'd have to change your processes to match the providers software, SurePik adapts to existing business processes. With SurePik, custom modifications are designed to be made in hours – not the traditional weeks or months found in many products currently found in the marketplace.
Expandable
SurePik is designed to easily adapt to changing business requirements without software changes, delays in implementation and costly investments. Each SurePik package allows the user to quickly upgrade and add new functionality without the need to upgrade hardware or work flow.
System Integration
SurePik is easily integrated with your existing operations. It can be used as a stand alone product and at the same time, seamlessly integrated with nearly every existing ERP system; including SAP, Oracle Apps, Ellipse, and many others.
In addition to removing software limitations, SurePik also removes hardware limitations. Whether you have multiple manufacturer's carousels, hand controls, or legacy systems, SurePik can manage them all. Any carousel made by White, Remstar, Diamond Phoenix, or any other manufacturer can be managed by SurePik.
SurePik Automation (SPA) specializes in inventory management software and automated control systems to maximize warehouse efficiency. It handles all material movement including, receiving, warehousing, order fulfillment and shipping applications. The SurePik Pro software has enhanced capabilities to communicate with enterprise systems such as Oracle, SAP, Ellipse and others to integrate seamlessly with corporate operations.
According to SJF Material Handling Vice President Frank Sterner, the new SurePik Software, also incorporates a module to add carousel automation either as a stand alone control or within a full inventory management system. This new offering enhances SJF ability to sell and or service its line of new and used horizontal and vertical carousel systems. Functionality to interface with light trees, sort bars, scanners and printers is available. The new control system incorporates non-proprietary components and module design for ease of installation or retrofitting. Sterner also stated that SurePik Automation software is compatible with virtually any make or vintage of carousel on the market. In addition, it is easily customizable to suit the customer's processes and terminology. This customization, which requires little time or expense, can substantially reduce training time, since users are only required to learn the equipment, not change the way they do things.
The previous two weeks once again saw truckloads of new equipment coming into the yard here at SJF.  It started with Dave Kieper and Sam Sterner taking down conveyor previously sold by us.  One advantage to buying used is the high chance of selling the equipment right back when changing the facility!  In and out in two days only, and there is now over 150′ of great shape used Ermanco Lineshaft conveyor in stock here in Winsted.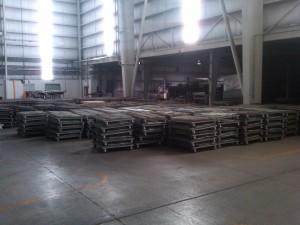 Wire baskets have been a hot commodity upstairs in the Sales room lately at SJF, so we could not pass up the opportunity to purchase over 900 barely used collapsible wire baskets from California late last week.  These should be arriving here in Minnesota any day now.
If ever given the opportunity to purchase some great shape, heavy duty beams, we never pass it up.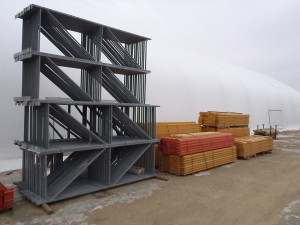 These Keystone style beams recently came in from the East coast.  We even hired a different crew out there to do the banding and loading work for this purchase, and couldn't be any happier with the results.  All in all it was a great buy working with great people.
This pallet flow rail came through and had us drooling here at SJF.  It looks like the rail is new and never used.  We jumped on this immediately and had it sent straight here all the way from South Carolina.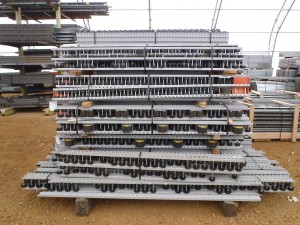 This carousel is almost an exact match to that we purchased last week.  Located right here in the Twin Cities, we couldn't say no.  This carousel is in absolutly pristine condition, and we look forward to receiving it in early March.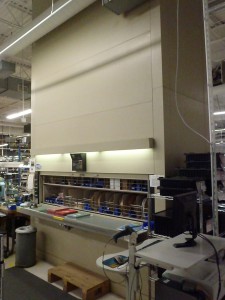 2012 started out fast here at SJF.  Sam Sterner and Director of Manufacturing Brian Springer arrived in Phoenix, AZ on January 2 to load out conveyor bound for our inventory here at SJF in Winsted, MN.  The goal was simple, load out as much conveyor and conveyor parts as possible.  This recent purchase gave us the opportunity to provide usable parts, such as drives and tails, for pieces we already have in stock.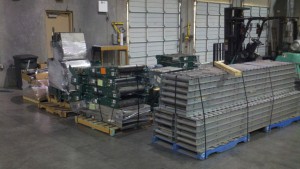 With conveyor spread across the warehouse, it made packaging the material almost a scavenger hunt.  Totes full of unknown parts were lining the top levels of the rack, and many contained valuable parts to piecing together conveyor systems.  We ended up sending two trucks back to Minnesota, both loaded to the brim with conveyor, drives, nose overs, feeder beds, and other parts usable with most conveyors.
Just posted – a new video of 13 Diamond Phoenix Vertical carousels currently available from SJF.com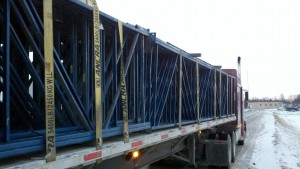 The last two weeks started with a 14 hour day in Worthington, MN.  SJF recently purchased 540 pallet positions of Drive-in-Rack from a company located there.  Sam Sterner headed down in the morning to assist in the final teardown, banding, and loading of the components.  This is truck 1/2 for the day leaving loaded with uprights and rails for the system, headed straight to a customer in Fargo, ND.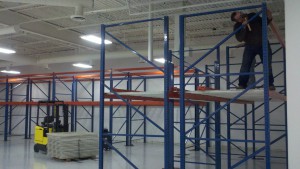 The Worthington, MN shipment occurred on Wednesday, December 14.  Friday, December 16 and the following Monday were spent in Plymouth, MN installing pallet rack for a new Polaris Industries showroom.  The rack was set to allow display of ATVs and accessories for sale.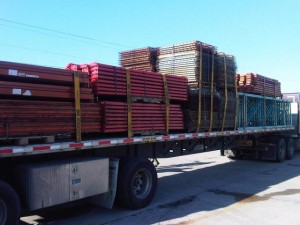 The week of 12/19 also had the arrival of several trucks from a recent purchase in Jeffersonville, Indiana.  These trucks came loaded with rack now available in stock in Winsted, MN.  A brief list includes-
48"x20′ Speedrack Uprights – 204 ea
108"x4" Speedrack Beams – 621 ea
96"x4" Speedrack Beams – 528 ea
48"x 20′  Teardrop Uprights – 40 ea
48"x52" Wire Deck – 653 ea
48"x46" Wire Deck – 747 ea
Many other items including many sizes Speed Rack uprights and beams, Teardrop Rack Uprights and beams, Sturdi-built, Palmer Shile, Ridge U Rack uprights and beams, and many other sizes of wire decking.  Call an SJF sales representative for more details!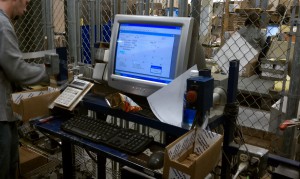 The recent weeks also included the testing for SJF's new carousel software, SurePik. The first run through should be up and running soon for our first customer here in the Twin Cities metro!  This is an exciting new venture in carousel controls, and can drastically improve efficiency in your carousel system.  The best part, it works with any and every carousel. Contact us today with more information on this new product!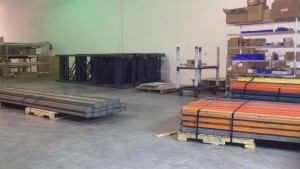 Four days before Christmas, Sam Sterner headed to Rogers, MN to band up another recent purchase of Sturdibuilt pallet rack.  This included 144"x6" and 144"x3.5" Sturdi-Built beams, 48"x10′ Sturdi-Built uprights, and 144"x5" Teardrop beams.  These were brought right down the road to our stock in Winsted, MN.  These are very nice, heavy duty beams available now!
The month of January looks to be just as busy for us here at SJF.  Already in the works is truckloads of conveyor leaving Phoenix, AZ; three carousels we purchased in the Twin Cities; a large warehouse full of structural racking in Ohio; the implementation of our new SurePik software in MN; and many more projects around the country, so stay tuned!