Info, Tutorials and How To Guides
Tag Archives: conveyor
The short video below demonstrates the new SJF air sweep sorter in action. This short video demonstrates air sweep sorting a wide array of different packages   for its client "Fun Company"  in Mankato Minnesota. SJF Air Sweep sorters are specifically designed to quickly sort boxes, bags and well as smaller hard to handle items into shipping containers.
SJF's sweep sorter provides an affordable sortation solution for a wide range of hard to handle products ranging from boxes to poly bags. Notice the different sizes and dimensions of the product, some round and some near flat. This system is sorting packages at a rate of 50/min.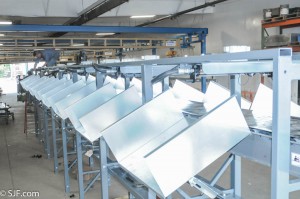 If you have questions or would simply like more information on SJF's air sweep sorters  please contact Sam Sterner (samsterner@sjf.com ) and/or Frank Sterner (fsterner@sjf.com )  or call them at  320-485-2824.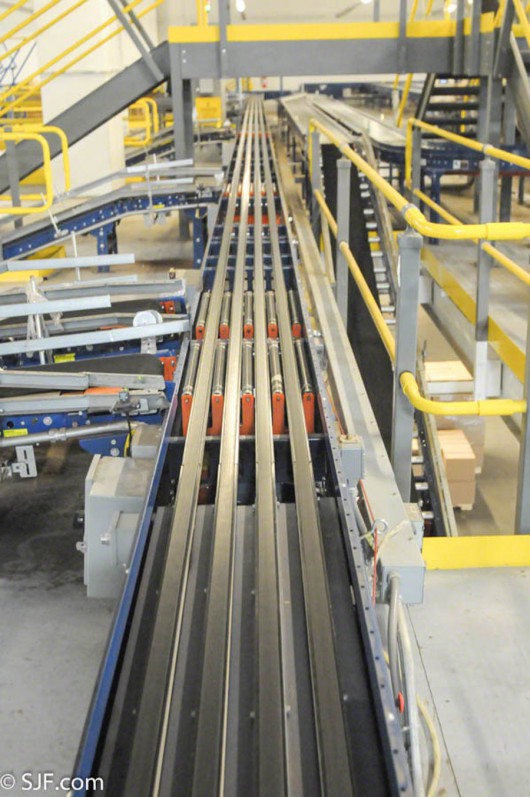 New for December 2014 – now available for immediate purchase
These two per-owned sort systems were just removed from a low use facility  and are now down, packaged and stored indoors awaiting a new owner.
Ermanno NBS90 sorters are very energy efficient and quiet because they utilize a series of narrow belts with individual take-ups. High-friction rollers raise to grip and gently divert products at a 90-deg. angle right or left, on-the-fly.Continuous contact between belt and product provides maximum tracking accuracy, for optimum sort reliability.
 NBS 90 sorters run at speeds of 300 feet per minute with sort rates up to 65 cases per minute (single side).
These systems came out of a very low-use facility and can be customized for your application.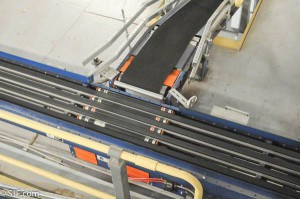 Please call  Sam Sterner at 320-485-4970 or email Sam at samsterner@sjf.com for additional details and pricing.
To view additional photos and details on this and other conveyor & sortation
systems
  SJF has to offer 
click here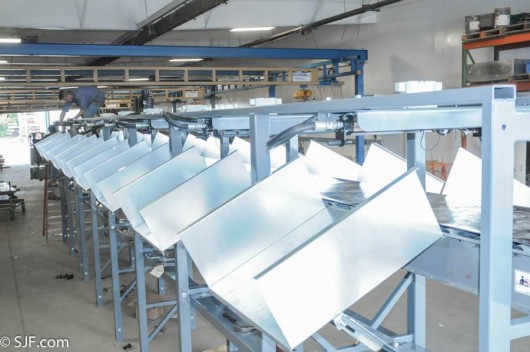 SJF engineer Matt Johnson & systems integrator Frank Sterner team up with SJF's fabrication pros to create, fabricate and program a first-of-its-kind sweep sorter.
This is a very specialized piece of equipment capable of sorting hard to sort packages and bagged product (aka Halloween & other Costumes). This was specifically designed for a Minnesota client to quickly process and fill incoming sales orders quickly while minimizing errors.
This system will allow the company to vastly increase the number of orders they can process as well accommodate future growth and product demand.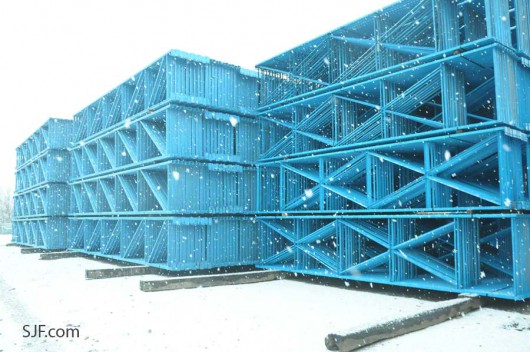 Though the weather is grown cold (-10 at the time of this writing) and the blog has been a little dormant – rest assured, dear readers that behind the scenes we are very busy at SJF.  December has seen a massive influx of pallet rack, drive-in rack systems, and complete conveyor systems for sale.  SJF currently has over 10,000 beams and 1,000 good quality uprights available for immediate sale in our Winsted, MN inventory.
Continue reading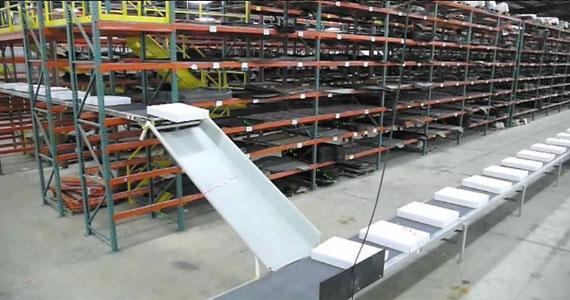 Neodesha Plastics is a plastics manufacturer who engineers custom vacuum formed, thermoformed and CNC milled plastic parts for customers world-wide
In the fall of 2009, Neodesha Plastics contacted SJF with some ideas they had to increase their picking productivity & efficiency.  They had in mind a "Pick-Module" type system that would utilize their existing racking.  They wanted to alter the existing rack, add additional levels and create a cat-walk to access the upper levels of racking.
Continue reading
SJF has just uploaded several new videos to our YouTube channel. (SJF's YouTube Channel)  We'll be featuring a new video from this series every few days.
This video shows a belt over roller decline conveyor transporting boxes from a pick module to a packaging department.
View belt over roller inclines/declines for sale on SJF.com