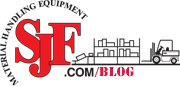 The resource for all things material handling.
Tag Archives: Minnesota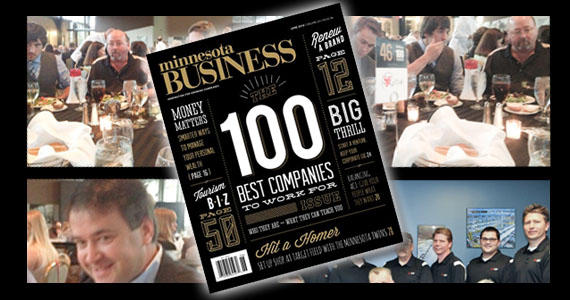 As mentioned before in this blog SJF was nominated as one of the 100 best companies to work for in MN by MN Business Magazine.  This past Thursday night, the dinner and awards ceremony was held at The Depot in downtown Minneapolis.
Several of SJF's employees enjoyed an evening of food, drinks, and excellent conversation as well as a very nice slideshow put together by MN Business Magazine.
Once again, SJF management would like to thank all of our employees for making this possible.
Enjoy the Photos!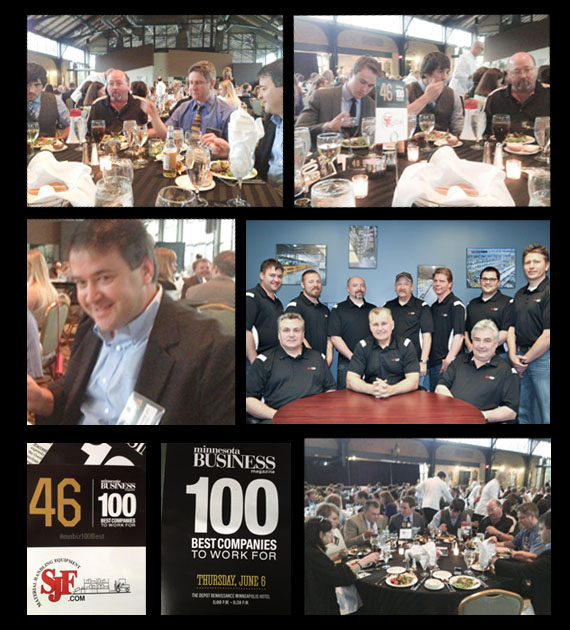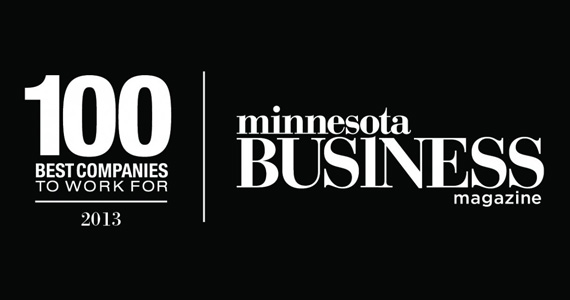 SJF is honored to be named on the 100 Best Companies to Work for in MN for 2013.  This list is compiled by Minnesota Business Magazine based out of Minneapolis, MN.
About the Nomination (From MN Business Magazine)
[this award salutes] Minnesota organizations setting the standard for employee well-being. The 100 Best are chosen using data gathered from an anonymous employee satisfaction survey administered by an independent research group. Only the top Minnesotan companies, as judged in areas such as work environment, employee benefits, employee happiness, and leadership, are selected for inclusion in the list.
There will be an award ceremony to honor all of the companies on the list on Thursday, June 6th.
Thanks, MN Business Magazine and thank you SJF employees for making this possible!
You can view the full list of nominees here.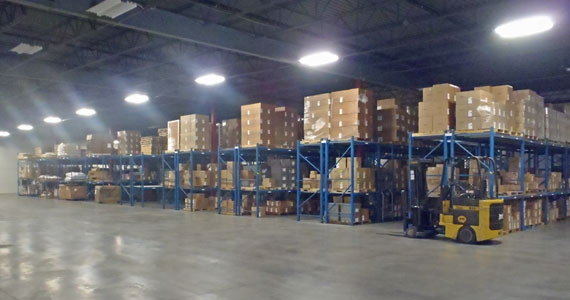 Modern Molding, Inc. (MMI) of Delano, Minnesota, provides custom-made thermoplastic injection molded parts to the worldwide market with complete solutions for engineers, project managers, and purchasing agents. With unsurpassed technical support, Modern Molding helps manufacturers and engineers find the right solutions for any injection molding or tooling need.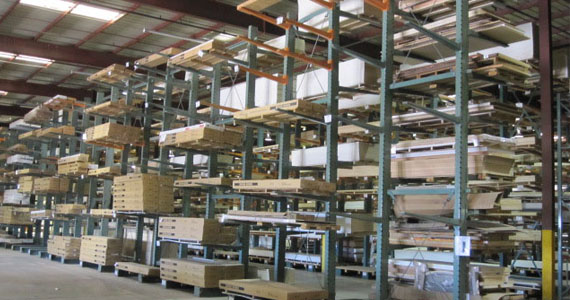 The past week has brought more cantilever rack into our yard at SJF than we have seen in an entire year!  Two large purchases; one local and one on the West Coast, have brought in large quantities of mint condition cantilever.
Our last purchase of this style and size cantilever barely hit our yard before it was sold and loaded onto a customers truck.
As expected, this is no different, with multiple orders against this material already.  This rack is moving very quickly, so act fast if you want in on this latest purchase!
Lodi Cantilever:
20′ Column and Base: 200ea
16′ Column and Base: 20ea
48″ x 2,000# Capacity Arms: 2,133ea
Monarch Structural Cantilever:
16′ x 8″ I Beam Column: 202ea
54″ Bases: 201ea
54″ Arms: 721ea
46″ Bases: 20ea
46″ Arms: 135ea
36″ Bases: 13ea
36″ Arms: 37ea
32″ x 5′ X Bracing: 106ea

The end of April/beginning of May has been a busy time here at SJF.  The last month has brought in equipment from across the board, including conveyor, pallet rack, rack systems, and cantilever.  April started out with a string of local buys.  A large retail store closed multiple locations across the Minneapolis metro, and we were able to jump on some great condition conveyor.  This includes 8 Best Flex conveyors and 500ft of 18" Skate-wheel conveyor as well.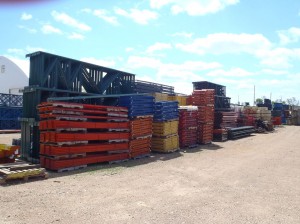 We were very fortunate to have access to a variety of systems lately, and many came into our yard for stock.  Systems brought in this month include the following drive-in rack and push-back rack systems:
3 Deep Back-to-back Ridg-U-Rak Drive In
5 Deep Ridg-U-Rak Drive In
3 Deep Structural Drive In
3 Deep Interlake Push Back
4 Deep Interlake Push Back
3 Deep Advance Push Back
6 Deep Advance Push Back
Needless to say, we are loaded with rack systems!  These are in great shape, and all are in stock now in Minnesota.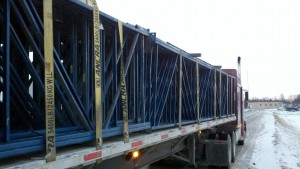 The last two weeks started with a 14 hour day in Worthington, MN.  SJF recently purchased 540 pallet positions of Drive-in-Rack from a company located there.  Sam Sterner headed down in the morning to assist in the final teardown, banding, and loading of the components.  This is truck 1/2 for the day leaving loaded with uprights and rails for the system, headed straight to a customer in Fargo, ND.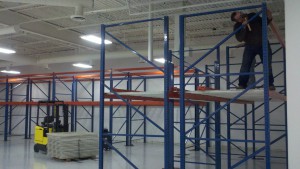 The Worthington, MN shipment occurred on Wednesday, December 14.  Friday, December 16 and the following Monday were spent in Plymouth, MN installing pallet rack for a new Polaris Industries showroom.  The rack was set to allow display of ATVs and accessories for sale.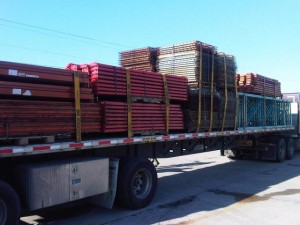 The week of 12/19 also had the arrival of several trucks from a recent purchase in Jeffersonville, Indiana.  These trucks came loaded with rack now available in stock in Winsted, MN.  A brief list includes-
48"x20′ Speedrack Uprights - 204 ea
108"x4" Speedrack Beams - 621 ea
96"x4" Speedrack Beams - 528 ea
48"x 20′  Teardrop Uprights – 40 ea
48"x52" Wire Deck - 653 ea
48"x46" Wire Deck – 747 ea
Many other items including many sizes Speed Rack uprights and beams, Teardrop Rack Uprights and beams, Sturdi-built, Palmer Shile, Ridge U Rack uprights and beams, and many other sizes of wire decking.  Call an SJF sales representative for more details!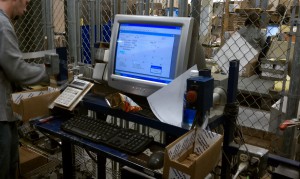 The recent weeks also included the testing for SJF's new carousel software, SurePik. The first run through should be up and running soon for our first customer here in the Twin Cities metro!  This is an exciting new venture in carousel controls, and can drastically improve efficiency in your carousel system.  The best part, it works with any and every carousel. Contact us today with more information on this new product!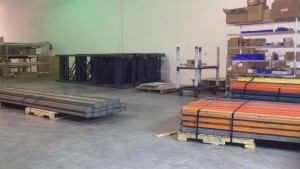 Four days before Christmas, Sam Sterner headed to Rogers, MN to band up another recent purchase of Sturdibuilt pallet rack.  This included 144"x6" and 144"x3.5" Sturdi-Built beams, 48"x10′ Sturdi-Built uprights, and 144"x5" Teardrop beams.  These were brought right down the road to our stock in Winsted, MN.  These are very nice, heavy duty beams available now!
The month of January looks to be just as busy for us here at SJF.  Already in the works is truckloads of conveyor leaving Phoenix, AZ; three carousels we purchased in the Twin Cities; a large warehouse full of structural racking in Ohio; the implementation of our new SurePik software in MN; and many more projects around the country, so stay tuned!