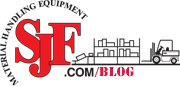 The resource for all things material handling.
Tag Archives: pallet rack
PUTCO is a world leader in Automotive Accessories such as Trim, Lighting, Mud Flaps and Step Bars.  Putco has literally thousands of products for all major makes and models of car and truck available in a nationwide dealer network. If you're looking to spice up your ride, look no further than Putco.
When Putco contacted SJF, they were looking for a lot of racking at a savings. They needed to fill a new 127,000 sq. ft. facility so used equipment was definitely on their radar. SJF had just secured two large used inventories that could have filled PUTCO's needs but with new pricing being very competitive and not subject to availability issues, they turned to new. SJF supplied new Mecalux Interlake Pallet Racks and MECO Cantilever racks as well as the installation while meeting PUTCO's timeline and pricing requirements. Jason Deiter was the solutions specialist on this project.
SJF today announced the completion of the 3rd major pallet rack tear down and removal project this week. In the past 60 days SJF has acquired, removed and shipped in excess of over 3000 pallet rack uprights and 40,000 used pallet rack beams from several large distribution centers spanning 3 different states.
Since the 1st of the year, SJF has been on a pallet rack buying spree for its clients and for inventory. National acquisitions manager Sam Sterner has been traveling nonstop during January. Sam has been the go to man on all of the recent projects. He is personally overseeing the removal, banding, loading and transportation of all the equipment to SJF's main warehouse facility in MN.
With another 25 trailer loads of equipment currently in transit to MN, the project was made even more challenging this week with temps dropping in the -25 below 0 range in Minnesota this week.
As 2014 gets under way, 42" uprights and 96″ beams continue to be in large demand from clients looking for good, clean, used warehouse storage racks. The recent acquisitions of these sizes position SJF as a key supplier in the national used pallet rack equipment market.
With over 1 million dollars of good, clean rack in prime sizes arriving daily, the latest acquisition provides SJF the ability to service even the largest requests for used pallet rack material.
SJF prides itself as being the go to source for used material handling equipment in the USA today. Acquisitions like this cement SJF's standing as the nation's largest stocking distributor of used material handling equipment in the USA.
View more photos and pricing on this prime-sizes pallet rack on our Teardrop Pallet Rack page at SJF.com
Though the weather is grown cold (-10 at the time of this writing) and the blog has been a little dormant – rest assured, dear readers that behind the scenes we are very busy at SJF.  December has seen a massive influx of pallet rack, drive-in rack systems, and complete conveyor systems for sale.  SJF currently has over 10,000 beams and 1,000 good quality uprights available for immediate sale in our Winsted, MN inventory.
Collins & Jewell is a closely held corporation founded in 1946 by Rudolph Collins and Robert Jewell Sr. Now in its 3rd Generation of ownership, partners Christopher Jewell and Brian Dudek continue the growth of the company through Custom Fabrication and Industrial Installations for Global and Domestic Markets. Collins & Jewell provides the Manufacturing and Processing Industries with the latest mechanical services. Currently Collins & Jewell employs full time craftsmen including: Electricians, Pipe Fitters, Fabricators, Mill Wrights and Service Technicians. Our crews are seasoned professionals and we are continually expanding our fleet of equipment, by acquiring new and modern equipment to maintain state of the art technology.
SJF Worked with Collins & Jewell to provide some custom pallet rack for a system that they were installing in a military facility.  The rack system is being used to store submarine parts which is why we don't have any photos of this job, but we came up with a solution…
Here's a neat infographic about the inherent dangers of working in a warehouse.  This image will show you some stats on warehouse safety measures as well as:
Most accident Prone Areas
Top Injuries
Forklift Safety Information
Pallet Rack Failure Facts
and more…
View the entire infographic after the jump…
Kelly-Moss Motorsports offers maintenance, performance tuning and enhancement, parts sales and much more to race teams all across the USA.  Kelly-Moss is a complete full service auto facility, working on both customer race cars and general automotive maintenance in their street shop.  The complex also houses the Level Five Motorsports racing team. With over 22 years of experience with all major car brands, Kelly-Moss is proud to make racers' dreams come true.
Kelly-Moss utilizes SJF's pallet racking to store and organize cars for clients, keeping them professionally maintained in their new 50,000 square foot facility, located just hours from Chicago and Milwaukee.
Additional Photos
SJF is honored to help Kelly-Moss store these beautiful cars safely and efficiently.