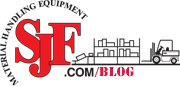 The #1 resource for material handling equipment information, tutorials, and industry news.
Tag Archives: pallet rack
Support the fight against breast cancer!  Get a pair of pink beams with your order and we'll donate a portion of each sale to fight breast cancer.
How, you ask?  Simply ask your salesperson to include one pair of pink beams and you've done your part.  Not only will you be donating to a good cause, you'll be able to show your support to anybody who sees your …ahem…rack.
Cameron's Coffee is a Minnesota based premium coffee roaster, with a unique roasting and packing plant made to deliver the freshest and smoothest coffee around.  Focusing on sustainable practices and minimal carbon footprint, they are a leading provider of coffee across the nation.
With all their roasting done locally in Minnesota, and with a boom in coffee drinking, Cameron's was in need to consolidate and simplify their operations.  They contacted SJF to assist in a three phase move into a larger warehouse.  Three existing coffee storage warehouses were consolidated into the new larger warehouse, along with their display fabrication shop.
Metro Mold and Design (MMD) is a Rogers, MN based, one stop shop for rapid mold manufacturing, custom plastic injection molding, thermoset plastic molding, extrusion blow molding, and precision CNC machining.  With an expanding operation, they contacted SJF in the fall of 2013 to assist in a layout and move into an new shipping warehouse.  MMD was at the time occupying and older warehosue with little lighting and low cieling, and was planning a move to a newer building with a 32′ ceiling.
The plan was to install very narrow aisle (VNA) rack to max out warehouse space in the new building.  After discussing it with SJF, MMD decided on a different plan altogether.
Continue reading
If you haven't heard of the Industry Insider, let us clue you in.  The Industry Insider is SJF's weekly email newsletter that contains all the inside information on equipment available for immediate sale.  This is equipment that can be had for up to 80% off retail prices.  We also often offer specials or coupons that are available to Insider members only.  If you haven't already heard of the Insider, check it out here.
Here's the most recent Insider – just so you can see what you're missing…
Premium Sizes of Pallet Rack
Priced to Sell Fast!
———————————————————————————-
SJF just acquired some very nice pallet racks. All of the equipment below is currently in stock at SJF's MN headquarters, and is available for immediate shipment.
Click the links below to view photos.
Teardrop Pallet Rack
52 ea. – 42″ x 16′ Uprights – $80 ea.
100 ea. – 42″ x 18′ Uprights – $85 ea.
500 ea. – 96″ x 3-3/4″ Beams – $17.50 ea.
222 ea. – 96″ x 4″ Beams – $17.50 ea.
> View Photos
T-Bolt Pallet Rack
100 ea. – 42″ x 216″ Unarco T-Bolt Uprights – $85 ea.
132 ea. – 42″ x 192″ Unarco T-Bolt Uprights – $80 ea.
450 ea. – 96″ x 3.5″ T-Bolt Beams – $16 ea.
940 ea. – 96″ x 4″ Unarco T-Bolt Beams – $16 ea.
690 ea. – 96″ x 5″ Unarco T-Bolt Beams – $18 ea.
> View Photos
Continue reading
PUTCO is a world leader in Automotive Accessories such as Trim, Lighting, Mud Flaps and Step Bars.  Putco has literally thousands of products for all major makes and models of car and truck available in a nationwide dealer network. If you're looking to spice up your ride, look no further than Putco.
When Putco contacted SJF, they were looking for a lot of racking at a savings. They needed to fill a new 127,000 sq. ft. facility so used equipment was definitely on their radar. SJF had just secured two large used inventories that could have filled PUTCO's needs but with new pricing being very competitive and not subject to availability issues, they turned to new. SJF supplied new Mecalux Interlake Pallet Racks and MECO Cantilever racks as well as the installation while meeting PUTCO's timeline and pricing requirements. Jason Deiter was the solutions specialist on this project.
Continue reading
SJF today announced the completion of the 3rd major pallet rack tear down and removal project this week. In the past 60 days SJF has acquired, removed and shipped in excess of over 3000 pallet rack uprights and 40,000 used pallet rack beams from several large distribution centers spanning 3 different states.
Since the 1st of the year, SJF has been on a pallet rack buying spree for its clients and for inventory. National acquisitions manager Sam Sterner has been traveling nonstop during January. Sam has been the go to man on all of the recent projects. He is personally overseeing the removal, banding, loading and transportation of all the equipment to SJF's main warehouse facility in MN.
With another 25 trailer loads of equipment currently in transit to MN, the project was made even more challenging this week with temps dropping in the -25 below 0 range in Minnesota this week.
As 2014 gets under way, 42" uprights and 96″ beams continue to be in large demand from clients looking for good, clean, used warehouse storage racks. The recent acquisitions of these sizes position SJF as a key supplier in the national used pallet rack equipment market.
With over 1 million dollars of good, clean rack in prime sizes arriving daily, the latest acquisition provides SJF the ability to service even the largest requests for used pallet rack material.
SJF prides itself as being the go to source for used material handling equipment in the USA today. Acquisitions like this cement SJF's standing as the nation's largest stocking distributor of used material handling equipment in the USA.
View more photos and pricing on this prime-sizes pallet rack on our Teardrop Pallet Rack page at SJF.com