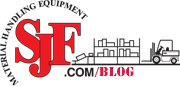 The resource for all things material handling.
Tag Archives: sjf material handling
SJF just released the new fully responsive layout of their website.
"The new design allows users across all devices to have a consistent, engaging experience." says Kent Powell – SJF's web designer/developer. "Responsive design allows us to focus on one web property (sjf.com) rather than fracture the site into desktop, mobile, and app versions.  The site automatically adapts to the medium being used to display it. "
This new design is currently applicable to all of the used/feature pages on SJF.com as well as the home page – with the rest of the site to follow soon.  This new design makes the old mobile site (m.sjf.com) obsolete.  The old site will remain active for a time, however future development will be focused solely on the main sjf.com domain to make the entire site accessible from all devices.
Currently, stage 1 of the employee Fishing contest  is winding down fast.
As of June 19, Brian Springer's  15 3/8″ Crappie entry takes the lead with only 12 days remaining in June.
SJF's fishing contest winners win prizes, raise money for charity and bragging rights to boot!
Keep up with the results and view photos of employees and their entries at this blog:
http://www.sjf.com/blog/tag/fishing2013
As mentioned before in this blog SJF was nominated as one of the 100 best companies to work for in MN by MN Business Magazine.  This past Thursday night, the dinner and awards ceremony was held at The Depot in downtown Minneapolis.
Several of SJF's employees enjoyed an evening of food, drinks, and excellent conversation as well as a very nice slideshow put together by MN Business Magazine.
Once again, SJF management would like to thank all of our employees for making this possible.
Enjoy the Photos!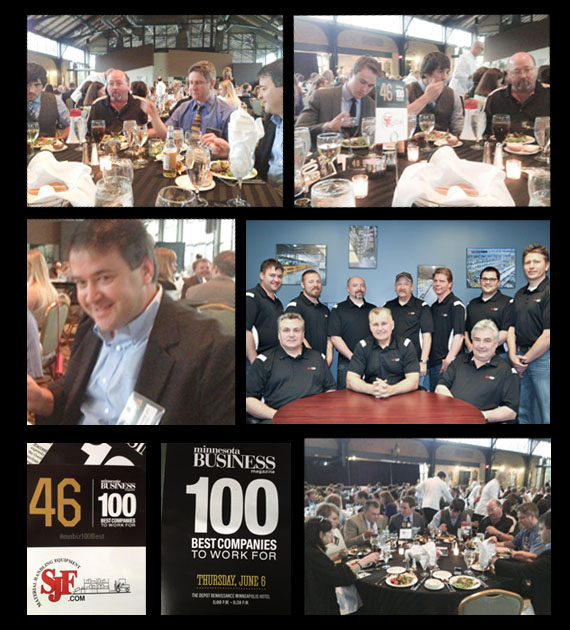 SJF just announced the start of the summer 2013 fishing contest.  All employees and their immediate families are invited to participate in this catch & release contest.  The contest runs from May – October and will feature monthly as well as overall contest winners.
Winners will be determined using a point system based on the length & species of fish caught per month and over the entire time period.  In other words, you may not win a specific month, however you can still win by having the most points at the end of the contest.
On Friday December 21st at noon,  SJF Material Handling shut down operations to celebrate the past year with a Holiday Luncheon for all employees.
Sam Sterner, SJF's lead buyer, proved he can track down more than just equipment by spear-heading the food acquisition which was catered by Dicky's BBQ Pit out of Eden Prairie, MN.   All employees were in attendance, including SJF's  Founding Father,  Gerald (Jerry) Sterner.
After everybody enjoyed their BBQ, several awards were presented.  Here's a recap.
EFFECTIVE 2/2/2012 – Ratepoint was acquired and is no longer in business.  SJF is still accepting reviews, but at our new partner site – Reseller Ratings. (view SJF's profile here)
SJF Material Handling has recently partnered with Ratepoint.com to provide reviews and feedback on products and services offered on SJF's website. Users of SJF.com are invited to leave feedback for SJF using the "Feedback" or "Reviews" tabs located on all pages of the SJF.com website.
If you have a moment, please provide us with a review on a product, service, or just the entire experience you had recently at SJF.com! When you take the time to Write A Review, you are help thousands of SJF.com customers make a more informed buying decision! If you've ever read a customer review, or made a purchasing decision based on the content of a review then you know how helpful they can be when deciding to place an order. Please take a moment and Write a review. You never know who you are helping in the process!