The #1 resource for material handling equipment information, tutorials, and industry news.
Tag Archives: sjf material handling
Soul Flower was founded in 1999 by Mike and Peggy as a way to promote a bohemian, eco-friendly, and peaceful lifestyle. Our little shop on Grand Avenue in Saint Paul, Minnesota was a gathering place for college students and locals looking for 'cool threads for kind heads'. Since those days, Soul Flower has made a few changes… they no longer have a retail store, but have expanded with a digital catalog, an online retail shop, a wholesale catalog, and a screen printing team. One thing that hasn't changed is our dedication to offering our customers thoughtful, eco-friendly clothing styles at an affordable price – and of course the best customer service anywhere!
In 2014, Soul Flower contacted Eric Moen at SJF to assist in a new addition to their expanding warehouse, and he was happy to oblige.  Eric can be reached at emoen@sjf.com or directly at 320 485 4963.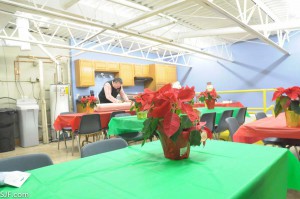 This past Friday SJF held its annual Christmas day celebration and employee appreciation dinner. Each year SJF's owners take time to reflect upon the past years activities with its employees. 2014 was a year which  saw several salespeople hitting personal milestone marks. Jason Dieter and Vance Haugen were recognized as 2014 million dollar+ club  members hitting impressive personal yearly sales numbers along with teammates Kendal Kalamaha & Eric Moen each surpassing  2 million+ sales marks respectfully. As for Kendal &  Eric, neither are strangers to sales excellence. Kendal was last years overall SJF sales champion while Eric Moen has put up impressive numbers each and every month throughout the year. In the end, the claim  for overall sales title went down to the wire with Erics final tally  being  just enough edge out Kendal Kalamaha  ( the 2103 champ), for the 2014 sales crown. Competition among SJF's sales people is always fierce but friendly. The one thing they all agree on is  without the help and support from the many people within the organization what they do in sales would not be  possible.   Our shop , yard and shipping folks are truly the life blood of the company and the unsung hero's  that make it all happen for our clients each and every day.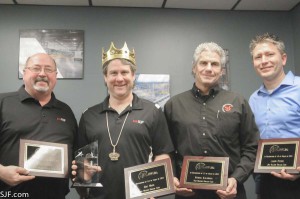 Other award winners included Joe Bachel. Joe was awarded a special plaque in recognition for an impressive 20 years of service. Joe has single handedly kept SJF's equipment running each and every day for the past 2 decades.  His coordination & management of the outside crews is instrumental in getting equipment in and out of the yard on a daily basis. Joe  has proven himself as  one of those rare people who can always find a way to get it done.
Lorie Bachel, Ed Salonek and Greg Labow were recognized for the extraordinary effort and long hours they sacrificed to get the new inventory and data management systems up and running. Brian Springer, Dave keeper and Matt Johnson were also recognized
for their contributions to the design, manufacture  and installation of the sweep sorter project at  Fun Company in Mankato Minnesota this fall. Last but not least special recognition was given to the entire SJF shop, dock & yard crew teams.  Arguably the unsung hero's of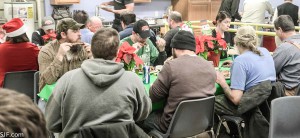 the company, the effort they put forth throughout the past year getting products picked, packaged & and shipped accurately and on time. Their efforts  resulted in SJF receiving a record number of customer 4-& 5 star reviews from clients across the USA in 2014.  For your efforts, we salute you!
In the end, 2014 went down in the book as a memorable year that saw many new challenges. 2014 marked a transition from something old & comfortable to something new & bold. A year that saw individuals put aside personal differences to come together to work & succeed as a team. It was a year where everyone's participation made a difference and has set the stage for an exciting year to come.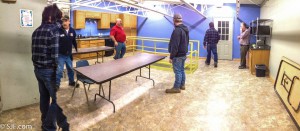 The final finishing touches today were put on SJF's  newly refurbished company lunch room.  Several weeks in  waiting and just in time for Christmas, the new lunch room will be completed just in time to host  SJF's annual employee chile cook-off wars.   With credit card in hand, Menard's was raided and supplies requisitioned resulting in a total kitchen makeover for the employees lunchroom. The revamp  included but was by no means limited to  new tiled floors, a hipster paint job, new 100% certified imitation wood cabinets, scratch & dent  appliances,  fully functional electrical outlets and more.  All construction was done under the watchful eye of sales solutions specialist and resident celebrity   "Rusty Iron Chef"   Vance Haugen ( seen above in his snappy colored red shirt). Vance's review –   2 thumbs up & a full 5 stars approval rating.

It sta

rted with your typical Wednesday  afternoon taunt among coworkers which lead to a 5K race challenge on a frigid Thanksgiving day.
Kendal Kalamaha (who's no stranger to accepting a challenge) and Jason Deiter  ( who's not shy about creating one) overcame some cold frigid weather and a blistering wind to participate in this years annual  Turkey Tag-a-long 5k run in Howard Lake Minnesota.   It was one of those " if you do it I'll do it to" scenarios that got both men out on the course and across the finish line.  While it may have been  Kendal's 1st official 5K race, he is no stranger to running long distances. Kendal has been an avid runner for the past 2 years often waking at 4 AM to put in as many as 4-5 miles/day before leaving for the office.  Jason is no rookie to competition himself having been an avid distance runner and a
local legend a few years back.  At the end of the day,  Kendal  finished with an impressive  25:26:5 time. Kendal's effort  for 5K was good enough to earn him a 10th place finish  in a field of over 120 runners .    Jason's  31:22:00 time was good enough to beat over half the field and a 40th place finish. Not bad for going right from the couch  to the starting line in frigid conditions.  When Jason and Kendal aren
't running races or  taking on challenges they can be found working at SJF Material Handling in Winsted, MN.  There Jason , Kendal and 6 of their sales coworkers work with businesses  nationwide  who are looking for  new & used material handling  & warehouse equipment…or at least..  when they are not taunting each other over the next new challenge.
Yesterday, Sam Sterner accepted the ALS #IceBucketChallenge.  He subsequently challenged the SJF Sales Staff, and being as there are so many of them involved, we had to break out the skid loader to make sure everybody got a piece of the action.
Check out the video after the jump.
Continue reading
Hello, readers!  We are going to try out something new today.  We have decided to take one of our employees and shine the spotlight on them so that you can better understand who we are and what makes us tick.  We also want to thank the incredible people we have working here who fill orders, load trucks, refurbish equipment, do paperwork, and all of the other messy jobs that come with running a successful material handling equipment company.
That said, our first Employee Spotlight falls on Shawn Heaver.
Shawn has been at SJF for 9 years.  He runs the day to day dock operations as well as works in the yard fulfilling orders from time to time.
Continue reading