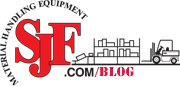 The #1 resource for material handling equipment information, tutorials, and industry news.
Tag Archives: sjf material handling
Yesterday, Sam Sterner accepted the ALS #IceBucketChallenge.  He subsequently challenged the SJF Sales Staff, and being as there are so many of them involved, we had to break out the skid loader to make sure everybody got a piece of the action.
Check out the video after the jump.
Continue reading
Hello, readers!  We are going to try out something new today.  We have decided to take one of our employees and shine the spotlight on them so that you can better understand who we are and what makes us tick.  We also want to thank the incredible people we have working here who fill orders, load trucks, refurbish equipment, do paperwork, and all of the other messy jobs that come with running a successful material handling equipment company.
That said, our first Employee Spotlight falls on Shawn Heaver.
Shawn has been at SJF for 9 years.  He runs the day to day dock operations as well as works in the yard fulfilling orders from time to time.
Continue reading
This article was originally published in the Herald Journal – Volume 95, Number 44.  The author and photographer is Starrla Cray.
---
What's to like about working at SJF Material Handling in Winsted?
"Everything," according to Marty Zitzloff, who has been with the company the past 24 years.
In both 2013 and 2014, Minnesota Business Magazine named SJF as one of the state's 100 best companies to work for, based on an in-depth employee satisfaction survey. "We sort of break all the traditional rules of how business is run," said president/sales manager Stafford Sterner, whose father, Gerald Sterner started the material handling company in 1979.
Employees are often promoted from within, and have the freedom to transition to different departments.
Zitzloff, for example, originally started at SJF as a welder.
"It was a lot of on-the-job training, and a few outside classes," he recalled, adding that he later became the shop and yard supervisor.
Six years ago, Zitzloff decided to get into sales. He didn't have any formal sales experience, but was familiar with the products SJF offers.
"Marty has had a lot of success here," Stafford said. "We find opportunities for anyone who wants to apply themselves."
Continue reading
SJF just released the new fully responsive layout of their website.
"The new design allows users across all devices to have a consistent, engaging experience." says Kent Powell – SJF's web designer/developer. "Responsive design allows us to focus on one web property (sjf.com) rather than fracture the site into desktop, mobile, and app versions.  The site automatically adapts to the medium being used to display it. "
This new design is currently applicable to all of the used/feature pages on SJF.com as well as the home page – with the rest of the site to follow soon.  This new design makes the old mobile site (m.sjf.com) obsolete.  The old site will remain active for a time, however future development will be focused solely on the main sjf.com domain to make the entire site accessible from all devices.
Currently, stage 1 of the employee Fishing contest  is winding down fast.
As of June 19, Brian Springer's  15 3/8″ Crappie entry takes the lead with only 12 days remaining in June.
SJF's fishing contest winners win prizes, raise money for charity and bragging rights to boot!
Keep up with the results and view photos of employees and their entries at this blog:
http://www.sjf.com/blog/tag/fishing2013
As mentioned before in this blog SJF was nominated as one of the 100 best companies to work for in MN by MN Business Magazine.  This past Thursday night, the dinner and awards ceremony was held at The Depot in downtown Minneapolis.
Several of SJF's employees enjoyed an evening of food, drinks, and excellent conversation as well as a very nice slideshow put together by MN Business Magazine.
Once again, SJF management would like to thank all of our employees for making this possible.
Enjoy the Photos!