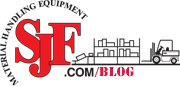 The #1 resource for material handling equipment information, tutorials, and industry news.
Tag Archives: SJF
It sta

rted with your typical Wednesday  afternoon taunt among coworkers which lead to a 5K race challenge on a frigid Thanksgiving day.
Kendal Kalamaha (who's no stranger to accepting a challenge) and Jason Deiter  ( who's not shy about creating one) overcame some cold frigid weather and a blistering wind to participate in this years annual  Turkey Tag-a-long 5k run in Howard Lake Minnesota.   It was one of those " if you do it I'll do it to" scenarios that got both men out on the course and across the finish line.  While it may have been  Kendal's 1st official 5K race, he is no stranger to running long distances. Kendal has been an avid runner for the past 2 years often waking at 4 AM to put in as many as 4-5 miles/day before leaving for the office.  Jason is no rookie to competition himself having been an avid distance runner and a
local legend a few years back.  At the end of the day,  Kendal  finished with an impressive  25:26:5 time. Kendal's effort  for 5K was good enough to earn him a 10th place finish  in a field of over 120 runners .    Jason's  31:22:00 time was good enough to beat over half the field and a 40th place finish. Not bad for going right from the couch  to the starting line in frigid conditions.  When Jason and Kendal aren
't running races or  taking on challenges they can be found working at SJF Material Handling in Winsted, MN.  There Jason , Kendal and 6 of their sales coworkers work with businesses  nationwide  who are looking for  new & used material handling  & warehouse equipment…or at least..  when they are not taunting each other over the next new challenge.
After an exhaustive search, SJF Material Handling (Winsted, MN) has hired three new solutions specialists (sales staff).  These three are stepping into some pretty big shoes that were recently vacated by a couple of other very prolific sales staff.  We sincerely wish them all the best and are looking forward to seeing what new skills and talents they can add to our growing family at SJF.
James Sinz has several years of experience working in sales and marketing in the construction industry, and is a former Army Ranger.
Eric Thovson comes to us with an auto sales and marketing background, and is very active in his community.
Thomas Moore has previous experience selling Skid Loaders and Compact Mini Skid Loaders and enjoys working with his cattle on his farm.
If you call in and talk w/one of these gentlemen, please welcome them, and wish them luck in this new endeavor.
SJF Material Handling Inc. in Winsted MN 55395 is looking to hire an experienced sales professional to join the company's existing inside sales team at its Winsted Minnesota location.
This is an inside sales position based out of SJF's headquarters in Winsted, MN. Work hours are 8-5 Monday – Friday.
Compensation is commissioned based, offering unlimited earning income potential for a highly motivated sales professional.
SJF Offers:
Aggressive commission based compensation, with no cap and unlimited earnings potential from day 1.
CRM, accounting, product and freight pricing software training
Matching 401 K
Medical and Dental Insurance
Flex spending plan
Vacation and Personal Time off accrual
Job Description
Service existing accounts, quote equipment, document, and process orders for fulfillment.
Service both new and existing accounts by providing product and pricing support.
Provide same day follow-up on all company provided leads and client requests.
Provide pricing and product information to new and existing customers who call by phone.
Provide all written documentation needed for order pricing, picking and processing to the fulfillment department for processing daily.
SJF today was honored to be named to Minnesota Business Magazines "The 2014 100 Best Companies to Work For."
2014 marks the 2nd consecutive year SJF Material Handling Inc. (SJF.com) based in Winsted, Minnesota has been named to the "Top 100″ list published each year by Minnesota Business Magazine.
About the Nomination (From MN Business Magazine)
People spend about one-third of their lives at work, so for a company looking to attract top talent, it helps to score high marks in employee satisfaction. Businesses featured in our 100 Best Companies to Work For Awards have done just that. This award salutes Minnesota organizations setting the standard for employee well-being. The 100 Best are chosen using data gathered from an anonymous employee satisfaction survey administered by an independent research group. Only the top Minnesotan companies, as judged in areas such as work environment, employee benefits, employee happiness, and leadership, are selected for inclusion in the list.
Event Detials: A celebration of the 100 Best Companies to Work For in Minnesota will be held June 5, 2014, 6 p.m. at the Saint Paul RiverCentre
SJF's 30+ Year Tradition Continues
This year's annual Christmas Buffet & Awards event featured BBQ pork & beef with homemade corn bread, shrimp cocktail, desserts, craft beer and even some Serbian moonshine compliments of our installers in Chicago. 2013 proved to be a great year for the company as demonstrated by a record 6 member of the inside sales team qualifying for induction into the "million dollar club".
Production
2013 marked a year where the production shop turned out great product in record time. Let's face it … everyone wants it yesterday.
The yard crew also did an outstanding job pulling equipment and getting orders shipped accurately and on time. This was an amazing task on more than a few occasions to say the least. The office staff barely maintained their sanity in 2013 but rumor has it there is light at the end of the tunnel in 2o14. I for one will believe it when I see it.
Operations
Lori, Ed, Frank and the rest of the staff had their hands full in 2013 to put it mildly. Incorporating new technologies, changing processes, adding and learning new systems while continuing to process sales orders without delay or incident can prove rather challenging at the best of times. Not a feat for mere mortals – but they found a way to get it done. A great team effort by everyone here.
Continue reading
Hello again, readers!
Today I'd like to tell you about some improvements we have going on at SJF's headquarters in Winsted, MN.  These updates are part of an initiative to make the shop safer and production easier on the employees.  First, SJF is installing a brand new crane-way.  This overhead structure will allow workers to more easily move rack, conveyor and carousel projects around the shop easily.