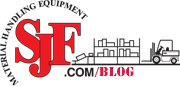 The #1 resource for material handling equipment information, tutorials, and industry news.
Tag Archives: SJF
SJF Material Handling Inc. in Winsted MN 55395 is looking to hire an experienced sales professional to join the company's existing inside sales team at its Winsted Minnesota location.
This is an inside sales position based out of SJF's headquarters in Winsted, MN. Work hours are 8-5 Monday – Friday.
Compensation is commissioned based, offering unlimited earning income potential for a highly motivated sales professional.
SJF Offers:
Aggressive commission based compensation, with no cap and unlimited earnings potential from day 1.
CRM, accounting, product and freight pricing software training
Matching 401 K
Medical and Dental Insurance
Flex spending plan
Vacation and Personal Time off accrual
Job Description
Service existing accounts, quote equipment, document, and process orders for fulfillment.
Service both new and existing accounts by providing product and pricing support.
Provide same day follow-up on all company provided leads and client requests.
Provide pricing and product information to new and existing customers who call by phone.
Provide all written documentation needed for order pricing, picking and processing to the fulfillment department for processing daily.
SJF today was honored to be named to Minnesota Business Magazines "The 2014 100 Best Companies to Work For."
2014 marks the 2nd consecutive year SJF Material Handling Inc. (SJF.com) based in Winsted, Minnesota has been named to the "Top 100″ list published each year by Minnesota Business Magazine.
About the Nomination (From MN Business Magazine)
People spend about one-third of their lives at work, so for a company looking to attract top talent, it helps to score high marks in employee satisfaction. Businesses featured in our 100 Best Companies to Work For Awards have done just that. This award salutes Minnesota organizations setting the standard for employee well-being. The 100 Best are chosen using data gathered from an anonymous employee satisfaction survey administered by an independent research group. Only the top Minnesotan companies, as judged in areas such as work environment, employee benefits, employee happiness, and leadership, are selected for inclusion in the list.
Event Detials: A celebration of the 100 Best Companies to Work For in Minnesota will be held June 5, 2014, 6 p.m. at the Saint Paul RiverCentre
SJF's 30+ Year Tradition Continues
This year's annual Christmas Buffet & Awards event featured BBQ pork & beef with homemade corn bread, shrimp cocktail, desserts, craft beer and even some Serbian moonshine compliments of our installers in Chicago. 2013 proved to be a great year for the company as demonstrated by a record 6 member of the inside sales team qualifying for induction into the "million dollar club".
Production
2013 marked a year where the production shop turned out great product in record time. Let's face it … everyone wants it yesterday.
The yard crew also did an outstanding job pulling equipment and getting orders shipped accurately and on time. This was an amazing task on more than a few occasions to say the least. The office staff barely maintained their sanity in 2013 but rumor has it there is light at the end of the tunnel in 2o14. I for one will believe it when I see it.
Operations
Lori, Ed, Frank and the rest of the staff had their hands full in 2013 to put it mildly. Incorporating new technologies, changing processes, adding and learning new systems while continuing to process sales orders without delay or incident can prove rather challenging at the best of times. Not a feat for mere mortals – but they found a way to get it done. A great team effort by everyone here.
Hello again, readers!
Today I'd like to tell you about some improvements we have going on at SJF's headquarters in Winsted, MN.  These updates are part of an initiative to make the shop safer and production easier on the employees.  First, SJF is installing a brand new crane-way.  This overhead structure will allow workers to more easily move rack, conveyor and carousel projects around the shop easily.
SJF just announced the start of the summer 2013 fishing contest.  All employees and their immediate families are invited to participate in this catch & release contest.  The contest runs from May – October and will feature monthly as well as overall contest winners.
Winners will be determined using a point system based on the length & species of fish caught per month and over the entire time period.  In other words, you may not win a specific month, however you can still win by having the most points at the end of the contest.
Hello, my name is Rhonda Remer, and being the newest addition to the SJF project sales team, I'd like to offer some inside perspective from the trenches. I have worked in online sales & support for 6 years and just recently started working in client project sales about four months ago. In my short time in direct sales, I have uncovered 2 simple truths. The first one, I had to learn. The second is a truth that I'd like my customers to learn.
First and foremost though, project sales is harder than it looks. And by hard, I mean time consuming. Don't get me wrong, the lead opportunities are great at SJF. There's no shortage of customer interest & quote requests. Whether it's by phone or email, when I do speak with customers they don't always know how to put into words what they envision in their minds. The back and forth translation of needs & wants takes a lot of time. There are days where I feel like a child on an Easter egg hunt with an eye patch and a broken hip. It's not that we don't have the equipment, (we have loads of equipment!) it's just that with used equipment, having the exact material at the exact time a customer needs it can be a challenge.