Info, Tutorials and How To Guides
Tag Archives: sjf.com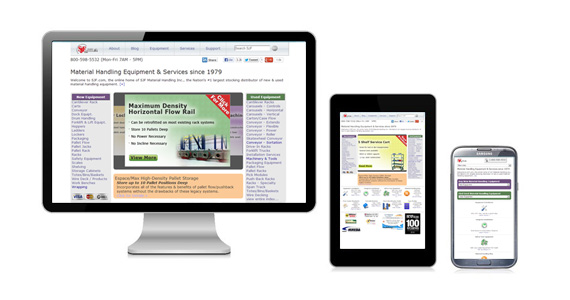 SJF just released the new fully responsive layout of their website.
"The new design allows users across all devices to have a consistent, engaging experience." says Kent Powell – SJF's web designer/developer. "Responsive design allows us to focus on one web property (sjf.com) rather than fracture the site into desktop, mobile, and app versions.  The site automatically adapts to the medium being used to display it. "
This new design is currently applicable to all of the used/feature pages on SJF.com as well as the home page – with the rest of the site to follow soon.  This new design makes the old mobile site (m.sjf.com) obsolete.  The old site will remain active for a time, however future development will be focused solely on the main sjf.com domain to make the entire site accessible from all devices.
EFFECTIVE 2/2/2012 – Ratepoint was acquired and is no longer in business.  SJF is still accepting reviews, but at our new partner site – Reseller Ratings. (view SJF's profile here)
SJF Material Handling has recently partnered with Ratepoint.com to provide reviews and feedback on products and services offered on SJF's website. Users of SJF.com are invited to leave feedback for SJF using the "Feedback" or "Reviews" tabs located on all pages of the SJF.com website.
If you have a moment, please provide us with a review on a product, service, or just the entire experience you had recently at SJF.com! When you take the time to Write A Review, you are help thousands of SJF.com customers make a more informed buying decision! If you've ever read a customer review, or made a purchasing decision based on the content of a review then you know how helpful they can be when deciding to place an order. Please take a moment and Write a review. You never know who you are helping in the process!
Yesterday, the bankruptcy court entered an order approving bidding procedures for substantially all of the assets of Interlake Material Handling, Inc. and its affiliates.  The court also approved the proposed break-up fee and expense reimbursement for the stalking horse bidders for the assets, Mecalux USA, Inc. and Mecalux Mexico S.A. de C.V., which would be paid in the event that those parties are not the winning bidders for the assets at the conclusion of the bidding process.
The order attaches the approved procedures for other parties to provide competing bids for the assets.  In the event that qualified competing bids are received, an auction is scheduled to be held on March 4, 2009 in Wilmington, Delaware.  Source: netDockets Corporate Restructuring and Bankruptcy Blog