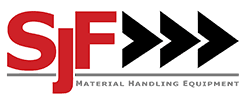 Since 1979, SJF Material Handling has been North America's "go-to source" for quality new & used pallet racks and warehouse storage equipment. Choose among a wide selection of makes and models spanning 27 different brands of new & used pallet rack currently in stock. Find over 20 acres of new, used and reconditioned pallet racks in stock and ready to ship to you today. Check out our wide variety of new pallet rack now available in our exclusive 72-hour quick ship program. Whether you are a small startup or a Fortune 500 company, SJF can provide you the pallet rack you need at a price that fits your budget.
Shipping
New or used pallet racking is professionally packaged and shipped typically from 5 a.m. to 7 p.m. daily. For those in a rush, SJF now offers 48-hour fast "Quick Ship" on a wide variety of select sizes.
Installation
Need to have your pallet racks installed? No problem. SJF has a network of licensed and fully-bonded installers that can provide you a bid to professionally install, remove or relocate your pallet rack anywhere in the continental USA. Lastly, if you call one of our knowledgeable in-house professional sales solutions specialists, they can help you with suggestions, layout, pricing, fright issues and much more. They are here to work with you to answer all your material handling questions.
Our main facility is centrally located in Winsted, Minnesota but we have inventory stored throughout the country, allowing us to ship nationally with competitive rates to you.
Have rack to sell?
Have rack you want to sell or trade? SJF travels nationwide and pays cash for good clean used pallet and warehouse storage racks. Contact Sam Sterner at 320.485.4970 or 1.800.598.5532, ext. 970 or for information on pallet racks and/or other warehouse equipment you would like to sell and turn into cash.