Info, Tutorials and How To Guides
9 Tips to Cut Return Costs
March 5, 2012
Posted By:

Stafford Sterner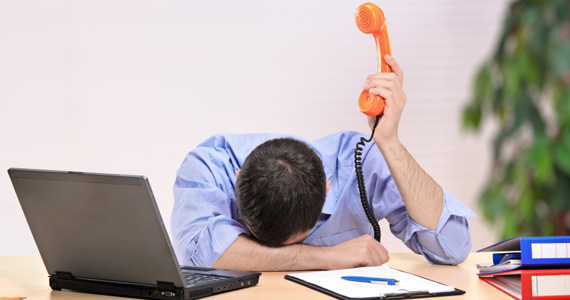 Unfortunately, it happens from time to time. You inspect your newly acquired material handling equipment and find that it has been damaged, probably during shipping. It won't do the job and it's not worth what you paid for it. It will have to be returned.
Of course, this means a delay in getting your new material handling system up and running. It means fights with the supplier and the trucking company over who is responsible for the problem and who is going to pay to get the damaged shipment off your premises. In short, this is going to cost you time – and maybe money – that you don't have to spare.
Fortunately, there are ways that you can reduce the chances of finding yourself in this situation, and reducing the time and money it will cost you if you do. Some of them are policies you can adopt in your organization. Some of them are things you can insist on from your supplier. Let's start with you.
Customer policies
Inspect the merchandise carefully before you buy.
If you can't go to the supplier's location yourself, ask for photographs. Define an acceptable level of dents and scratches for used equipment, and decide whether or not there are any flaws that would compromise the performance of the equipment. Keep a record of the state of the equipment at the time of purchase, so that you can prove that any other damage took place after you signed the contract.
Don't let just anybody sign for a shipment.
Strange as it may sound, many valuable shipments are signed for by whoever happens to be on the loading dock when the truck arrives. Your employees may be very good at their jobs, but few of them are trained to recognize unacceptable damage on a shipment of material handling equipment. Make the effort to get a qualified person down to the dock so that any problems can be spotted before you accept delivery.  If you wouldn't trust the receiving party to write a company check, don't trust them to sign for an important purchase.
Make sure that it's all there.
Large shipments may arrive in multiple crates or pallets, and sometimes things get misdirected when trucking companies unload and reload along the route. Compare the shipment to the bill of lading and your original contract.
Inspect it again.
Check for any new damage that may have occurred since your last inspection. Note any new damages or other concerns you may have on the bill of lading. This will establish that the problem was there on delivery, and did not arise after you assumed responsibility for the shipment.
Read the fine print.
Understand the terms and conditions of your contract and any other document you may sign. They will determine who must accept responsibility in the event of a problem.
Things to insist on from a supplier
The right to inspect before purchase.
If they don't want you looking, there's a good chance they have something to hide. If you can't go to the equipment, ask the supplier for detailed photos or video. Even if they charge you a little extra, it's a good investment.
Quality packaging.
Pallets and crates should be in good condition. Labels such as "Fragile," "This End Up" and "Do Not Stack" should be clear and unmistakable. Shrink wrap is a good indication of quality packaging. Remember that shippers can and should refuse any unsafe or improperly packaged load, but there is no reason your standards can't be even higher than theirs.
Clear language.
Yes, it's your responsibility to read the fine print, but some fine print is finer than others. Look for a supplier that is clear about his terms and conditions, and is not trying to set subtle little traps for you. SJF, for example, includes on its bills of lading, this warning:
Note any damage or missing items directly on this Bill of Lading at the time of delivery.  No returns or credit will be given for damage or missing items unless notification to carrier is given.
We want to avoid the problem of returns as much as you do.
Obviously, the long term solution to the problem of returns is to do business with someone you trust to do everything they can to avoid problems in the first place and work through them to your mutual benefit in the event that they do arise. Of course, you can't always do business with old friends, but a supplier who will meet these demands is one that is likely to earn your trust as you continue to do business together.
Shipping Labels
Here are some sample labels we have found that are very clear in their instructions to the customer.
(click the images to view full size)
For other featured stories about material handling & business, join SJF's material handling circle on G+.  If you have any additional tips or tricks for dealing with damaged or returned goods, please let us know by leaving a comment below.