By Rhonda Remer.
Twas the month of December, I'll soon leave my post,
So I got to thinking how I could help Sales the most.
Here's a gentle reminder about whom to go to and when.
I penned this small poem hoping to help you again.
If your order is late, and you feel like crying,
Don't ask Shawn or Mark, go to Joe Sr…or Brian.

If you see a pink sales order hanging behind Kim.
It means the order is not done, or been handed in.
Your customers will be called when their orders are done.
Do NOT tell them to come here, the advantage is NONE!
Always remember to fill out your job jackets with care,
So you don't find an order, lying on top of your chair.
If a client calls you and their order's in bad shape,
ask if they signed for it damaged, to avoid the red tape.
The Ship Log is the legend of the orders gone out.
Always check there first, before taking another route.
Delivery dates are for Joe Sr. & Brian to decide.
If you pull them out of a hat, your clients will think you've lied.
In closing, on the 15th, I'll be joining the Sales Party.
You won't have to look hard, I'm 2 cubicles behind Marty!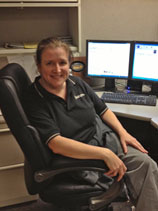 Congratulations on your move to Sales, Rhonda…Best of Luck!