Info, Tutorials and How To Guides
Buy a Scale & Get a Clock, too!
August 29, 2011
Posted By:

SJF Material Handling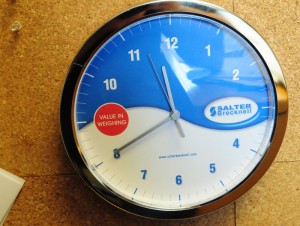 We recently received a batch of wall clicks from our scale supplier.  These are very nice looking clocks, and from what we can tell – they keep excellent time too!  Here's your opportunity to get a great deal on a brand new counting scale while also getting a free wall clock.
During the month of September, all of our counting scales are on sale.  If you are one of the first 7 people to purchase a counting scale*, you'll receive a free wall clock as well.
Don't Wait! 
We only have 7 of these clocks to give away!
Choose from either our Economy Counting Scale or the High-Accuracy Counting Scale.
See scale and offer details Below.
Economy Counting Scale
This economy model Counting Scale, available in three capacities, is an easy-to-use, high-resolution counting scale featuring keyboard piece weigh entry, "Count Check", which allows you to verify package counts when configuring upper and lower limits or "Accumulation" allowing you to accumulate the piece counts for simple packing or receiving verifications.
Full FCC compliance, UL/CUL power adapter.
Durable, Accurate, and Dependable
20 hr. battery life

High Accuracy Counting Scale

The B130 30,000 display resolution high accuracy counting scale includes an AC power adapter, rechargeable lead-acid battery for 20 hours of operation, and a 11.5″ x 8.75″ removable stainless steel platform.
Display: Three 6 digit 14.2 mm (0.56″) high 7 segment red LED display with three brightness levels
20 hr. battery life
High Performance– 30,000 divisions
Accuracy– ± 3 divisions @ full load
How to Get your Free Clock
*Simply purchase any counting scale during September and enter the word: CLOCK into the coupon code field when you check out.  We'll send you your free clock as soon as the scale ships.