Info, Tutorials and How To Guides
Archives: Carousel
4 ea.  Remstar vertical carousels coming down in Minneapolis, MN April 2015 and will be offered for sale online at Used Vertical Carousels
All brand name 20+ ft. vertical carousel  have been hard to come by of late.
These 4 units are exceptional machines in great condition and in great demand.
Unit Specs- 21'2" Tall x 118.5" Wide x 65" Deep x 36 Bins each unit
SJF is Currently looking for the following equipment in good condition.  We pay CASH for used equipment.
View our "Most Wanted" list & tell us about equipment you have for sale.
or contact Sam Sterner: 320-485-4970 or samsterner@sjf.com
(Please include photos, quantities, location & additional equipment details in your email. )
Continue reading
Tetra Pak is a multinational food packaging and food processing company of Swedish origin. Operating in more than 170 countries and with over 22,000 employees, Tetra Pak is currently the largest food packaging company in the world (measured in sales). The companies head offices are in Lund, Sweden and Lausanne, Switzerland.
Tetra Pak offers packaging solutions including  filling machines and processing solutions for dairy, beverages, cheese, ice-cream and prepared food.It's products line include accumulators, cap applicators, conveyors, crate packers, film wrappers, line controllers, straw applicators and more.
Tetra Pak currently has 2 divisions in Winsted, MN. where they manufacture equipment for the company's food processing operations. SJF has worked closely with Tetra Pak from it's early days in the Winsted area. Over the years SJF has provided Tetra Pak with a wide range of equipment ranging from static cantilever & pallet racking to automated carousels, controls & automation software.
Continue reading
Just Posted!
View additional photos & details of these white vertical carousels.
SJF has acquired 6 White Vertical Carousels from a facility in TX.  These carousels are currently being professionally dismantled and crated up for shipping.  Please call an SJF representative for details.  Here's a short video that details the functionality (forward/reverse/soft-stop) of these carousels.
6 ea. available
Overall Size: 12'6″ H x 56.25″D x 119.5″ W
600# bin capacity
Very Clean – in Excellent Condition
Sale Price: $17,500 ea. (as-is)
The previous two weeks once again saw truckloads of new equipment coming into the yard here at SJF.  It started with Dave Kieper and Sam Sterner taking down conveyor previously sold by us.  One advantage to buying used is the high chance of selling the equipment right back when changing the facility!  In and out in two days only, and there is now over 150′ of great shape used Ermanco Lineshaft conveyor in stock here in Winsted.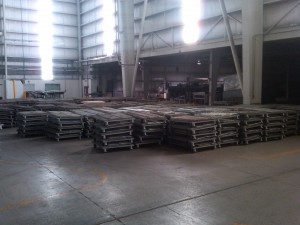 Wire baskets have been a hot commodity upstairs in the Sales room lately at SJF, so we could not pass up the opportunity to purchase over 900 barely used collapsible wire baskets from California late last week.  These should be arriving here in Minnesota any day now.
If ever given the opportunity to purchase some great shape, heavy duty beams, we never pass it up.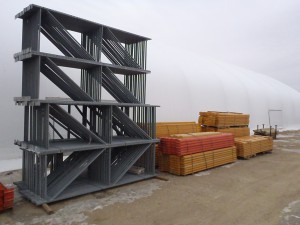 These Keystone style beams recently came in from the East coast.  We even hired a different crew out there to do the banding and loading work for this purchase, and couldn't be any happier with the results.  All in all it was a great buy working with great people.
This pallet flow rail came through and had us drooling here at SJF.  It looks like the rail is new and never used.  We jumped on this immediately and had it sent straight here all the way from South Carolina.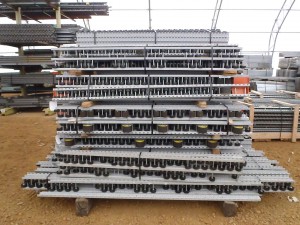 This carousel is almost an exact match to that we purchased last week.  Located right here in the Twin Cities, we couldn't say no.  This carousel is in absolutely pristine condition, and we look forward to receiving it in early March.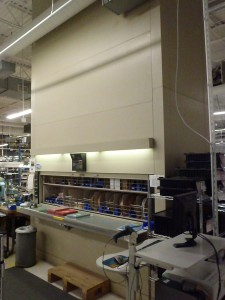 The last week saw large quantities of rack come in through SJF.  One look down our receiving isle will show the evidence, we are full of pallet racking.  Recent purchases came from several auctions and sources spanning the entire  U.S.
2012 started out fast here at SJF.  Sam Sterner and Director of Manufacturing Brian Springer arrived in Phoenix, AZ on January 2 to load out conveyor bound for our inventory here at SJF in Winsted, MN.  The goal was simple, load out as much conveyor and conveyor parts as possible.  This recent purchase gave us the opportunity to provide usable parts, such as drives and tails, for pieces we already have in stock.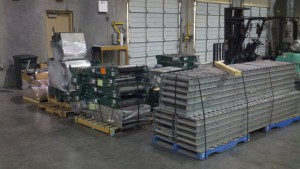 With conveyor spread across the warehouse, it made packaging the material almost a scavenger hunt.  Totes full of unknown parts were lining the top levels of the rack, and many contained valuable parts to piecing together conveyor systems.  We ended up sending two trucks back to Minnesota, both loaded to the brim with conveyor, drives, nose overs, feeder beds, and other parts usable with most conveyors.
Just posted – a new video of 13 Diamond Phoenix Vertical carousels currently available from SJF.com