Info, Tutorials and How To Guides
Archives: Conveyor
Today's post is courtesy of Emma Smith
The conveyor systems' most vital part is the type of conveyor roller which is being used. Different types of packaging and products require different rollers. In the manufacturing of the conveyor rollers, various types of materials are used such as metallic, rubber, or plastic, depending on their usage in regular business operations.
Conveyor rollers or conveyor belts use rollers as uniformly spaced rotating cylinders-in order to allow items to move through their surface. The objects can be pushed manually, by gravity or by electricity. The transported material needs a robust riding surface that is accompanied by at least three rollers.
Conveyor rollers are suitable for accumulation or gathering applications as rollers can reduce the product inertia at a high speed making them useful conveyors and alongside a high-speed sorting machine. The application of conveyor rollers is crucial along with the type of environment and facility that needs to be considered.
Application of conveyor rollers
A roller conveyor system can be customized to operate with a range of ancillary equipment including twists, gates, and turntables. Regardless of the nature of the goods being transported, roller conveyors are commonly used in areas such as warehouses or manufacturing facilities.
The use of a roller conveyor can add flexibility to the type of transfers, converters, and stops that can be used as part of a conveyor system or automation system. You can use either mild steel, galvanized, acrylic, or stainless-steel roller conveyors.
Roller conveyor systems are commonly used in various industries, especially logistics and manufacturing because of their adaptability and use. There are many industries which use roller conveyors. Some of them are:
Food handling
Packaging
Logistics
Mail delivery services
Baggage handling
Steelmaking
Manufacturing and design
Specific roller conveyor types include:
Coated (covered) conveyor roller
These are advanced rollers, which are covered with plastic or rubber. This roller is widely used in the paper manufacturing and metal rolling and printing industry. The coated form of rollers integrates grinding through the coating material with a significantly high degree of grip for better performance.
Gravity conveyor roller
Gravity conveyor roller is a frame, which sustains free rotating rollers and uses gravity to skid the material down. Medium to lightweight products can be easily carried with this conveyor and it is an economical solution as it does not require a motor. It can be made with plastic aluminum and steel.
This type of conveyor roller blends advanced structural features with off-the-shelf design requirements. The conveyor rollers are, therefore, best used when handling odd-shaped cartons, bags, and boxes of low quality.
Motorized conveyor roller
Motorized rollers can integrate directly into the conveyor frames. They are used for automated materials handling systems. Motorized roller conveyors are an excellent choice where the primary considerations are energy consumption, quiet operation, and ease of maintenance. They are also known as MDR (motorized roller conveyors or "motor-driven roller conveyors").
The rollers in this class come packed with control drums to control the speed and flow of the under-transportation products. Material sorting and analysis can be easily automated throughout the entire transport cycle through the motorized zones. Such rollers are, therefore, best used in advanced automated production lines.
Motorized drums are built as compact integrated belt conveyor-drive drum. There is no exposed gearbox, electric motor, or chain drive and they are sealed to IP65, which protects them from dust and water intake.
Free spinning conveyor roller
These rollers are bearing-laden, created with an integrated free turn capability. The rollers are useful for creating conveyor belt support systems as well as for applications in areas that require highly flexible rotational performance and low friction.
Free spinning rollers are also used to support the belt underneath the conveyors. These rollers have bearings inserted into the ends that allow free turning of the roller.
Select the best conveyor roller system
The conveyor roller system is versatile and customizable. It can be easily dismantled and moved easily. The main use of the roller conveyor system is to transport goods from one place to its destination. They can reduce the need for a large workforce, save time, and energy.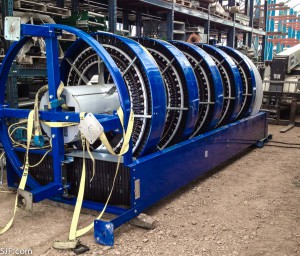 The SJF automation team continues to spearhead going projects for growing businesses here in Minnesota. Final testing and work was completed on this pre-owned powered spiral conveyor this past week. An impressive piece of equipment, this spiral is just one of the many components associated with several ongoing automation projects that Frank  Sterner's team of  Matt Johnson, Dave Kiefer, Brian Springer currently have in the works.
According to project manager Frank Sterner, the powered spiral shown below is just one of several  automation components scheduled to be installed for a growing order fulfillment operation SJF is working with right here in Minnesota.
Check out one of our recent conveyor projects in the shop at SJF Material Handling.
The guys have been hard at work!
The conveyor shop today put some finishing touches on this Stewart Galpat Telescoping Conveyor and got it looking like a new machine. This machine has been tested and tuned and treated to a fresh coat of gray paint prior to shipping.

Courtesty of Dorner Mfg. Corp. | www.dornerconveyors.com
More than twenty years ago, United Mailing Services, Inc. (UMS) got its start in the owner's basement. That was in 1989 when mail was sorted by hand. Since then UMS and the United States Postal Service have gone through many changes. By 1997 UMS expanded throughout the entire state of Wisconsin. Being a privately owned business which does work share with the United States Postal Service, UMS has become a leader in the automation industry.
UMS serves hundreds of clients, ranging from small local businesses to Fortune 500 companies throughout Wisconsin. In 2011 they expanded their business once again by offering high-speed digital color print to better serve the needs of their customers.
SJF engineer Matt Johnson & systems integrator Frank Sterner team up with SJF's fabrication pros to create, fabricate and program a first-of-its-kind sweep sorter.
This is a very specialized piece of equipment capable of sorting hard to sort packages and bagged product (aka Halloween & other Costumes). This was specifically designed for a Minnesota client to quickly process and fill incoming sales orders quickly while minimizing errors.
This system will allow the company to vastly increase the number of orders they can process as well accommodate future growth and product demand.
Neodesha Plastics is a plastics manufacturer who engineers custom vacuum formed, thermoformed and CNC milled plastic parts for customers world-wide
In the fall of 2009, Neodesha Plastics contacted SJF with some ideas they had to increase their picking productivity & efficiency.  They had in mind a "Pick-Module" type system that would utilize their existing racking.  They wanted to alter the existing rack, add additional levels and create a cat-walk to access the upper levels of racking.
Continue reading