Info, Tutorials and How To Guides
Employee Spotlight – DJ Belden
October 9, 2014
Posted By:

SJF Material Handling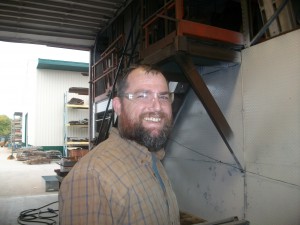 For today's Employee Spotlight, we return our beam back to the production shop.  We have some very talented employees who aren't always in the forefront, but it's important that the public face of our company (ie: sales & marketing) remembers that there's many other guys behind the scenes who make everything possible.
DJ is a senior welder for SJF and has been with the company for approximately two years.  His work can be see regularly seen on the refurbished material coming out of our shop.  Let's learn a little more about DJ.
---
Name:  DJ Belden
Position: Senior Welder
What's DJ Stand for? Donald Jeffrey
What do you like most about working at SJF? The Versatility, I jump from project to project and each can be wildly different.
What do you enjoy doing when you're not at work? Watching Football, Motorcycling & Hanging with my Kids
What is your biggest pet peeve? People who can't drive.
What is something about you that people would be surprised to know? I'm from California.