Info, Tutorials and How To Guides
Facetime Q&A
January 9, 2014
Posted By:

SJF Material Handling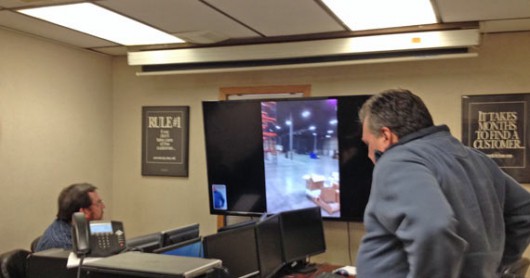 Today more than ever it's vital for material handling sales professionals to thoroughly know about and accurately represent the equipment they have available for sale.  "Live virtual viewing" of equipment is just one of the many new tools that SJF has recently incorporated to provide its clients accurate detailed information on equipment for sale.
On Tuesday January 8th, SJF initiated the first "Virtual Walkthrough" for the sales employees.  This walkthrough of the most recent warehouse liquidation enabled Sam Sterner (SJF's lead purchasing agent) to take the sales team on a virtual tour of the equipment available at the recent purchase.  Several of the sales staff had questions about the rack, forklifts and more.  Sam was able to easily provide answers, and even throw a tape measure on equipment for the staff to view.

This was the first time that SJF has done something like this with the new media center, however if you ask the sales staff and purchasing team, they'll tell you it wont be the last.
"Having Sam live on the job site enables the sales team to ask questions about the equipment that can be researched and viewed in real time," says Stafford Sterner – president of SJF.
"This is an incredibly useful tool for us and a great use of the technology," salesman Jason Deiter said.  "I hope we do this for every purchase going forward.  It would really clear up a lot of the confusion that tends to accompany purchases of this size."
Image Gallery