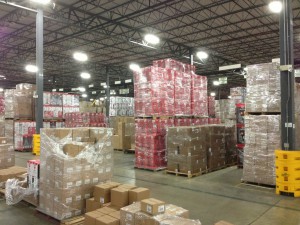 TTI Floor Care is the national leader in innovation, quality, and customer satisfaction in floor care products. Their distribution centers in the Cleveland, Ohio area are home to three of the most powerful brands in floor care products, including Hoover, Dirt Devil, and Orek. In early 2013, Chris Hills of CLH Logistics in Ohio contacted SJF to assist with the reconfiguration of one distribution center in the Cleveland area. Housing both the Hoover and Dirt Devil brands, along with the replacement parts for both, more room and organization was needed. Their current set up consisted of shelving and floor stack pallets for the LTL and full load shipping areas. The remainder of the spare parts were stacked on the floor, sometimes seven deep and up to three high, yet every pallet was a different SKU. Pallets awaiting shipment also needed to be stored in such a way that the vacuum boxes would not be damaged prior to transport, a common problem when floor stacking.
Different options were discussed for the spare parts picking area. TTI was currently picking "eaches" for stock to repair centers, while considering a transition to "full case" picks. SJF needed to come up with a way to let "each" picks happen, while allowing the flexibility to transition to full case picking in the future. Discussion of pallet flow and carousels arose, but to keep within budget on the job, a simple multi-lane span track picking area was decided.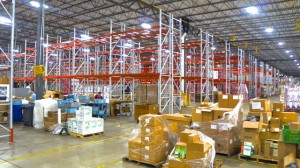 The remainder of the rack was to be built to suit allowing for extremely tall and light pallets. Five different drawings were devised, from a double deep rack system, to single selective, VNA, selective narrow aisle, and push back. These were all drafted in house by Matt Johnson and discussed with the managers at TTI.  Allowing for the best use of existing material in the warehouse, a single selective narrow aisle rack system was decided. SJF sourced material from five different vendors to come up with a warehouse design that would allow for maximum storage space within budget.  We worked along with TTI to best use material already existing in the warehouse to come up with the best plan to use what was available in the used market and mix in some new as needed.  Overall the project ended well, giving TTI the storage and organization needed, putting almost 10,000 pallet positions in rack versus floor stacked.  The project as a whole displayed SJF's capability, as material came from five vendors, new and used, to give the best options for an improved warehouse within budget.  SJF also purchased the unused material previously in the warehouse.
Sam Sterner was the overall project manager for TTI Floorcare, including the equipment sales & installation coordination.  Sam can be reached at samsterner@sjf.com.
Chris Hills of CLH Logisitcs, LLC can be reached at chills@clhlogistics.com.
Photo Gallery