Info, Tutorials and How To Guides
Guest Post: Preventing Workplace Injuries
March 22, 2013
Posted By:

SJF Material Handling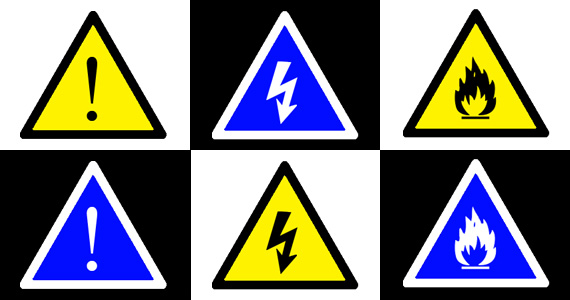 Today, we have an excellent guest post from our friend Tom Reddon from National Forklift Exchange.
Material handling can be a dangerous industry. More often than not, accidents occur due to the use of improper equipment for the job, or an insufficient amount of employee training. In fact, OSHA estimates that 78% of all workplace accidents occur in the material handling industry alone. That's a hard number to swallow when you consider the potential harm facing your employees. So how can help your business avoid being the next victim of workplace injury? Here are some of the best ways to create a safe working environment for your personnel.

Safety Equipment
As a business owner, you may be accustomed to rejecting budget-draining items that are not completely pertinent to the business' success. That being said, safety should never come as an "I'll get around to it" item. Why? Simple. You are in one of most accident-prone industries in the workforce. Not only should you be concerned for the safety of your employees, but your business as well. When accidents occur without the proper safety equipment in place, compensation costs take a hefty chunk out of business profits. Just think — the average compensation cost for injury in the material handling industry is $15,000. Could you afford an accident? How about two?
Begin your process of creating a safe working environment by categorizing your priorities by degree of risk and hazard associated with an operation. You can calculate your degree of risk by considering the frequency of worker exposure to the hazards of a task, and the number of workers frequently exposed. Then, think about what measures you can put in place to prevent those accidents. For example, if you think an elevated conveyor belt that occasionally drops a box may pose a potential risk, invest in a safety net. If you are working in a tight space, purchase guard rails to avoid collisions with pallet racks. If there are pedestrians in the work area, designate walkways using bollards. It's the simple, non-expensive items you purchase that will save your business in the long run.
Finally, ensure that you are purchasing the correct equipment to handle your inventory. All too many times business owners try to cut expenses by purchasing racks and shelving that simply can't handle the weight of the items. Sturdy, reliable shelving and racks can prevent a dangerous collapse, which could save your business thousands in inventory and injury claims. Furthermore, cluttered and disorganized shelves are a recipe for disaster. Business owners should vigilantly make certain that organization remains a top priority among the staff to avoid these all-too-common collapses.
Forklift Safety
According to OSHA regulations, employees handling forklifts must be certified. Forklift operators are required to carry the correct background training to ensure not only their personal safety, but the safety of those around them as well. It is the employer's responsibility to designate a competent worker for the job and have a copy of their certification on file.
Additionally, selecting the right type of equipment for each job or business is essential for safety. To choose the right forklift for your business, calculate the amount of weight you will be moving on average, and identify what the heaviest items are. Maximum weight capacity is clearly displayed on the forklift. If you are moving even one item per day that exceeds the weight capacity, purchase the forklift that can handle it. Tipping forklifts due to excessive weight has resulted in 42% of forklift fatalities. After you've calculated the amount of weight your forklift will be carrying, move on to measuring the area in which your forklift will be used. How high is the entryway the forklift will be going into and out of? How large are the aisles? Can your forklift turn around the corners? Ensure there is plenty of space to avoid all possible collisions. It is the employer's responsibility to ensure they have purchased the suitable forklift.
Lastly, refresh your employees' safety training skills persistently. It can't be stressed enough that the certification process is not the end of training. If an accident occurs, you want to make sure your employees have it fresh in their mind how to react to the situation. Many times in the scenario of a tipping forklift, operators feel the need to jump out of the vehicle. It is just a normal human reaction to do this. However, one of the most crucial things operators learn in the certification process is to stay in the forklift. This is the most prevalent mistake made by forklift operators, and one of the main causes of fatalities in the industry.
Conclusion
By creating a safe, stable environment for your staff, you can protect your employees from the potential harm of being in one of the most dangerous industries. Remember that those "afterthought items" are actually top-priority items when you work in the material handling industry. Never deprive your employees of the proper training or equipment necessary to complete the job safely. What have you done in your organization to prevent employee injury?
—-
Tom Reddon is a forklift specialist for National Forklift Exchange, selling and buying used forklifts. Visit Tom Reddon's forklift blog, or get in contact with Tom via e-mail at tom.reddon@yahoo.com if you have any questions.