Info, Tutorials and How To Guides
Guest Post: The Best Cheapest Fuel That You're Not Using
November 12, 2013
Posted By:

SJF Material Handling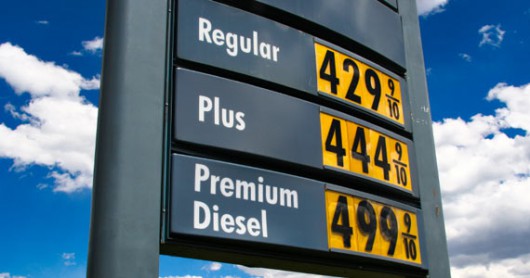 Today's post is courtesy of our friend Paul Schroeder.
—
I have a fuel quiz for all you supply chain folks out there. Ready?
When was the last time the price of diesel dipped below $3/gallon nationally?
When was the last time gasoline fell below $3/gallon nationally?
When was the last time gasoline fell below $2/gallon nationally?
When was the last time gasoline fell below $1/gallon nationally?
Have your answers? Great. Now here are two bonus questions:
What was the price per gallon of compressed natural gas in 1999?
How much did the price of compressed natural gas increase since January 2012?
Why ask these questions?
Simple. The price at the pump is going down . . . sort of. News reporters are happily gushing about fuel projections— how prices might dip to near $3/gallon or perhaps slightly less by year's end. Good news, right? For smart fleet managers in the supply chain it's both yes and no.
It is good news because the amount of fuel used to keep the supply chain humming is pretty significant. Locking in lower fuel costs saves money a company can invest in something that improves the overall operation of the company. However, falling gasoline and diesel prices are still too high. Smart fuel managers in the supply chain also know how volatile the gasoline and diesel markets are. All it takes for a new round of price increases is a crackpot in the Middle East, a natural disaster or a disruption in refining to send prices back to record levels.

Time for the Supply Chain to get off the Rollercoaster
Now let's consider an alternative. Compressed natural gas or CNG for short. CNG is working itself into the nation's supply chain. If you haven't heard much about it yet, you will soon.
CNG is helping companies save big bucks on fuel costs. Prices for CNG are typically between $1.79/gallon to $2.25/gallon although this varies in parts of the country. Where I live (Wisconsin), companies using CNG are saving between 30% – 45% (or more) on fuel costs compared to running on gasoline or diesel.
There is an investment required to convert vehicles to run on both CNG and gasoline/diesel (recommended until more CNG filling stations are available). However, the typical ROI is three to five years for most vehicles depending on the number of miles traveled.
Is it worth the investment? UPS thinks so. The parcel shipper has one of the largest fleets of natural gas vehicles (CNG and liquefied natural gas or LNG) in the country and recently committed another $50 million to natural gas fuels. Ryder is another company with more than 320 CNG vehicles and more companies make the investment daily.
Price Spikes vs Stability
Like death and taxes, the cost of gasoline and diesel while pausing to pull back a little, will increase again…and again. CNG prices on the other hand remain stable. Since January 2012, the price of gasoline (nationally) started at $3.44/gallon. It spiked at $3.95/gallon that March before dropping to $3.49/gallon in July, rising sharply to $3.91/gallon in September and so on and so forth to where we are currently ($3.42/gallon in October). CNG on the other did not increase/decrease once over the same time period. In other words, the savings companies with CNG vehicles could plan for nearly two years without worrying about price increases.
Amazing, isn't it?
Compressed natural gas and other natural gas derivatives offer real savings for companies in the supply chain. Isn't it time your company gets on the savings bandwagon?
——————————
Answers to the quiz:
September 2010
November 2010
February 2009
February 1999
Bonus questions:
Trick question. Not enough people were interested in CNG to care at that time.
Also a trick question. The price of CNG has remained stable while gasoline and diesel went up (most of the time) and down (once in a while).
Paul Schroeder is a content marketing strategist and copywriter focusing on material handling and compressed natural gas industries. You can follow Paul on LinkedIn (https://www.linkedin.com/in/pauljschroeder/) or visit his website (http://pschroedcom.com).