Info, Tutorials and How To Guides
Guide > Boltless Shelving
August 31, 2011
Posted By:

SJF Material Handling
Boltless Shelving Guide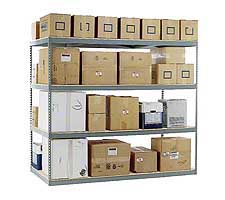 Boltless Shelving is a great product for general purpose storage of all kinds.  This industrial bulk shelving system is more closely related to pallet racking than to traditional steel shelving as it's fully self-contained; in other words, you don't need any hardware to assemble it.  Boltless shelving consists of the rails and upright posts and the unique "buttons" on the shelf rails snap directly into the post holes – No nuts & bolts!
This shelving comes in two main flavors – longspan boltless shelving and regular boltless shelving.  Longspan is typically a little more rugged – featuring higher weight capacities and longer span shelves.  The regular boltless shelving has lower capacities and doesn't have the size advantage that boltless does, although this is still a more convenient and sturdier solution than traditional metal shelving.
Choosing Boltless Shelving
Step 1: Choose from Starter or Adder Units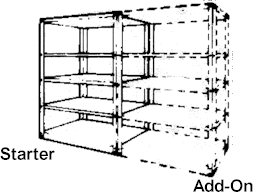 The first decision in ordering boltless shelving is whether you need a starter unit, add-on unit, or both. The starter unit can stand by itself or you may purchase add-on units to attach to the starter unit. For example, if you want a row of three shelving bays you would order one starter unit and two add-on units
Step 2: Choose Shelf Size
Next you can choose the size of shelving unit that you want to order.  All boltless shelving sold online is 7′ in height*. All boltless longspan sheving is prices with 4 shelves.  The boltless regular shelving comes in 4, 5, or 6 shelf varieties.  Additional shelves can be ordered for both the regular and longspan shelving units.
*Note: Custom heights and other options are available by calling SJF directly (800-598-5532).
Step 3: Shelf Decking
All boltless units include all the materials you need except for the actual shelf decks (ie. particle- board).  If you would like to purchase particle-board from us, please call 1-800-598-5532 for pricing, however we recommend you get your particle board locally as it will save you money on freight.  Wire Shelf Decking is also available – please call for pricing.
Assembly
Everything you need is shipped in a compact bundle for easy assembly.
A rubber mallet is the only tool you will need for assembly – There are no nuts, bolts, or other fasteners required.
Assembly takes just minutes.