Info, Tutorials and How To Guides
Archives: Guides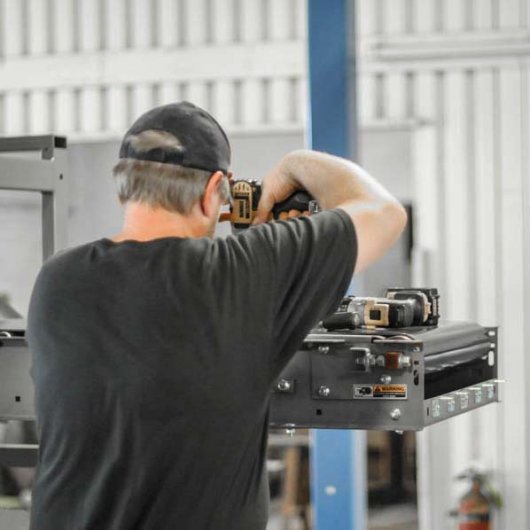 Today's post is courtesy of Megan R. Nichols
Material handling equipment is an investment. Industrial companies purchase more than 150,000 forklifts each year, but the upfront price is only part of their overall cost. Ongoing maintenance to extend the life and increase the efficiency of your production is also an essential investment.
The longevity of your material handling equipment depends on how well you execute your maintenance plan. Breakdowns and unexpected expenses lower your productivity and decrease return on investment. To help keep your operations running smoothly, here five ways to extend the life of your material handling equipment.
1. Invest in Workforce Training
By hiring a top-quality workforce and training your employees adequately, you'll be better prepared to maintain and extend your equipment's useful life.
This process starts by verifying and recording any training and certifications. Improper use will lead to unnecessary wear and tear and a quicker end-of-life for the equipment. Further, as 42% of forklift-related fatalities are the result of tipping vehicles, workplace training is essential to proper use and employee safety. Even if inadequate training or maintenance doesn't result in injury, it will lead to unnecessary equipment wear. Ensure your employees are vetted and trained by supervisors when working with heavy equipment.
To train your employees on your machinery and any changes to operation protocol, you should provide simple, regular updates concerning operations and safety. Plan to talk to your workers about equipment operations on a schedule, such as every month or every quarter.
Then, managers should supervise equipment operators daily to ensure they follow best practices as defined during training. Address any improper use immediately and provide easily accessible manuals for all equipment operators. Well-trained and managed employees are less likely to abuse the equipment.
2. Conduct Equipment Inspections
The more you know about the many forms of wear on your equipment, the sooner you can respond to issues and establish a smart maintenance schedule. Ensure your employees and supervisors are familiar with manufacturer specifications, and report anything out of the ordinary during a regular equipment inspection.
Early identification of problems, such as signs of wear or age, will allow you to repair or replace a part before it causes an avoidable delay. To do so, visually inspect your material handling equipment before, during and after use. Have regular operators record changes in performance. Check for vibrating belts and gears, high temperatures from poor lubrication or loose bolts. Repair or replace any parts issue that arises before it affects efficiency. Recognizing symptoms early will avoid costly emergency repairs.
3. Understand Your Equipment
By knowing the specifications of your equipment — such as model, brand and machine specifications — you can predict future maintenance needs.
Understanding how your equipment operates is vital to achieving a long service life. Each brand and model may have different instructions and maintenance requirements. Incorporate the specifics from your original equipment manufacturer (OEM). The specifications they provide will ensure you are following the appropriate schedules.
Further, consult your OEM manual or equipment expert to ensure you have the correct parts when making repairs. Depending on the specific machine and part, you may need to follow detailed instructions to avoid harming your equipment. A small inaccuracy can be the cause of a costly failure. Keeping track of parts in regular need of maintenance or replacement will also help you keep track of when maintenance or a replacement is due.
4. Keep Accurate Records
Plan for efficiency by recording data about your material handling equipment. Accurate records will give you a plethora of information so you can respond to needs immediately and effectively.
One of the most useful types of data is the data you collect from your inspection routine. Categorize what needs to be done immediately and what you can defer to the future. Information can include hours of operation, type of work being completed and details about ongoing repairs. This data will help you develop a preventative maintenance schedule.
You also have access to information from employees, supervisors, the OEM and experts in equipment maintenance. Record this information in a clear, easy-to-follow way to develop your plan of action.
5. Develop an Effective Maintenance Schedule
Create a system for your material handling equipment's maintenance. Planning for preventative and predictive maintenance will extend your machines' useful life.
Scheduling regular downtown for your equipment will increase the value it provides over the long term, so ongoing inspections and service is crucial. Depending on factors such as truck type, the volume of work and the work conditions, you may plan for service intervals as frequent as every 90 days. You can plan this maintenance during non-peak production times by using a preventative schedule.
It may also be beneficial to consult an expert on specific equipment, since professionals are particularly trained to handle maintenance and repairs for your machine model and parts.
Consulting experts knowledgeable on the make and model, as well as implementing any protocols recommended by the Original Equipment Manufacturer (OEM) will help you develop an effective system for planning inspections and predictive maintenance. With a predictive maintenance plan, you can calculate your equipment life and better retrofit machinery with the latest technology when most cost-effective.
Save Time and Money With Proper Equipment Care
Effective equipment management and maintenance is one of the most significant ways you can cut costs and increase your workforce's productivity. By implementing a maintenance schedule, understanding your machines' inner workings and following the other tips outlined above, you can stretch the usefulness of these costly machines to its fullest.
Megan R. Nichols is a technical writer who specializes in industrial and scientific topics. She regularly contributes to sites like American Machinist, Manufacturing Transformation and Industry Today. Megan also publishes weekly on her personal blog, Schooled By Science. Keep up with Megan by following her on Twitter or subscribing to her blog.
Today's post is courtesy of Megan R. Nichols
When it comes to the supply chain, the most visible processes and events aren't necessarily the only areas that should be modernized and improved upon. The so-called first-mile is just as important as the last, even though consumers may never see or hear what it entails. Collectively, every mile plays a role in the performance and efficiency of manufacturing and wholesale operations.
By streamlining the entire lineup, it improves the speed, quality and accuracy of all products and services. One of the best ways to make that happen is to deploy automated systems and equipment, including advanced robotics. These solutions never tire, burn out or falter — so long as they are maintained well, quite unlike human laborers.
Beyond the basics, there are several reasons why automation should be used in material handling and manufacturing environments.
Why Use Automation?
1. A Smarter, Connected Environment
Whether you're talking about manufacturing processes directly, the handling of finished goods or distribution closer to the last mile, all these practices could benefit from more data-driven operations.

Implementing IoT and connected technologies earlier on can also help eliminate what's known as the islands of automation within a facility. Most older machines and solutions operate in a siloed nature, separate from other components within a factory or facility. Automation and the resulting systems can help do away with this entirely, creating a more synchronous environment.
2. On-Demand Manufacturing and Services
In today's hyper-fast and hyper-personalized environment, most customers and clients expect a degree of convenience, which can be difficult to provide in material handling and processing fields. To achieve this, the entire system needs to be optimized from start to finish. Queue advanced automation.

The connected nature of the autonomous factor also generates the on-demand concept for internal processes. Materials can be delivered exactly where they need to be, not just on time but in advance. This is done through a series of data-driven systems that send alerts and control various operations as necessary.
3. Predictive Modeling and Decision-Making
Near the start of the supply chain, performance and support directly rely on market trends. If a particular supply or raw material is low, it can affect everyone, including the delivery times of various components and goods. With automation and advanced analytics systems, this kind of problem can be eliminated, largely through predictive modeling.

A machine learning or AI system will essentially ingest data on a company's history, performance, market trends and consumer demands. It will then build an accurate model of what's to come or how things will play out, allowing for more informed decisions. This can be evolved to include automation systems for a larger efficiency boost.

If a certain raw material is becoming more scarce, the automated system can order more in anticipation of a major shortage. During the shortfall, the system can calculate the length of time to receive new supplies as well as the current stock to ensure operations run smoothly. Items arrive just before old ones run out.
4. Better Workforce Management
Rather than waste human expertise on rote and tedious tasks, projects can be automated through a series of systems including IoT, AI and advanced robotics. Personnel can then be assigned to higher-value tasks that better meet their talents. This has the added effect of boosting employee happiness, as workers will certainly enjoy the more important roles and responsibilities.

Moreover, labor shortages and high turnover rates become a problem of the past, with many of the tasks and opportunities that were hard to fill now handled by automation.
How to Implement Automation and Streamline Materials Handling
1. Research
The best place to start is by doing some research. Consider the available vendors and their reputation, as well as what kind of solutions they offer. What will you need to upgrade in your existing systems and solutions? Is there anything that can be carried over?

How long will it take to implement the full scope of the automation project? Most importantly, how long will it be until you recover the initial investment and turn a profit?

Also, consider the systems that will be automated. It's much more than just digital tools and components. Pallet inverters, for example, can be used to automate the handling of pallet-based goods and have a load capacity of about 4,400 lbs.

Another way to automate your warehouse is to invest in, and maintain, conveyor belts. Not only do conveyors keep employees safe by minimizing the amount of heavy lifting they need to do, they could be optimized in the near future. Adding sensors to conveyor rollers will allow businesses to gather important data like, product weight, amount and quality.

Is there equipment that you can use to automate more conventional procedures, similar to the pallet inverter or conveyor belt examples?
2. Vendor Selection
Once those questions are answered and you understand what's necessary to achieve automation, it's time to start shopping around for vendors. What solutions can they offer and what comes included? How are system updates handled? What's the support process like? Are there real-time consulting opportunities at the ready?

You may even want to consult with a vendor's existing clients to get a feel for how satisfied they are. Did the company meet their needs? Were there complications and have all their concerns been addressed?

The research process seems involved and can be daunting, but it's necessary before getting involved with any automation providers or vendors.
3. Prepare Your Team
Next, you'll need to prepare your workforce. This means training them and building awareness about the new systems, technologies and processes. Don't forget to consult with them where applicable, as many workers have direct insight as to the inner workings of supply chain operations.

Ultimately, companywide buy-in will ensure the adoption process goes smoothly, and it will help mitigate the usual problems you might see when adopting new procedures.
4. Deployment
All that's left is to deploy the necessary technology's processes and solutions. Implementation can be a lot more complex than expected, however, so it's always best to consult with support agencies and vendors. The exact approach is going to vary from business to business, which is why most of this explanation will seem broad.

The trick is to start small and slow. Choose one or two major processes that can be automated and work on perfecting those systems before moving on to other areas of the business.

With perseverance, the bulk of your materials handling operations will be automated, resulting in many cost- and time-saving benefits.
Megan R. Nichols is a technical writer who specializes in industrial and scientific topics. She regularly contributes to sites like American Machinist, Manufacturing Transformation and Industry Today. Megan also publishes weekly on her personal blog, Schooled By Science. Keep up with Megan by following her on Twitter or subscribing to her blog.