Info, Tutorials and How To Guides
Industry Insider 'Sneak Peak'
March 28, 2014
Posted By:

SJF Material Handling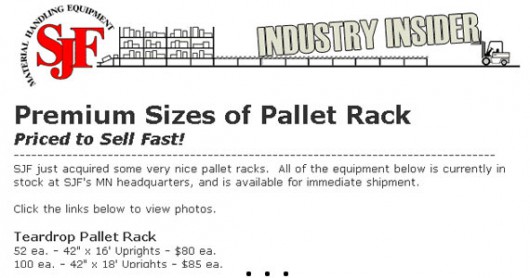 If you haven't heard of the Industry Insider, let us clue you in.  The Industry Insider is SJF's weekly email newsletter that contains all the inside information on equipment available for immediate sale.  This is equipment that can be had for up to 80% off retail prices.  We also often offer specials or coupons that are available to Insider members only.  If you haven't already heard of the Insider, check it out here.
Here's the most recent Insider – just so you can see what you're missing…
Premium Sizes of Pallet Rack
Priced to Sell Fast!
———————————————————————————-
SJF just acquired some very nice pallet racks. All of the equipment below is currently in stock at SJF's MN headquarters, and is available for immediate shipment.
Click the links below to view photos.
Teardrop Pallet Rack
52 ea. – 42″ x 16′ Uprights – $80 ea.
100 ea. – 42″ x 18′ Uprights – $85 ea.
500 ea. – 96″ x 3-3/4″ Beams – $17.50 ea.
222 ea. – 96″ x 4″ Beams – $17.50 ea.
> View Photos
T-Bolt Pallet Rack
100 ea. – 42″ x 216″ Unarco T-Bolt Uprights – $85 ea.
132 ea. – 42″ x 192″ Unarco T-Bolt Uprights – $80 ea.
450 ea. – 96″ x 3.5″ T-Bolt Beams – $16 ea.
940 ea. – 96″ x 4″ Unarco T-Bolt Beams – $16 ea.
690 ea. – 96″ x 5″ Unarco T-Bolt Beams – $18 ea.
> View Photos

Ridg-u-Rak Pallet Rack
4530 ea. – 96″ x 3.5″ Ridg-u-Rak Beams – $18 ea.
700 ea. – 42″ x 288″ (2.5″ x 3″ column) Ridg-u-Rak Uprights – $98 ea.
> View Photos
Structural Pallet Rack
290 ea. – 42″ x 204″ Konstant Structural Uprights -$79.95
1770 ea. – 96″ x C3 Konstant C-Channel Beams – $16.40 ea.
> View Photos
Drive-in Rack System
Frazier Drive-in Rack
Floor (Double Stacked) + 3 High x 2 Deep, Back to Back
Approx. 960 pallet positions remaining.
Aisle/Column Guards Also Available (call for pricing)
Used As-Is – only $40/pallet position.
> View Photos