Info, Tutorials and How To Guides
Archives: Industry News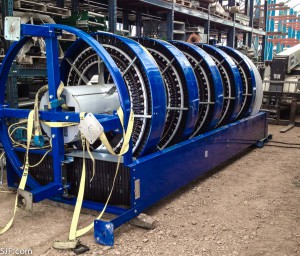 The SJF automation team continues to spearhead going projects for growing businesses here in Minnesota. Final testing and work was completed on this pre-owned powered spiral conveyor this past week. An impressive piece of equipment, this spiral is just one of the many components associated with several ongoing automation projects that Frank  Sterner's team of  Matt Johnson, Dave Kiefer, Brian Springer currently have in the works.
According to project manager Frank Sterner, the powered spiral shown below is just one of several  automation components scheduled to be installed for a growing order fulfillment operation SJF is working with right here in Minnesota.
Sharp Auto Baggers are a packaging solution for high throughput fulfillment centers. Items can be bagged at rates up to 12 items/minute. For more information, contact SJF at (320) 485-4970.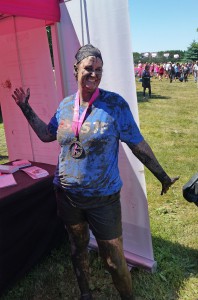 Congratulations to Denise Rosenau for turning in the most interesting SJF T-shirt photo during July. 
A big shout out and pat-on-the back congratulations  goes out to  Denise Rosenau for turning in the most interesting  SJF T-shirt Tuesday photo during July. The above photo landed her 1st prize and the title of SJF T-Shirt Tuesday Grand Champ for July. .  There were times when the competition got down and dirty but  Denise literally crawled threw mud & barbed wire to win the prestigious award.
Her prize? … A lifetime supply of SJF.com  t-shirts  — what else!   —  Congratulations Denise!
This past week saw Sam Sterner, Stafford Sterner, Vance Haugen and Eric Thovson got together to "Tee It Up" at Deer Run Golf Course to help raise money for Pancreatic Cancer Research. What turned out to be a hot and humid day was briefly interrupted by a downpour rain delay. Fun was had by all and some money raised for a great cause.
Vance Haugen's dream of being featured on the cover to Modern Materials Handling finally came true last month. Well sort-a!
Vance stopped by their booth during ProMat this year and the gang there did this mock up conveyor for him to take home and put in his office. While it's not exactly the April issue, everyone here thinks you look great on the cover Vance.
Promat 2015 – Material Handling Equipment Show Images
SJF Material Handling of Winsted, MN has been named to Minnesota Business Magazines " 100 Best Companies To Work For " list for 2015. This marks the 3rd consecutive year SJF has been named to the list.
The "100 Best" were selected by an independent research firm employing various research techniques — including an anonymous online questionnaire filled out by the employees of each company — to determine which companies in Minnesota excel in the areas of work environment, employee benefits, and overall employee happiness.
The Minnesota Business team is pleased to share the 2015 list here. http://www.minnesotabusiness.com/2015-100-best-companies-work-awards
Today, we're checking in again with Rhonda Remer. Rhonda has been in sales for over a year and from time to time, we like to get her perspective on how her journey in material handling sales is coming along.
———–
In July, I was $2,000 shy of the coveted $100,000/month mark in sales. It would have been my second time to hit the milestone. I was initially a bit deflated but then I decided to step back and look at things from a different perspective. What have I learned? How much progress in my new position have I actually made? I will focus on thePreview positive.
1: I have a lot more knowledge about material handling products than when I started this gig. I've sold many different kinds of conveyor, carton flow track, balers, cantilever, hoppers, safety equipment, totes and bins, and of course Pallet Racking and accessories. This leads right into…
2: My knowledge has value. A good way to gauge this is when new people start in the department. SJF recently hired three new Solutions Specialists – all with extensive sales experience. It is refreshing for me to be able to transfer knowledge on equipment and internal processes, as opposed to being the one who is asking all the questions. I realized that my Greenhorn status has changed – I'm no longer the 'new gal.'
Continue reading