Info, Tutorials and How To Guides
New Product – Bramidan Balers
August 6, 2014
Posted By:

SJF Material Handling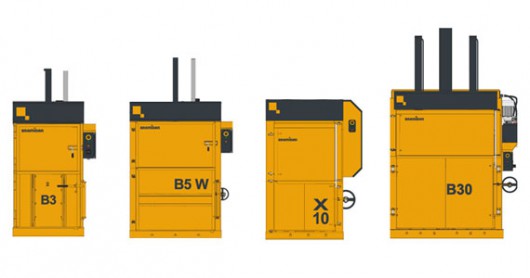 SJF is happy to announce a new addition to our product line.  Bramidan Balers are among the safest, easiest to use and rugged balers available on the market today.  These balers come in a variety of different sizes and styles for almost any baling application you can come up with.
Bramidan was founded in 1975 and has been supplying baling machines and other waste management units to companies in Europe for almost 40 years.  Recently, they brought their high-quality yet low cost balers into the American market.

Bramidan models that we offer online are the B3 – great for small baling applications, the B5W – also excellent for small operations, but with a wider capacity, the X10 – a low-profile model that utilizes cylinders in an X configuration to better fit low-clearance areas, and the B6030 – a full-size baling press with many standard features. In addition to these standard in-stock units, Bramidan also has several other specialized balers with many custom options that can be ordered through our solutions specialists.  (320-45-2824)
SJF also can supply bale strapping that can be integrated with these machines to keep bales tightly compressed after the bales have been created.