Info, Tutorials and How To Guides
New Product – Kundel Cranes
April 15, 2014
Posted By:

SJF Material Handling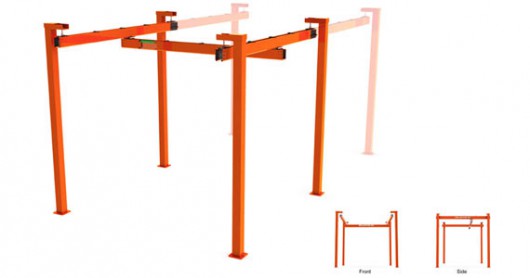 SJF is pleased to announce that it has partnered with Kundel Cranes to offer their full  line of Kundel SnapTrac Cranes and other lift solutions  through both SJF's  online store and accompanying  solutions sales division.
"Kundel Cranes has earned a reputation for providing one of the most cost-effective solutions for moving heavy material in the workplace" said SJF President Stafford Sterner.  Kundel crane systems are designed to be modular for easy expansion and reconfiguration. These bridge cranes feature an 8′ or 12′ bridge span and are available in several runway lengths. They can also provide custom bridge, or run lengths for any application.  In addition to their excellent structural track record, Kundel provides an internal electrical system option on their cranes that eliminates the pesky overhead wires of traditional bridge cranes.
SnapTrac cranes are easy to integrate into any work environment and are very easy to expand when needed. These kits come with everything you'll need to erect a new bridge crane in less than a day. For more information and pricing on SJF's lineup of Kundel lifting solutions view our bridge cranes online.