Info, Tutorials and How To Guides
New Product: Maximum Density Flow Rail
May 14, 2013
Posted By:

SJF Material Handling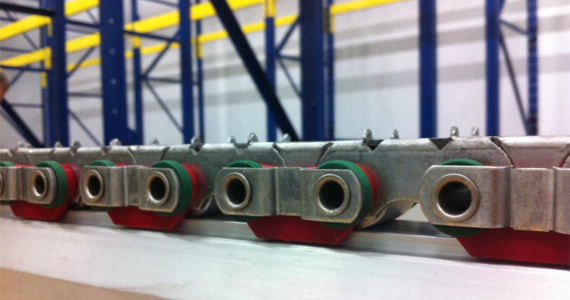 Maximum Density Flow Rail is designed to provide all of the benefits of traditional high-density pallet racking (drive-in, push-back, pallet flow) with none of the drawbacks. This flow rail system can easily store pallets up to 10 Deep!
Here are just a few of the benefits a maximum density flow rail system can provide you.
Can be installed/retrofitted on most existing racks & drive-in rack systems
No power necessary – No motors to maintain or batteries to charge.
No incline necessary – Not gravity feed. No rail incline needed.
Can be operated with a fork truck to store & retrieve pallets
Rails are Horizontal – Not angled or gravity fed
No flow rail brakes to adjust or troubleshoot
Each lane can hold a different product SKU
Rail is Maintenance Free and Rust Proof!
Can be used in low temperature environments
Easy to modify track length
Read more about this revolutionary new system & view photos and videos of its operation on our website.