Info, Tutorials and How To Guides
Archives: Press Release
SJF Material Handling of Winsted, MN has been named to Minnesota Business Magazines " 100 Best Companies To Work For " list for 2015. This marks the 3rd consecutive year SJF has been named to the list.
The "100 Best" were selected by an independent research firm employing various research techniques — including an anonymous online questionnaire filled out by the employees of each company — to determine which companies in Minnesota excel in the areas of work environment, employee benefits, and overall employee happiness.
The Minnesota Business team is pleased to share the 2015 list here. http://www.minnesotabusiness.com/2015-100-best-companies-work-awards
The short video below demonstrates the new SJF air sweep sorter in action. This short video demonstrates air sweep sorting a wide array of different packages   for its client "Fun Company"  in Mankato Minnesota. SJF Air Sweep sorters are specifically designed to quickly sort boxes, bags and well as smaller hard to handle items into shipping containers.
SJF's sweep sorter provides an affordable sortation solution for a wide range of hard to handle products ranging from boxes to poly bags. Notice the different sizes and dimensions of the product, some round and some near flat. This system is sorting packages at a rate of 50/min.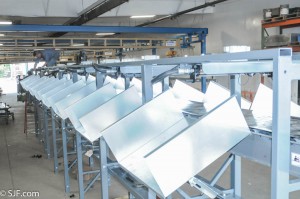 If you have questions or would simply like more information on SJF's air sweep sorters  please contact Sam Sterner (samsterner@sjf.com ) and/or Frank Sterner (fsterner@sjf.com )  or call them at  320-485-2824.
SJF is now representing Lift Products, Inc's line of lift tables.  Lift Products is known in the industry as having a high-quality product.  They offer many models available in several sizes.  SJF currently has available online their light duty lift tables, medium duty lift tables, heavy duty lift tables as well as their popular Roto-Max work positioner.
All of Lift Product's tables can be customized either in size or with optional add-ons.  For details, please call an SJF representative at 800-598-5532.
SJF just released the new fully responsive layout of their website.
"The new design allows users across all devices to have a consistent, engaging experience." says Kent Powell – SJF's web designer/developer. "Responsive design allows us to focus on one web property (sjf.com) rather than fracture the site into desktop, mobile, and app versions.  The site automatically adapts to the medium being used to display it. "
This new design is currently applicable to all of the used/feature pages on SJF.com as well as the home page – with the rest of the site to follow soon.  This new design makes the old mobile site (m.sjf.com) obsolete.  The old site will remain active for a time, however future development will be focused solely on the main sjf.com domain to make the entire site accessible from all devices.
Maximum Density Flow Rail is designed to provide all of the benefits of traditional high-density pallet racking (drive-in, push-back, pallet flow) with none of the drawbacks. This flow rail system can easily store pallets up to 10 Deep!
Here are just a few of the benefits a maximum density flow rail system can provide you.
Can be installed/retrofitted on most existing racks & drive-in rack systems
No power necessary – No motors to maintain or batteries to charge.
No incline necessary – Not gravity feed. No rail incline needed.
Can be operated with a fork truck to store & retrieve pallets
Rails are Horizontal – Not angled or gravity fed
No flow rail brakes to adjust or troubleshoot
Each lane can hold a different product SKU
Rail is Maintenance Free and Rust Proof!
Can be used in low temperature environments
Easy to modify track length
Read more about this revolutionary new system & view photos and videos of its operation on our website.
SJF just became a national distributor for the Lift'n Buddy line of powered hand carts.
Built on a lightweight durable aluminium frame with powder coat paint finish, various Lift'n Buddy models can handle loads up to 350 lbs. and lift them a full 36″ high.
Lift'n Buddy was just added to the SJF.com online store and is now available for view and purchase online at a special low introductory price of only $2,464.20 ea.