Info, Tutorials and How To Guides
SJF Acquires Equipment from Borders Books Bankruptcy
September 1, 2011
Posted By:

SJF Material Handling
* * *  UPDATE  * * *
This material has been fully removed and partially sold. Some of the rack and most of the carousels are still available for purchase and would ship from SJF's main facility in Winsted, MN. Please call 1.800.598.5532 if you are interested in remaining quantities and sizes.
* * * * * * * * * * * * *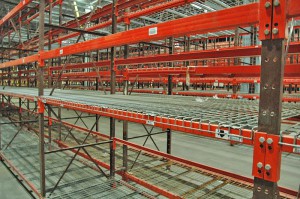 SJF Material Handling Inc. (SJF.com) Winsted, MN was awarded the winning bid for all pallet racks and vertical carousel equipment liquidated in conjunction with the bankruptcy sale of material handling equipment from the Borders Books Distribution facility in TN.
SJF acquired the warehouse equipment which it is now offering for sale to the public via the company's web site at SJF.com
SJF is currently offering immediate shipment of all orders it receives for the equipment as it is being removed from the TN facility.
Sales & shipment of the pallet rack and carousel equipment will be available from locations in Tennessee and Minnesota during September.
Below is a brief summary with direct links to detailed descriptions, photos and discount pricing on the equipment available for sale.
Pallet Storage Racks
33,950 ea. – 96″ x 3.5″ – 4″ – 4 ½", – 5″ pallet rack step beams
3,428 ea. – 42″ wide x 14′ – 26′ high pallet rack uprights
22,554 ea. – wire decks that fit 42″ deep pallet racks
21,345 ea. – pallet supports to fit 42″ deep pallet racks
These racks are available in the following brands: Teardrop, Speedrack, Ridg-u-Rak, Frazier Structural Rack
Also: Wire Decking & Pallet Supports
Vertical Carousels
Carousel manufacturer – Diamond Phoenix
22 ea. total carousels available for sale.
18 ea. – 16′ tall Diamond Phoenix Vertical Carousels
4 ea. – 25′ tall Diamond Phoenix Vertical Carousels
View Carousel Photos & Specifications
Contact SJF via phone at 1.800.598.5532 or email with all inquiries on this surplus material handling equipment..