Info, Tutorials and How To Guides
SJF Goes Responsive
August 1, 2013
Posted By:

SJF Material Handling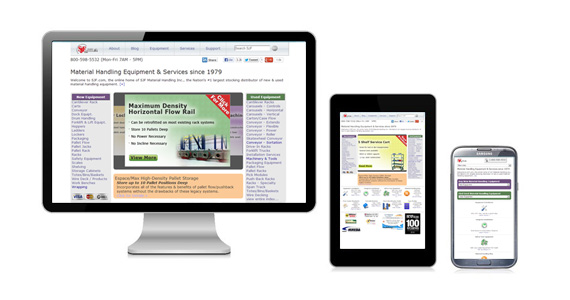 SJF just released the new fully responsive layout of their website.
"The new design allows users across all devices to have a consistent, engaging experience." says Kent Powell – SJF's web designer/developer. "Responsive design allows us to focus on one web property (sjf.com) rather than fracture the site into desktop, mobile, and app versions.  The site automatically adapts to the medium being used to display it. "
This new design is currently applicable to all of the used/feature pages on SJF.com as well as the home page – with the rest of the site to follow soon.  This new design makes the old mobile site (m.sjf.com) obsolete.  The old site will remain active for a time, however future development will be focused solely on the main sjf.com domain to make the entire site accessible from all devices.