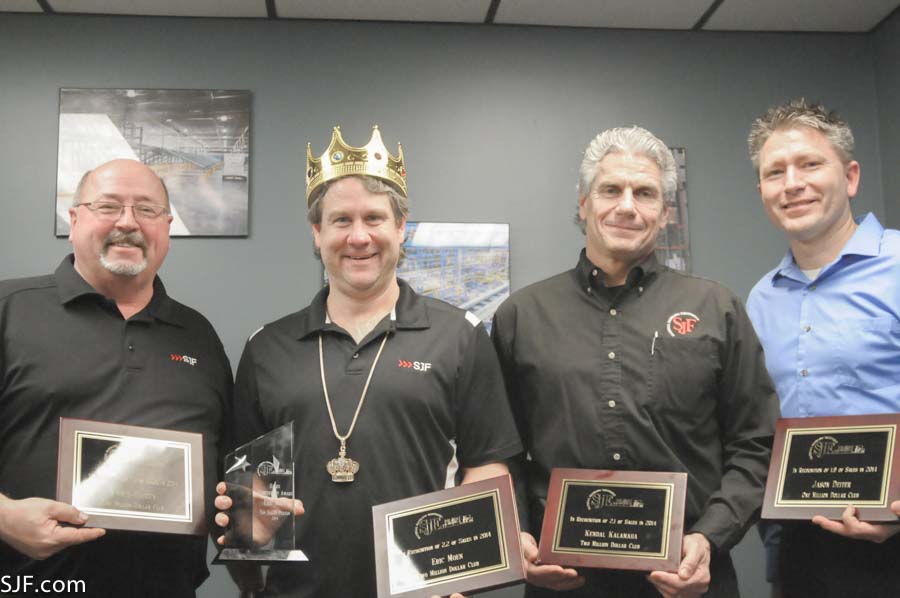 This past Friday, SJF held its annual Christmas day celebration and employee appreciation dinner. Each year SJF's owners take time to reflect upon the past years activities with its employees. 2014 was a year which saw several salespeople hitting personal milestone marks.
Jason Dieter and Vance Haugen were recognized as 2014 million dollar+ club members, hitting impressive personal yearly sales numbers along with teammates Kendal Kalamaha & Eric Moen, each surpassing 2 million+ sales marks respectfully. As for Kendal & Eric, neither are strangers to sales excellence. Kendal was last years overall SJF sales champion while Eric Moen has put up impressive numbers each and every month throughout the year.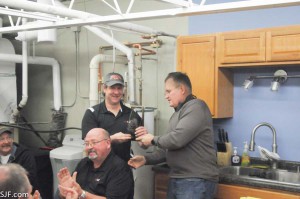 In the end, the claim for overall sales title went down to the wire with Eric's final tally being just enough to edge out Kendal Kalamaha  (the 2103 champ) for the 2014 sales crown. Competition among SJF's sales people is always fierce but friendly. The one thing they all agree on is without the help and support from the many people within the organization, what they do in sales would not be  possible. Our shop, yard and shipping folks are truly the life blood of the company and the unsung hero's that make it all happen for our clients each and every day.
Other award winners included Joe Bachel. Joe was awarded a special plaque in recognition for an impressive 20 years of service. Joe has single handedly kept SJF's equipment running each and every day for the past 2 decades.  His coordination & management of the outside crews is instrumental in getting equipment in and out of the yard on a daily basis. Joe has proven himself as one of those rare people who can always find a way to get it done.
Lori Bachel, Ed Salonek and Gregg Labow were recognized for the extraordinary effort and long hours they sacrificed to get the new inventory and data management systems up and running. Brian Springer, Dave Kieper and Matt Johnson were also recognized for their contributions to the design, manufacture and installation of the sweep sorter project at Fun Company in Mankato, Minnesota this fall.
Last but not least, special recognition was given to the entire SJF shop, dock & yard crew teams. Arguably the unsung heros of the company, the effort they put forth throughout the past year getting products picked, packaged & and shipped accurately and on time has been exceptional. Their efforts resulted in SJF receiving a record number of customer 4-& 5 star reviews from clients across the USA in 2014. For your efforts, we salute you!
In the end, 2014 went down in the book as a memorable year that saw many new challenges. 2014 marked a transition from something old & comfortable to something new & bold. A year that saw individuals put aside personal differences to come together to work & succeed as a team. It was a year where everyone's participation made a difference and has set the stage for an exciting year to come.