February 28th concluded SJF's 2 month Fit as a Fiddle contest.
11 eager and motivated participants entered, but in the end the overall results were mixed. Five individuals lost a total of 65 lbs. while 6 hapless souls actually gained weight. (Really??)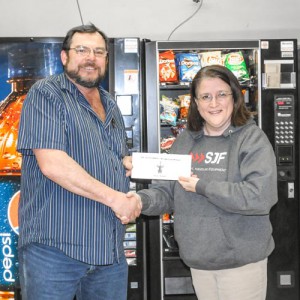 On Feb 28th, Marty Zitzloff was officially announced the big winner. Marty managed to shed a very impressive 22 lbs!
Marty generously purchased Subway sandwich gift cards for all the participants from his winnings. (What a guy!)
A special shout out has to be given to Rhonda Remer for spear-heading the contest. Rhonda set the ground rules, collected money, attended the weigh-ins, calibrated the scales, and also policed any and all attempted cheating.
Thanks to everyone who ponied up and participated.
We're looking forward to posting another challenge soon.