Info, Tutorials and How To Guides
Archives: SJF Road Crew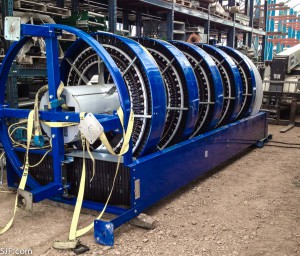 The SJF automation team continues to spearhead going projects for growing businesses here in Minnesota. Final testing and work was completed on this pre-owned powered spiral conveyor this past week. An impressive piece of equipment, this spiral is just one of the many components associated with several ongoing automation projects that Frank  Sterner's team of  Matt Johnson, Dave Kiefer, Brian Springer currently have in the works.
According to project manager Frank Sterner, the powered spiral shown below is just one of several  automation components scheduled to be installed for a growing order fulfillment operation SJF is working with right here in Minnesota. For additional  information about design, engineering & project management services and how they may work for you go to Genesys Material Handling at www.genesysmaterialhandling.com.
The short video below demonstrates the new SJF air sweep sorter in action. This short video demonstrates air sweep sorting a wide array of different packages   for its client "Fun Company"  in Mankato Minnesota. SJF Air Sweep sorters are specifically designed to quickly sort boxes, bags and well as smaller hard to handle items into shipping containers.
SJF's sweep sorter provides an affordable sortation solution for a wide range of hard to handle products ranging from boxes to poly bags. Notice the different sizes and dimensions of the product, some round and some near flat. This system is sorting packages at a rate of 50/min.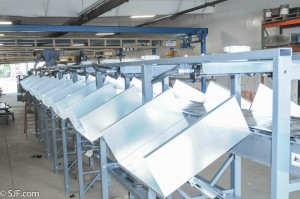 If you have questions or would simply like more information on SJF's air sweep sorters  please contact Sam Sterner and/or Frank Sterner at  320-485-2824.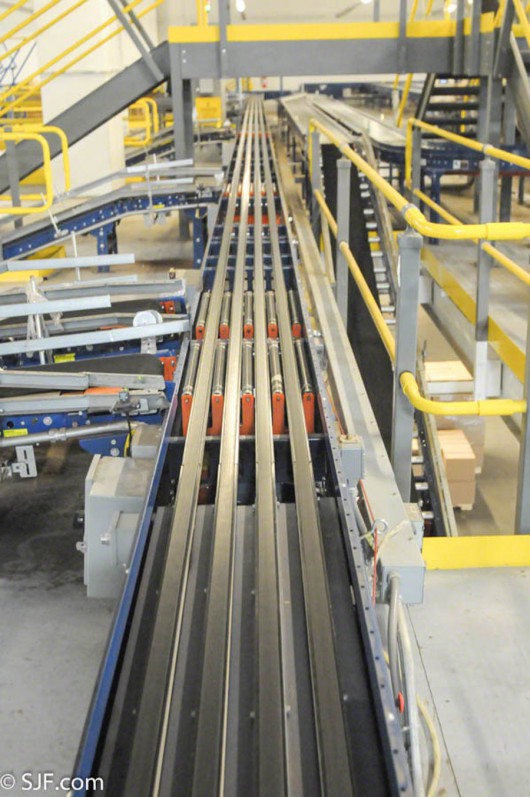 New for December 2014 – now available for immediate purchase
These two per-owned sort systems were just removed from a low use facility  and are now down, packaged and stored indoors awaiting a new owner.
Ermanno NBS90 sorters are very energy efficient and quiet because they utilize a series of narrow belts with individual take-ups. High-friction rollers raise to grip and gently divert products at a 90-deg. angle right or left, on-the-fly.Continuous contact between belt and product provides maximum tracking accuracy, for optimum sort reliability.
 NBS 90 sorters run at speeds of 300 feet per minute with sort rates up to 65 cases per minute (single side).
These systems came out of a very low-use facility and can be customized for your application.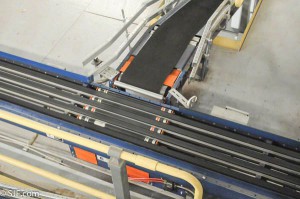 Please call  Sam Sterner at 320-485-4970 or email Sam at samsterner@sjf.com for additional details and pricing.
To view additional photos and details on this and other conveyor & sortation
systems
  SJF has to offer 
click here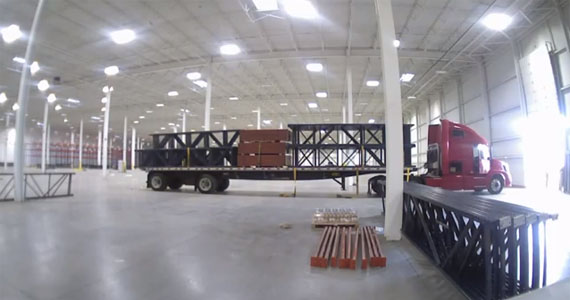 Sam Sterner just shot this awesome time-lapse truck load-out video with our new Brinno Camera.  Look for more time-lapse videos coming soon.
If you have any other time lapse videos you'd like to see, please leave us a comment.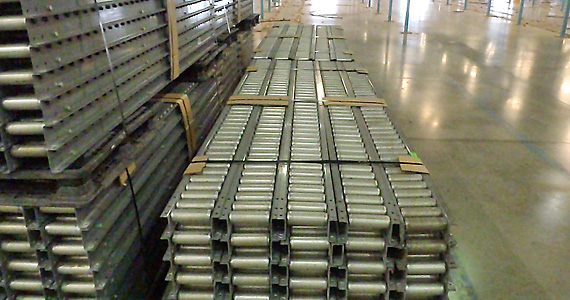 Pallet Rack & Gravity Conveyor Liquidation
We recently just finished shipping to MN material from liquidation of a large distribution center in Indiana. In all, 15 trucks of material were shipped up to our facility in Winsted, MN from the Indianapolis area. We had to jump at this opportunity with how fast gravity conveyor has been leaving our facility lately. This was a perfect opportunity to bring up our inventory as this purchase brought in over 6,000ft of gravity in 24" and 30" widths. There is also a small quantity of pallet gravity conveyor. All in all, the totals of this most recent purchase ended up being:
5,470 ft – 30″ Gravity Conveyor
780 ft – 24″ Gravity Conveyor
1,400 ft – 9″ Pallet Gravity Conveyor
Gravity Conveyor Photos & Pricing
591 ea. – 36″ x 22′ Interlake Uprights
4,480 ea. – 108″ x 4″ New Style Beams
Interlake Rack Photos & Pricing
All of this material has been transported back to our Winsted, MN facility and is ready for immediate shipment to your location.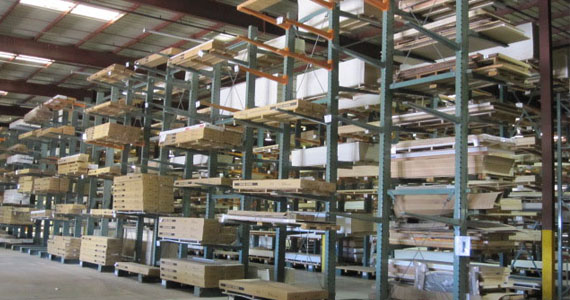 The past week has brought more cantilever rack into our yard at SJF than we have seen in an entire year!  Two large purchases; one local and one on the West Coast, have brought in large quantities of mint condition cantilever.
Our last purchase of this style and size cantilever barely hit our yard before it was sold and loaded onto a customers truck.
As expected, this is no different, with multiple orders against this material already.  This rack is moving very quickly, so act fast if you want in on this latest purchase!
Lodi Cantilever:
20′ Column and Base: 200ea
16′ Column and Base: 20ea
48″ x 2,000# Capacity Arms: 2,133ea
Monarch Structural Cantilever:
16′ x 8″ I Beam Column: 202ea
54″ Bases: 201ea
54″ Arms: 721ea
46″ Bases: 20ea
46″ Arms: 135ea
36″ Bases: 13ea
36″ Arms: 37ea
32″ x 5′ X Bracing: 106ea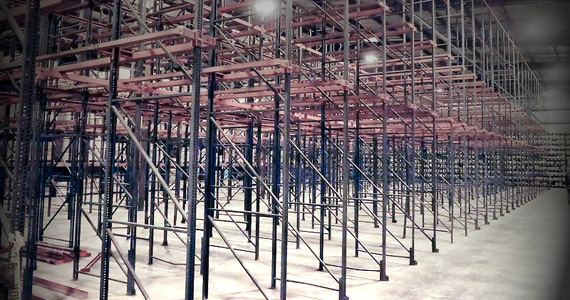 This month saw the start of a large project for a customer of ours in Maryland.  This involves taking down two warehouses of rack, and installing new rack in one warehouse.  Crews showed up on site last week to start dismantle and install.  The first warehouse is coming down now, and we are pricing this material to move fast!  This warehouse consists of a large Hiline Drive In system with specs as follows:
3 Deep x Floor+2 288pp                            $25/pp
3 Deep Back to Back x Floor+2 540pp    $25/pp
3 Deep x Foor+2 270pp                              $25/pp
3 Deep Back to Back x Floor+2 540pp    $25/pp
3 Deep Back to Back x Floor+2 504pp    $30/pp
3 Deep x Floor+2 270pp                             $30/pp
3 Deep x Floor+2 252pp                             $30/pp
The exact specs and pictures are all available, email support@sjf.com or visit SJF's Drive-in Rack Page for more photos/details.
There is also a large amount of Hiline selective rack available as well (at this time, please email samsterner@sjf.com for details).  All material is priced to move right away!
Upright 17'x42" 157 available $55ea
Upright 16'3"x42" 67 available $55ea
Upright 15'x42" 79 available $50ea
Upright 12'x42" 30 available $40ea
Beams 57"x3.5" 448 available $7ea
Beams 96"x3.5" 1,818 available $14ea
The last remaining warehouse is just up the road, and is loaded with prime sizes of like new Teardrop racking.  That warehouse will be coming down next month, after this listed material is down.  Keep checking back for more details on this rack project's progress.

The end of April/beginning of May has been a busy time here at SJF.  The last month has brought in equipment from across the board, including conveyor, pallet rack, rack systems, and cantilever.  April started out with a string of local buys.  A large retail store closed multiple locations across the Minneapolis metro, and we were able to jump on some great condition conveyor.  This includes 8 Best Flex conveyors and 500ft of 18" Skate-wheel conveyor as well.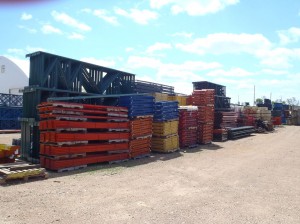 We were very fortunate to have access to a variety of systems lately, and many came into our yard for stock.  Systems brought in this month include the following drive-in rack and push-back rack systems:
3 Deep Back-to-back Ridg-U-Rak Drive In
5 Deep Ridg-U-Rak Drive In
3 Deep Structural Drive In
3 Deep Interlake Push Back
4 Deep Interlake Push Back
3 Deep Advance Push Back
6 Deep Advance Push Back
Needless to say, we are loaded with rack systems!  These are in great shape, and all are in stock now in Minnesota.
Continue reading