Info, Tutorials and How To Guides
SJF Road Crew: Busy Few Weeks at SJF
May 9, 2012
Posted By:

Sam Sterner

The end of April/beginning of May has been a busy time here at SJF.  The last month has brought in equipment from across the board, including conveyor, pallet rack, rack systems, and cantilever.  April started out with a string of local buys.  A large retail store closed multiple locations across the Minneapolis metro, and we were able to jump on some great condition conveyor.  This includes 8 Best Flex conveyors and 500ft of 18" Skate-wheel conveyor as well.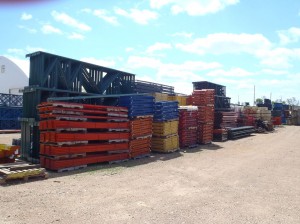 We were very fortunate to have access to a variety of systems lately, and many came into our yard for stock.  Systems brought in this month include the following drive-in rack and push-back rack systems:
3 Deep Back-to-back Ridg-U-Rak Drive In
5 Deep Ridg-U-Rak Drive In
3 Deep Structural Drive In
3 Deep Interlake Push Back
4 Deep Interlake Push Back
3 Deep Advance Push Back
6 Deep Advance Push Back
Needless to say, we are loaded with rack systems!  These are in great shape, and all are in stock now in Minnesota.

In the beginning of May, it was time to hit the road, with a trip combining stops in Chattanooga, TN and Charleston, SC.  In Tennessee, an inspection of rack and reassurance of trucks was done to ship back prime sizing of pallet rack back here to Minnesota.  This is all MINT shape Keystone style racking, and has now been received here at SJF.  The buy was prime sizing of material:
1,078 ea. 96"x5" Beams
37 ea. 18′ Uprights
97 ea. 17'5" Uprights
60 ea. 16′ Uprights
After leaving Tennessee, it was on to Charleston, SC to supervise a new purchase of Interlake cantilever rack being disassembled and removed.  It was almost completed upon arrival, so we scheduled the trucks, made accurate counts, and now the material is now sitting in Minnesota, looking for a new home.