Info, Tutorials and How To Guides
SJF Road Crew – Early January Review
January 19, 2012
Posted By:

Sam Sterner
2012 started out fast here at SJF.  Sam Sterner and Director of Manufacturing Brian Springer arrived in Phoenix, AZ on January 2 to load out conveyor bound for our inventory here at SJF in Winsted, MN.  The goal was simple, load out as much conveyor and conveyor parts as possible.  This recent purchase gave us the opportunity to provide usable parts, such as drives and tails, for pieces we already have in stock.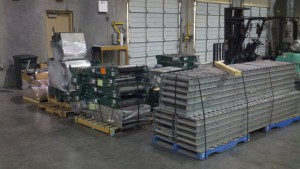 With conveyor spread across the warehouse, it made packaging the material almost a scavenger hunt.  Totes full of unknown parts were lining the top levels of the rack, and many contained valuable parts to piecing together conveyor systems.  We ended up sending two trucks back to Minnesota, both loaded to the brim with conveyor, drives, nose overs, feeder beds, and other parts usable with most conveyors.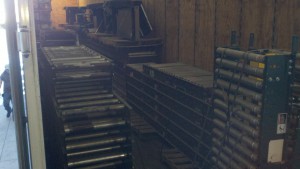 The end result had us bringing home over 30 drives, hundreds of linear feet of various kinds of conveyor, a few curves, and boxes upon boxes of usable parts.  We now have pieces to help us run full lines of lineshaft, belt-on-roller, live roller, and skate-wheel conveyor.
The following week resulted in resident carousel whiz/Lead Technician Dave Kieper and Sam Sterner traveling to Arden Hills, MN to disassemble and ship back 3 office carousels.  These included 1 Kardex Lektriever Series 80, an 18 bin unit, and 2 White model N2160s, both 16 bin units.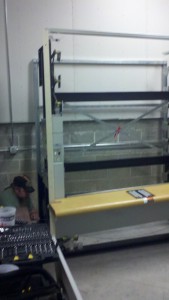 All three of these units were in beautiful shape, and all ran like new.  Day 1 concluded with all bins being send down the road to Winsted.  Day 2 ended with the side skins down and shipped, along with carousels prepped for sides to come down.  Day 3 brought in the man power, as the sides of these units had to be carried by hand though the doors and up a flight of stairs to be hand loaded onto our truck.
These 3 carousels are ready to go, all in perfect working condition, including controls.  Call SJF today for the full specs.
The initial steps for installing our new carousel software were taken late last Friday night.  Engineer Matt Johnson, Dave Kieper, Sam, Josh, and Frank Sterner were all on site in St. Paul Friday evening to wire controls for final install this coming weekend.  They all left at midnight with the system ready to be fully wired within the next five days.  The control panel goes in at the end of the week and the full system will be implemented then.