Info, Tutorials and How To Guides
SJF Road Crew – Large Liquidation in Indiana
October 25, 2012
Posted By:

Sam Sterner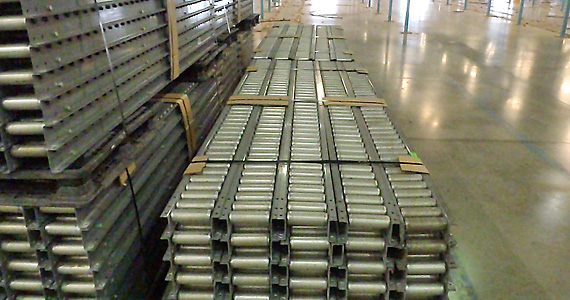 Pallet Rack & Gravity Conveyor Liquidation
We recently just finished shipping to MN material from liquidation of a large distribution center in Indiana. In all, 15 trucks of material were shipped up to our facility in Winsted, MN from the Indianapolis area. We had to jump at this opportunity with how fast gravity conveyor has been leaving our facility lately. This was a perfect opportunity to bring up our inventory as this purchase brought in over 6,000ft of gravity in 24" and 30" widths. There is also a small quantity of pallet gravity conveyor. All in all, the totals of this most recent purchase ended up being:
5,470 ft – 30″ Gravity Conveyor
780 ft – 24″ Gravity Conveyor
1,400 ft – 9″ Pallet Gravity Conveyor
Gravity Conveyor Photos & Pricing
591 ea. – 36″ x 22′ Interlake Uprights
4,480 ea. – 108″ x 4″ New Style Beams
Interlake Rack Photos & Pricing
All of this material has been transported back to our Winsted, MN facility and is ready for immediate shipment to your location.