Info, Tutorials and How To Guides
SJF Road Crew: Week in Review
January 3, 2012
Posted By:

Stafford Sterner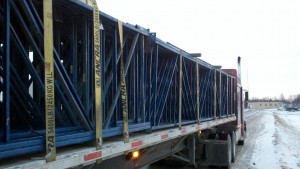 The last two weeks started with a 14 hour day in Worthington, MN.  SJF recently purchased 540 pallet positions of Drive-in-Rack from a company located there.  Sam Sterner headed down in the morning to assist in the final teardown, banding, and loading of the components.  This is truck 1/2 for the day leaving loaded with uprights and rails for the system, headed straight to a customer in Fargo, ND.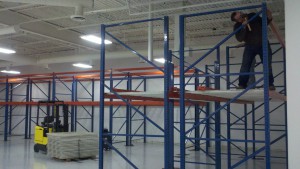 The Worthington, MN shipment occurred on Wednesday, December 14.  Friday, December 16 and the following Monday were spent in Plymouth, MN installing pallet rack for a new Polaris Industries showroom.  The rack was set to allow display of ATVs and accessories for sale.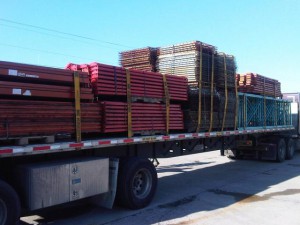 The week of 12/19 also had the arrival of several trucks from a recent purchase in Jeffersonville, Indiana.  These trucks came loaded with rack now available in stock in Winsted, MN.  A brief list includes-
48"x20′ Speedrack Uprights – 204 ea
108"x4" Speedrack Beams – 621 ea
96"x4" Speedrack Beams – 528 ea
48"x 20′  Teardrop Uprights – 40 ea
48"x52" Wire Deck – 653 ea
48"x46" Wire Deck – 747 ea
Many other items including many sizes Speed Rack uprights and beams, Teardrop Rack Uprights and beams, Sturdi-built, Palmer Shile, Ridge U Rack uprights and beams, and many other sizes of wire decking.  Call an SJF sales representative for more details!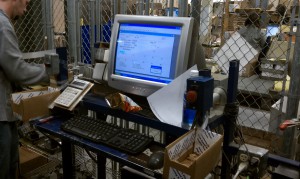 The recent weeks also included the testing for SJF's carousel software. The first run through should be up and running soon for our first customer here in the Twin Cities metro!  This is an exciting new venture in carousel controls, and can drastically improve efficiency in your carousel system.  The best part, it works with any and every carousel. Contact us today with more information on this new product!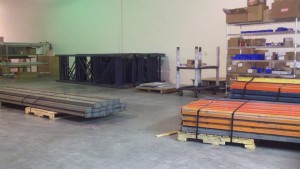 Four days before Christmas, Sam Sterner headed to Rogers, MN to band up another recent purchase of Sturdibuilt pallet rack.  This included 144"x6" and 144"x3.5" Sturdi-Built beams, 48"x10′ Sturdi-Built uprights, and 144"x5" Teardrop beams.  These were brought right down the road to our stock in Winsted, MN.  These are very nice, heavy duty beams available now!
The month of January looks to be just as busy for us here at SJF.  Already in the works is truckloads of conveyor leaving Phoenix, AZ; three carousels we purchased in the Twin Cities; a large warehouse full of structural racking in Ohio; and many more projects around the country, so stay tuned!