Info, Tutorials and How To Guides
Steel prices expected to fall further in 2009
December 31, 2008
Posted By:

Stafford Sterner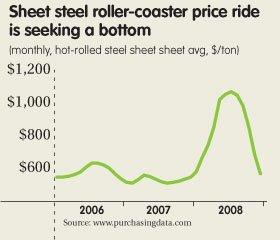 Steel buyers aren't showing much enthusiasm for early 2009, according to a poll by Purchasing magazine, since incoming customer orders are down, manufacturing operations are depressed and prices on all raw materials have been collapsing. Though more optimistic than in November, buyers are entering the New Year with little enthusiasm about first-quarter demand or flat-rolled product–even with expectations of lower transaction prices than the December averages of $634 for hot-rolled sheet, $736 for cold-rolled sheet and $757 for hot-dip galvanized.
Reason: "The U.S. economy remains firmly locked in a deep recession that will be difficult to emerge from in the months ahead," which will keep steel demand depressed, says Scott Anderson, the senior economist at Wells Fargo Economics in Minneapolis. "Consumer confidence is getting totally swamped by a rapidly deteriorating labor market and plunging housing and stock market wealth," which will keep sales of steel-bearing products depressed.
Analyst John Anton at IHS Global Insight's offices in Washington says that "fear has descended onto the steel market, with prices seizing for many products." He believes the demand side is weak in preparation of a long recession and that has been stronger than the fourth quarter supply-side reduction in production to less than 50% of capacity.
Mills have cut production but buyers have reduced purchasing more
"There is some credence to the fears on the demand side," says Anton, noting that "the downturn will be severe and there will be little recovery in North American sheet end-markets of housing, appliances and automotive, which are at the lowest levels in decades." Anton says this end-use weakness will persist through 2009.
In December, the purchase price average for benchmark hot-rolled sheet in coil was 47% below the cyclical peak of $1,068 in July while cold-rolled sheet in coil dropped by 42%. And there was December price slippage also evident for coated sheet, plate products, rods, light structurals and most bar grades. Stainless steel prices also dipped at year's end. And the slide isn't over yet.
In fact, according to sheet steel buyers polled in December, early delivered prices for January averaged $525 for hot-rolled and $628 for cold-rolled. The survey also shows that only 16% of the steel buyers plan to increase purchasing even at reduced prices, though that's higher than the 12% reporting plans to increase buying in November. "There aren't that many orders out there, especially at this time of year," a Midwest service center source tells the American Metal Market subscription newspaper. "The holidays are always slow, but with everything that has happened (related to the global credit crisis), things are even slower."
Source:  Tom Stundza- Purchasing.com