Info, Tutorials and How To Guides
Tag Archives: cantilever rack
SJF Material Handling Inc. Announces New Pennsylvania Stocking Location for Cantilever Racks & Structural Storage Systems
 SJF's multiple Quick-Ship locations provide clients easy access to 72-hour shipping on structural cantilever racks. This product historically requires 8 to 12 week wait times.
Winsted, MN (PRWEB) September 30, 2017 – SJF Material Handling Inc., in cooperation with US manufacturing partner Ross Technologies, announced the opening of its Pennsylvania stocking quick ship location for its full line of cantilever storage rack products. In addition to providing "72-Hour Quick-Ship" availability on its most popular sizes and capacities of cantilever racks, several new products & design enhancements to other storage products are currently in production and expected for release this fall.
In Jan. 2017, SJF Material Handling, Winsted, MN announced a strategic partnership with USA Manufacturer Ross Technologies as the companies preferred manufacturer of its structural steel storage rack products. SJF stocks and distributes a wide variety of storage rack products sold through its online e-store and brick & mortar retail locations.
This newest SJF offering of structural cantilever rack products has quickly gained national acclaim as a premier storage solution. Cantilever racks are ideal for storing items inherently too long, bulky or lightweight to store using conventional warehouse racks or shelving. SJF's latest offering of heavy duty structural cantilever racks is ideal for storing everything from lumber & steel to boats, autos, pipe, coils and more.
According to SJF President Stafford Sterner, the company's newest offerings of rack storage solutions provide its clients all the benefits of traditional warehouse storage rack systems without many of the drawbacks & limitations traditionally associated with these older legacy storage systems.
One of the initial challenges was the ability to offer our clients a heavy-duty cantilever storage rack solution that was engineered and manufactured in the USA and would meet and exceed the most stringent requirements for strength and durability. Working with USA manufacturers, SJF provides clients a quality cantilever rack product that can now be shipped anywhere in the USA in a matter of hours vs. weeks or months. SJF's structural cantilever racks are flexible, allowing storage of several sizes of material within the same rack system yet versatile enough to carry a wide array of loads.
Several new design enhancements have been incorporated in the manufacturing process eliminating any positioning issues. According to Sterner, the latest design enhancements have taken an excellent product and made it even better. With the addition of providing 72-hour quick-ship on an extensive offering of sizes and capacities, we can provide our clients with a product and service you won't find anywhere else in the industry. Initial feedback from clients has been very positive. Users find the "quick-ship" delivery an incredible value.
Find out more and see detailed photos, videos and product information about cantilever rack at SJF Material Handling's website.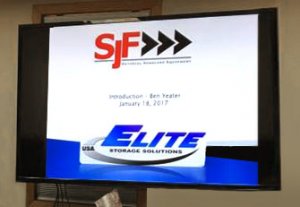 A big shout out to Ben Yeater and Elite Storage Solutions for stopping by SJF last week. Ben was gracious enough to feed the entire sales team during his blow-by-blow video tour of Elite's new and expanded storage rack product offerings for 2017.
PUTCO is a world leader in Automotive Accessories such as Trim, Lighting, Mud Flaps and Step Bars.  Putco has literally thousands of products for all major makes and models of car and truck available in a nationwide dealer network. If you're looking to spice up your ride, look no further than Putco.
When Putco contacted SJF, they were looking for a lot of racking at a savings. They needed to fill a new 127,000 sq. ft. facility so used equipment was definitely on their radar. SJF had just secured two large used inventories that could have filled PUTCO's needs but with new pricing being very competitive and not subject to availability issues, they turned to new. SJF supplied new Mecalux Interlake Pallet Racks and MECO Cantilever racks as well as the installation while meeting PUTCO's timeline and pricing requirements. Jason Deiter was the solutions specialist on this project.
Continue reading
Cooper Standard is a leading global automotive supplier.  With solutions for everything from in the body sealing, fuel, brake and emissions, thermal management and anti-vibration and many other segments of the industry. Cooper Standard is committed to meeting the specific needs of customers through solving engineering challenges or developing systems for future vehicles.
SJF's Jason Deiter supplied a mix of new Interlake/Mecalux Pallet Rack and used Interlake Cantilever Rack to meet Cooper Standard's pricing and lead time needs. As you can see from the photos, the used cantilever racks look almost like new, yet we were able to supply them at over 60% savings off similar new material.
Continue reading
GPM Inc, Headquartered in Duluth, MN makes use of SJF's "Good-as-New" Cantilever Racks to store steel components (bar stock, pipes, etc.)  GPM manufactures and distributes the toughest, most reliable submersible and horizontal slurry pumps found anywhere in the world…and they're located right here in Northern MN – who knew?
GPM called SJF because they were looking for a solution for organizing their extra building materials to get it off the ground and out of the way. They evaluated both new and used cantilever racks. Rhonda (their SJF Salesperson) took pictures of the used Monarch cantilever racks that we had on-site and sent them to GPM.  They liked what they saw, and were able to save around 40% off new prices on these used cantilever racks.
More Photos
Community Products makes and designs all its own products, marketing them under the Rifton brand. (see Rifton.com)  We  obviously need a substantial amount of design and prototyping material on hand.
From the Customer:
"We received the racking and are happy with it.  Our guys were impressed w/ the quality and sturdiness it exhibited. Right now we only have a small amount of material on it, since we hope to shuffle the shop and improve the layout, but it saves us time already. Don't Worry, your rack will come in handy."
Thanks, guys!  It's always nice to hear from happy clients!
Additional Photos: